Elf on the Shelf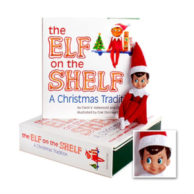 A Christmas tradition, like none other, the hugely popular Elf on the Shelf will brighten up your family's holiday season instantly.
Mischievous and merry, the Elf visits your home during the night to help Santa make his list. While he's at your home, the little Elf gets into all kinds of trouble and kids have a wonderful time hunting for the elf each morning!
You'll enjoy reading the wonderful book that comes along with these adorably cheery elf and kids will love naming their Elf on the Shelf and bringing him out each year! A family must-have indeed!