Balloon Balls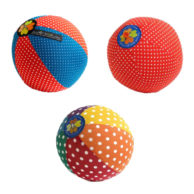 Balloon balls are a childhood favourite. If you've ever been worried about the kids playing ball inside the house or scared that they would hurt themselves with a balloon, here's an end to your worries!
These designer balloon balls are the perfect solution to making fun and active indoor play easy for everyone. Simply, insert a balloon into the fabric cover and blow it up for tons of fun and safe play!
Oh, and did I mention, these make great stocking fillers and birthday party return favours too?!