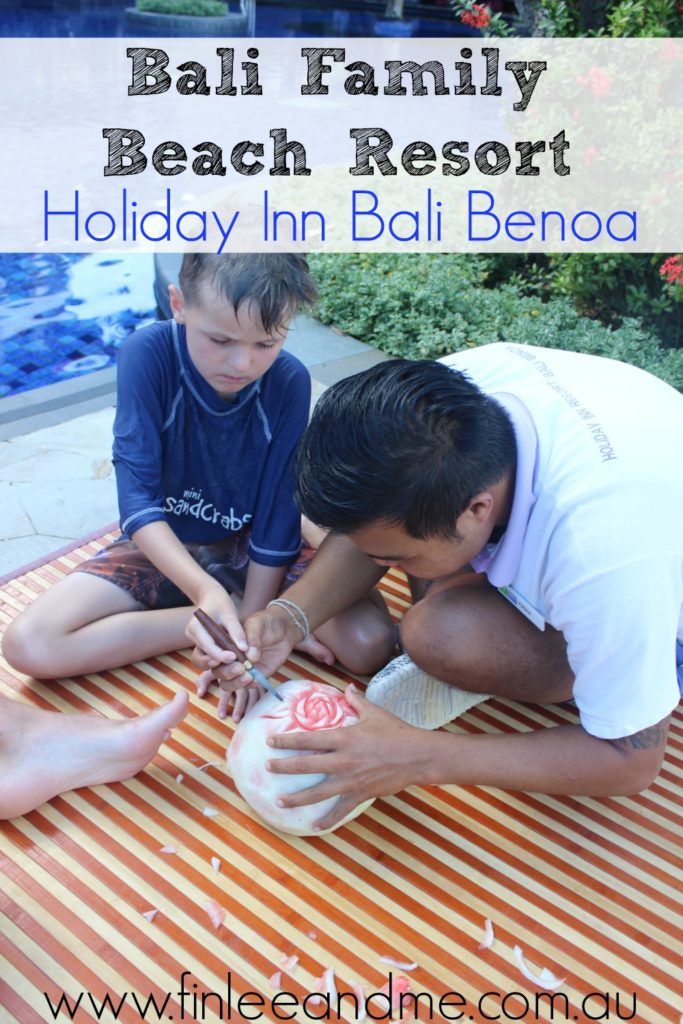 My family and I have been to Bali on 3 different occasions and every time we visit, it's just as magical as the time before. With the most amazing people, delightful scenery, delicious food, unique Bali family beach resort accommodation options and only a short flight from Brisbane; we absolutely love everything that Bali has to offer.  My family and I were invited too review Holiday Inn Resorts Bali Benoa and I'm not sure who was more excited Finlee and Chloe or my husband and I.
Bali Family Beach Resort at Holiday Inn Resort Bali Benoa
As we drove to the Holiday Inn Bali Benoa in our taxi, my family and I were able to take in the culture around us. From the local people selling their cuisine on the side of the road, to children laughing as they played with simple materials like rocks and sticks, to the over all buzz that happens on a daily basis in Bali – life was good. However, life got a whole lot better as we pulled into the resort.
When we pulled into the Holiday Inn Resort Bali Benoa, it was confirmed by the ocean views we took in that the resort was beautifully positioned on one of Bali's most amazing waterfronts Tanjung Benoa Beach. We were greeted with sprawling oceans views, refreshing ocean breezes and 4 swimming pools that Finlee and Chloe were eager to pump into, but first we had to check into our room before our adventure could begin.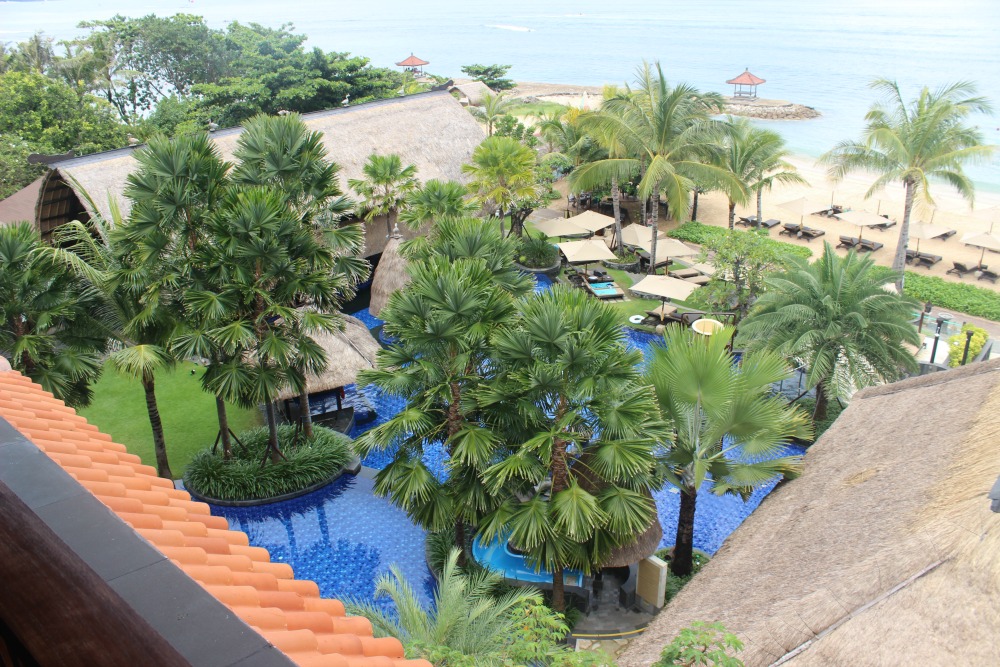 Accommodation Options at Holiday Inn Resort Bali Benoa
Finlee and Chloe get so excited when we check into new resorts because they love exploring, creating cubby houses and playing hide and seek in our rooms. So they were super eager to get up to the room.
The kids had ran off with the room key, so they were in the room before us, but don't worry we could hear their screams half way across the resort because clearly they were super excited about what they found in our room.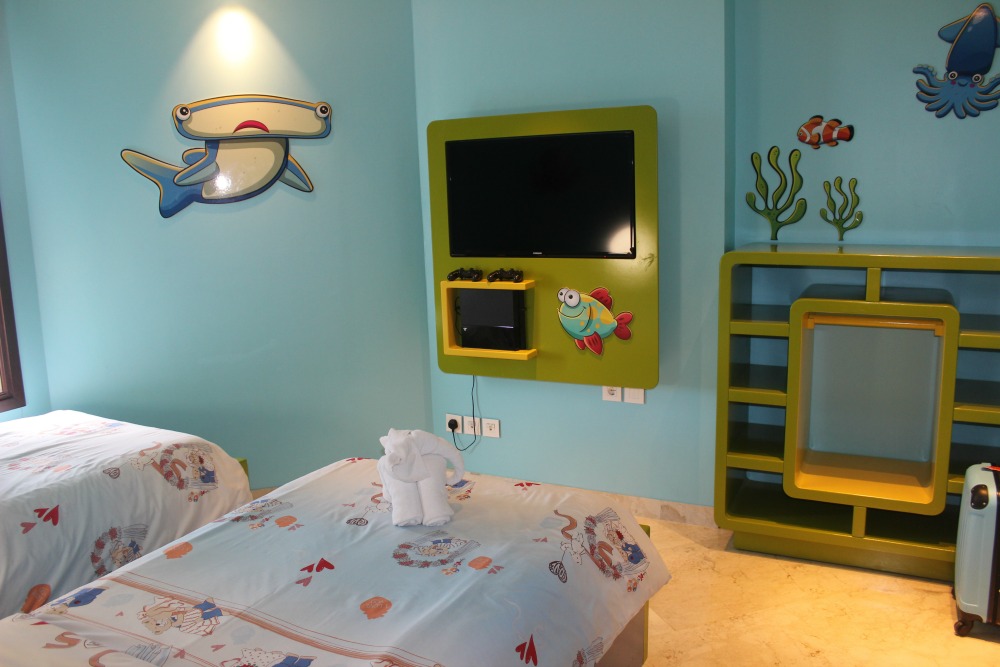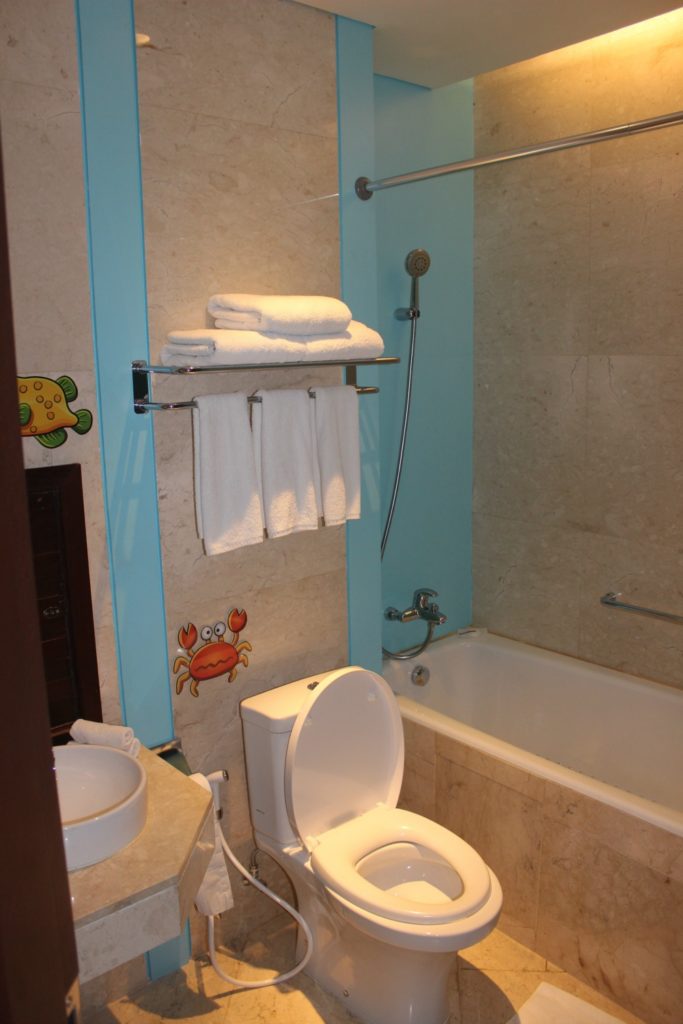 My husband and I walked in and for a brief second we were both speechless (something that doesn't happen often with me as I talk way too much). We were greeted with the most astonishing views, a very gorgeous and spacious modern suite, that was filled with everything a family could need. Oh and did I mention, the brightly themed kid's room that Finlee and Chloe had already made themselves homes too.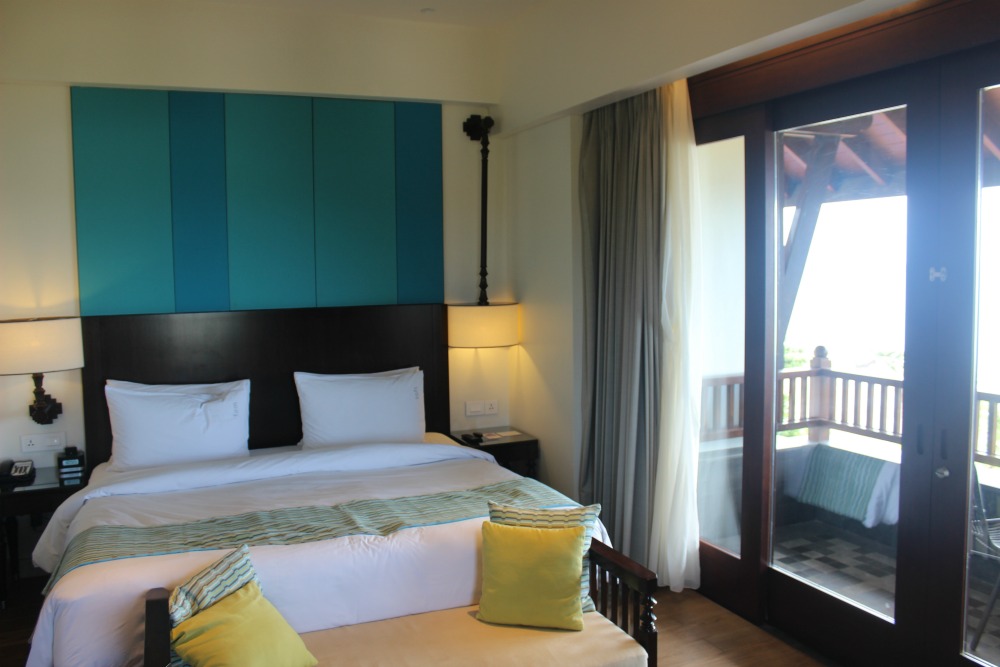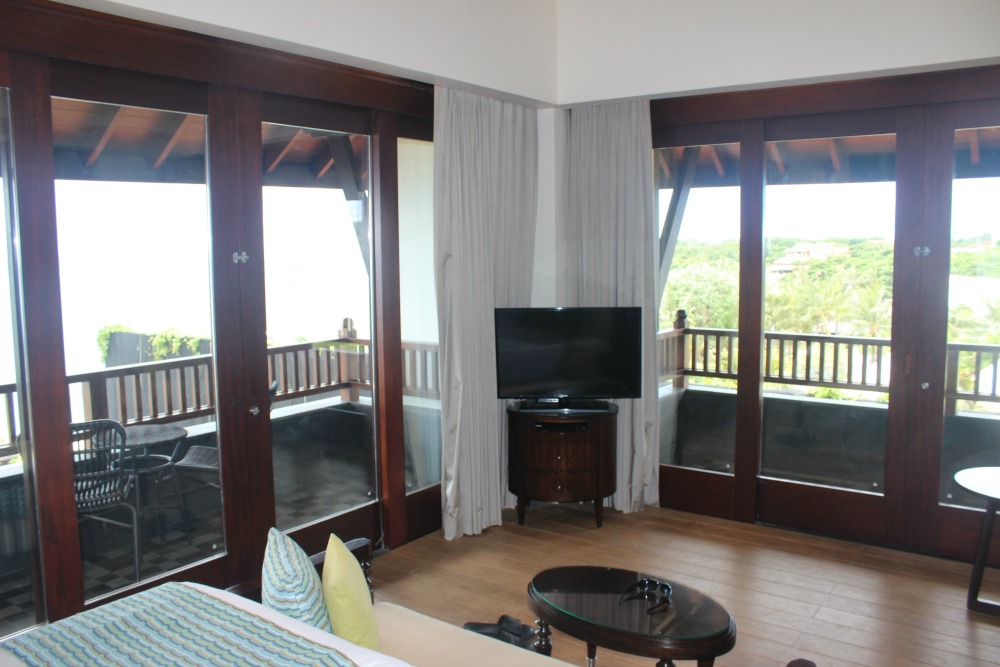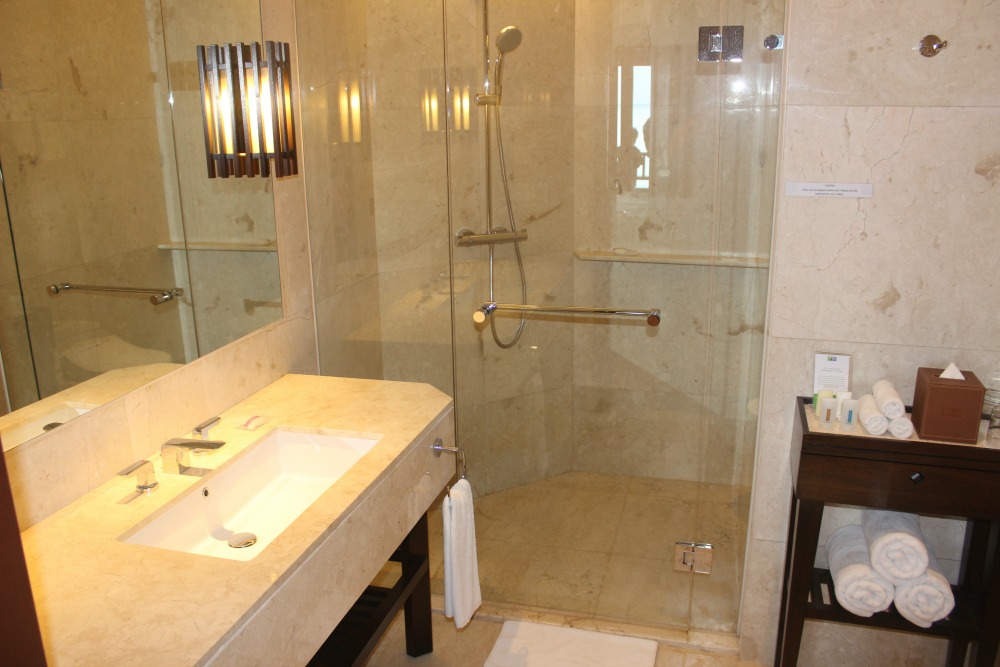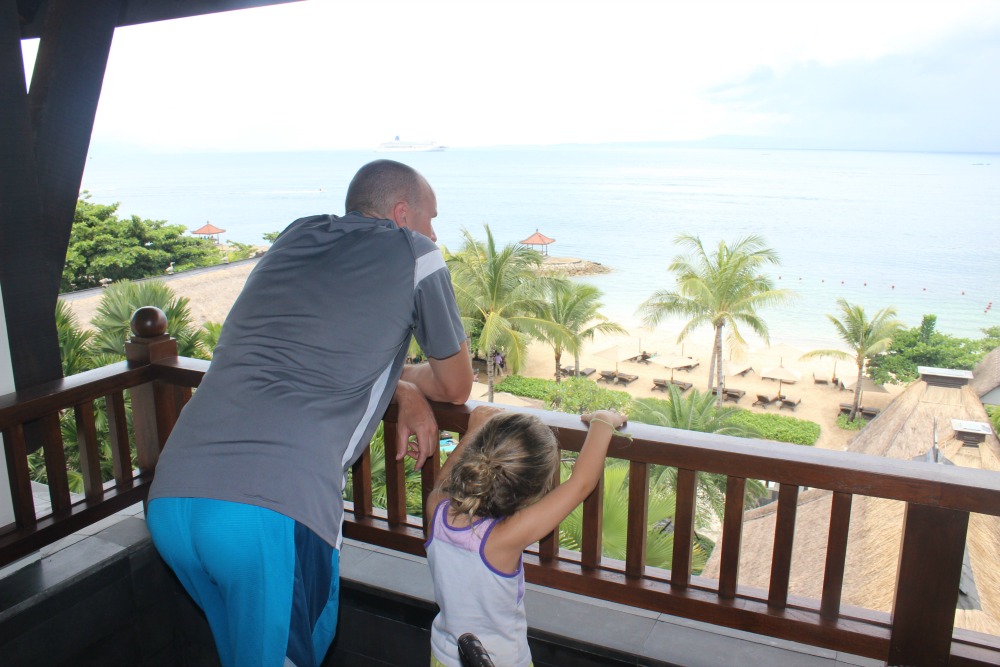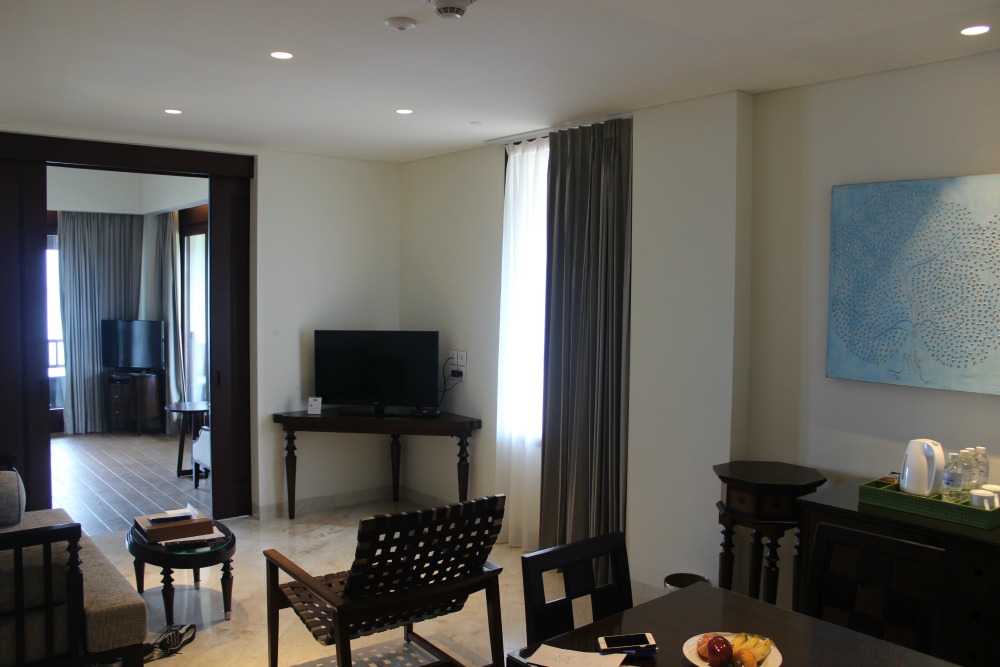 What we loved about the resort is that they have 171 rooms/suites and their accommodation options range from family size to budget, such as but not limited to:
Specialised Kids and Family themed suites
Family Connecting Rooms
Pool access Rooms
Pool View Rooms
Ocean View Rooms
Simple Classic Rooms through to Delux King Rooms and Premium Suites
I also loved the little extra touches like the different types of pillows you could choose from depending on if you like firm or soft. It's extra touches like these that make a huge different when staying at a hotel.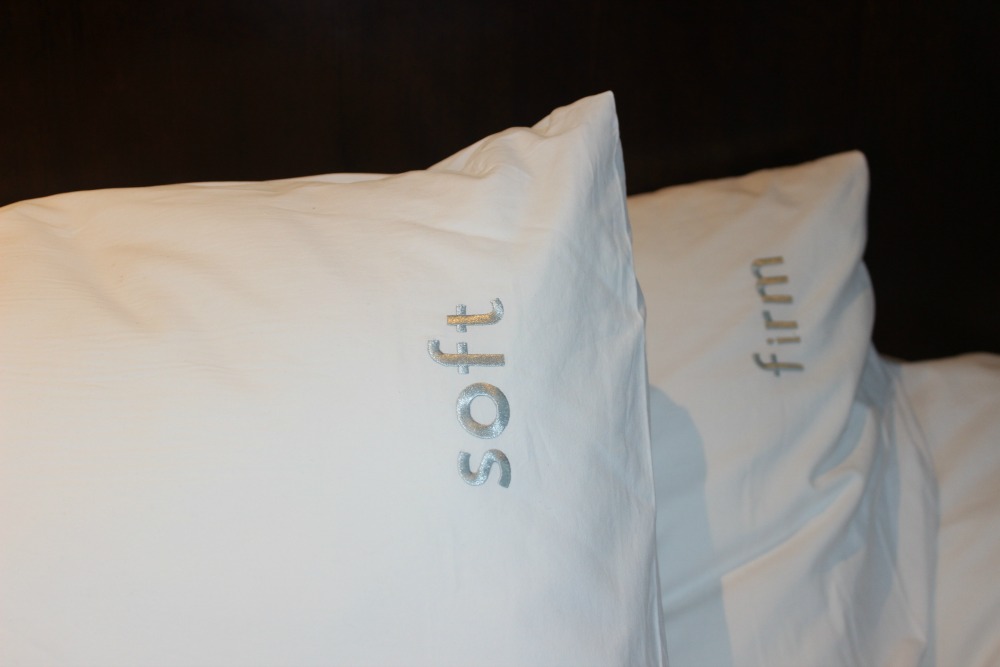 Dining and Bars at Holiday Inn Benoa Bali Family Beach Resort
You will not go hungry when staying at this resort. In fact, you'll also never get bored with the menu options because there are so many to choose from you'll never get to taste them all.
From Indonesian cuisine infused with exotic spices and amazing flavors to the international menu with Western favorites such as pastas, pizza, burgers and salads.; there is something truly for everyone.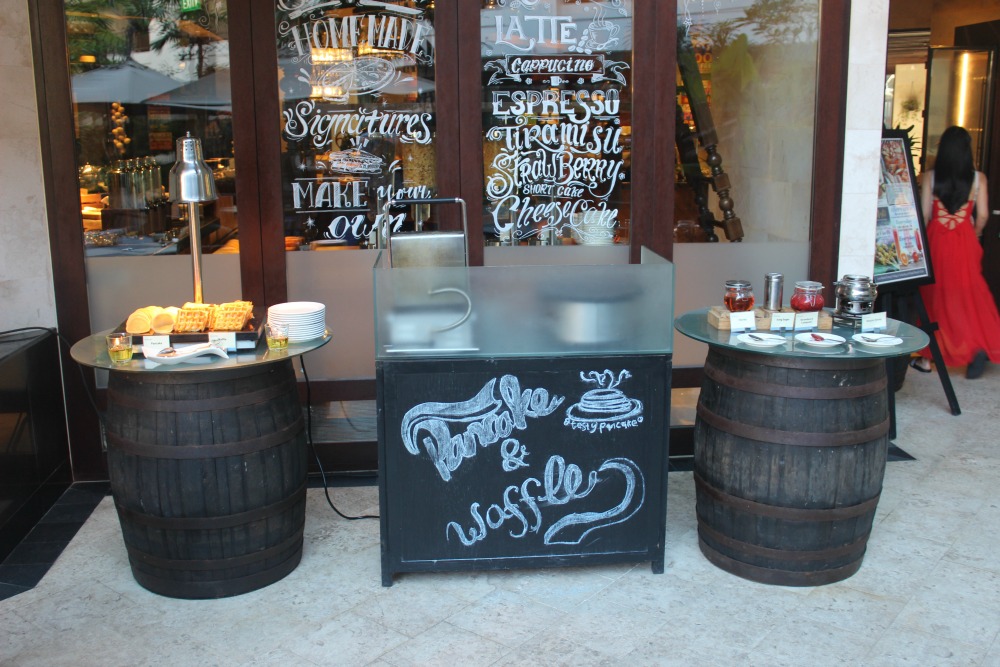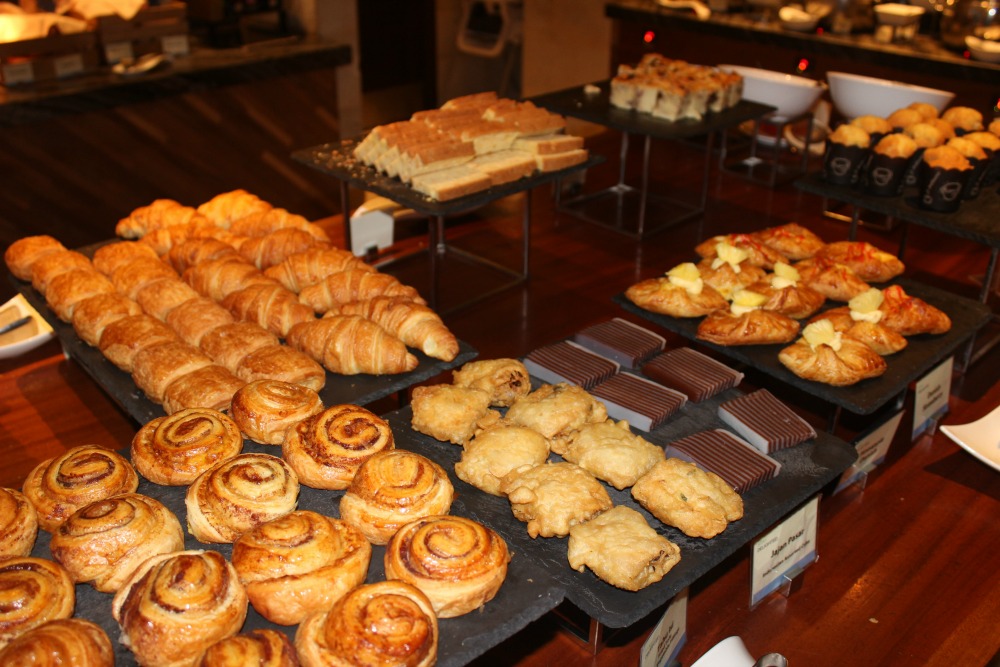 There are 2 main eating hubs to choose from:
Pasar Market Cafe – this is where the breakfast buffet is served and then followed with a la carte meals for lunch and dinner. There is plenty of seating both indoors and outdoors depending on what your family prefers.
Nudi Beach Bar & Restaurant – is situated outside and right beside the main pool, over looking the beach. This is the place if you're wanting to grab a refreshing cocktail, have a quick snack or laze around the pool and be served at the swim up pool. For dinner you can attend a lively themed night dinner, or have the staff set up a table on the beach and watch the sun set. You can head to the Nudi Beach Club from 10:00am to late. Nudi Beach Bar & Restaurant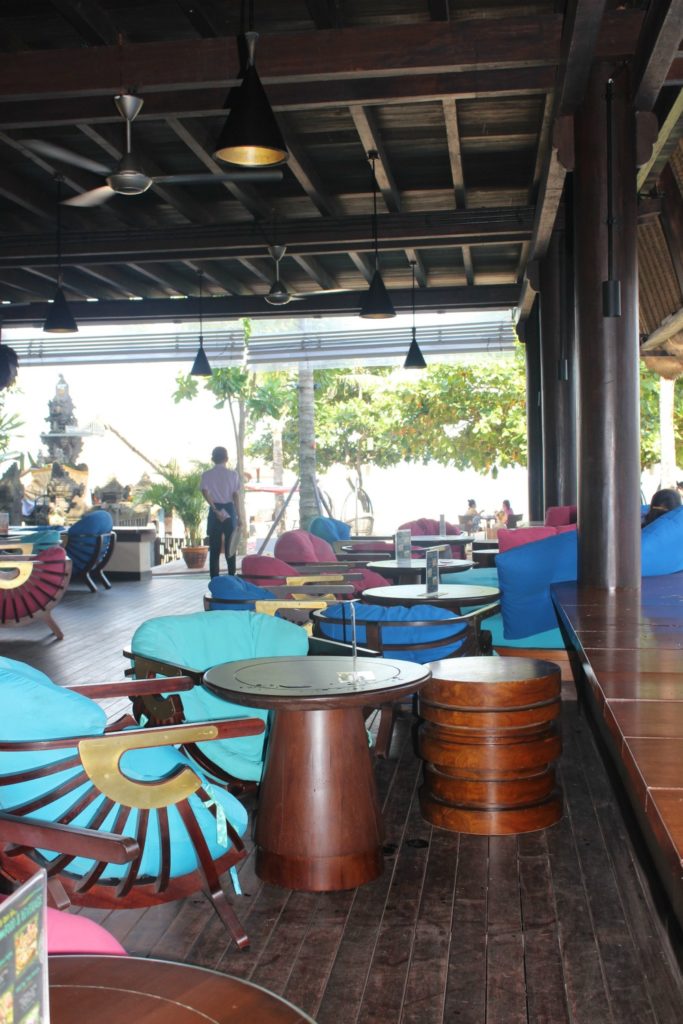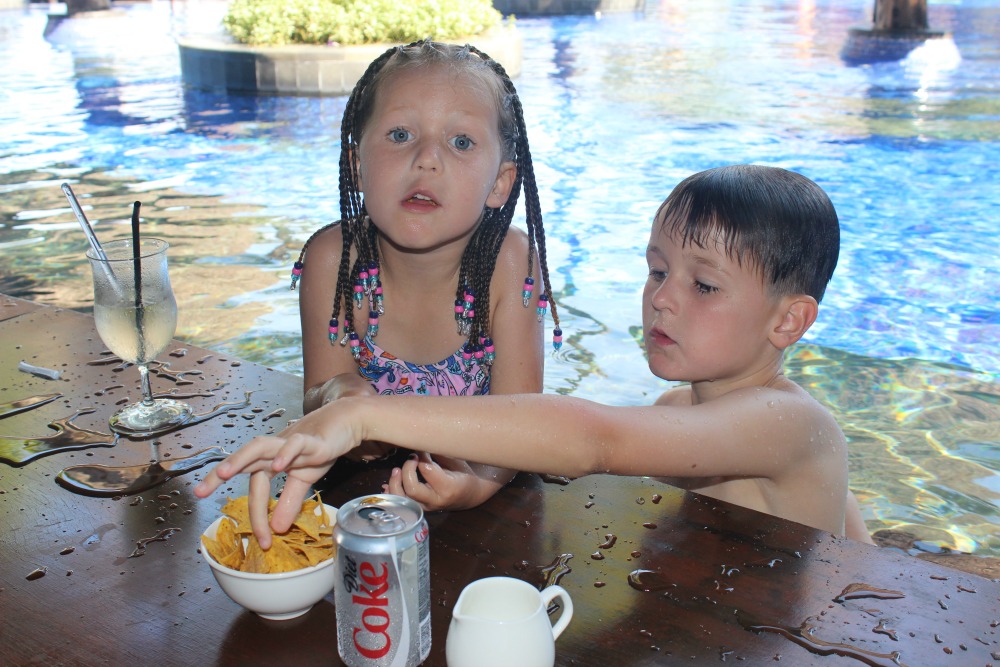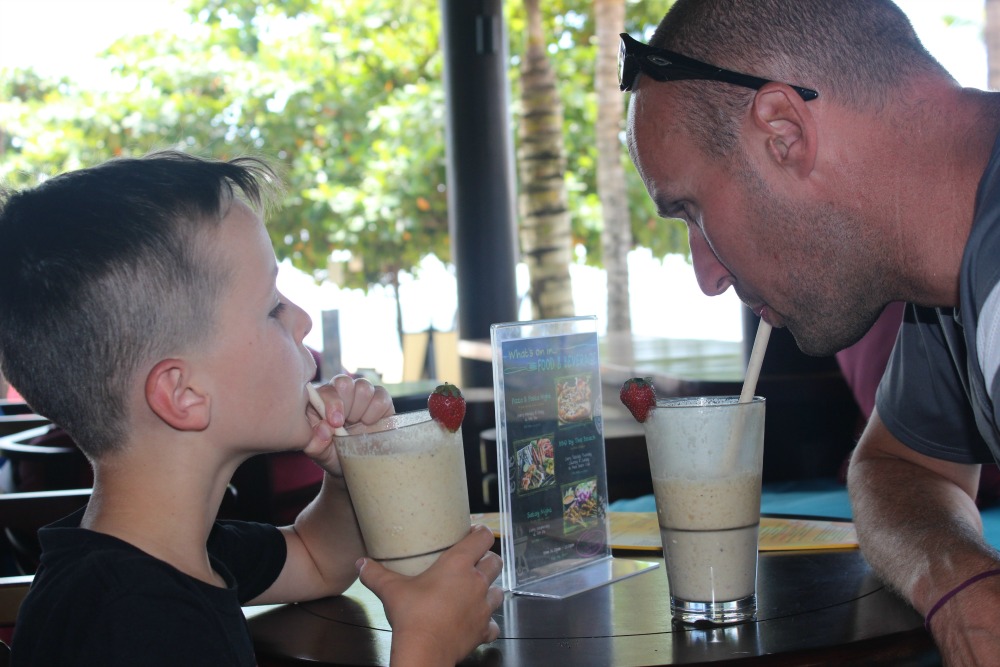 So whether or not your family is after a quick bit by the pool, a family feast at the nightly themed dinners, or a quiet night in with room services; I can promise you that you won't be hungry.
Did you know that children stay and eat FREE at Holiday Inn Resorts? This was something I only found out when I arrived the resort, but from one family to another this is amazing! For each adult meal purchased, two children under the age of 12 dine for free. Not only do you get to eat quality food, but the kids eat free saving money for the family budget.
Activities for Kids at Holiday Inn Resort Bali Benoa
Holiday Inn Resort Bali Benoa has a wide range of experiences for  kids to get excited about and create childhood memories.
Finlee and Chloe love to swim, so I have to be honest and say the majority of our time was spent in 1 of the 4 swimming pools on site. Finlee specifically loved the big pool and laying on the bean bags, while Chloe preferred to go down the water slide. However, we couldn't spend all day in the pool so we experimented with other things too.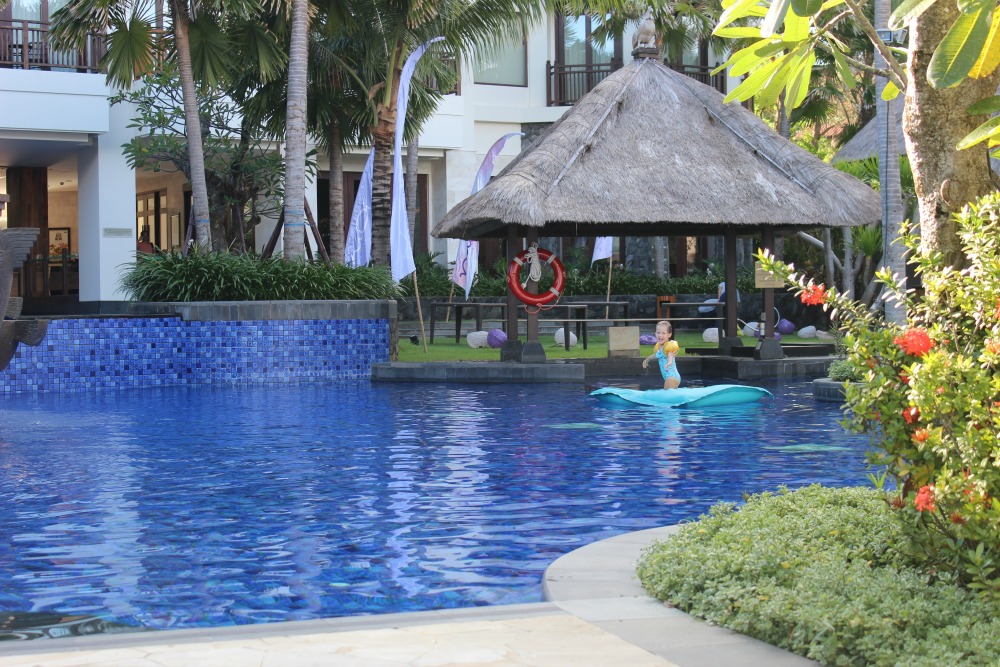 We headed to the beach to build sand castles, had the opportunity as a family to carve/eat watermelons, headed to the spa together for our first ever family spa, took a family mixology class and then of course ended back up in one of the pools.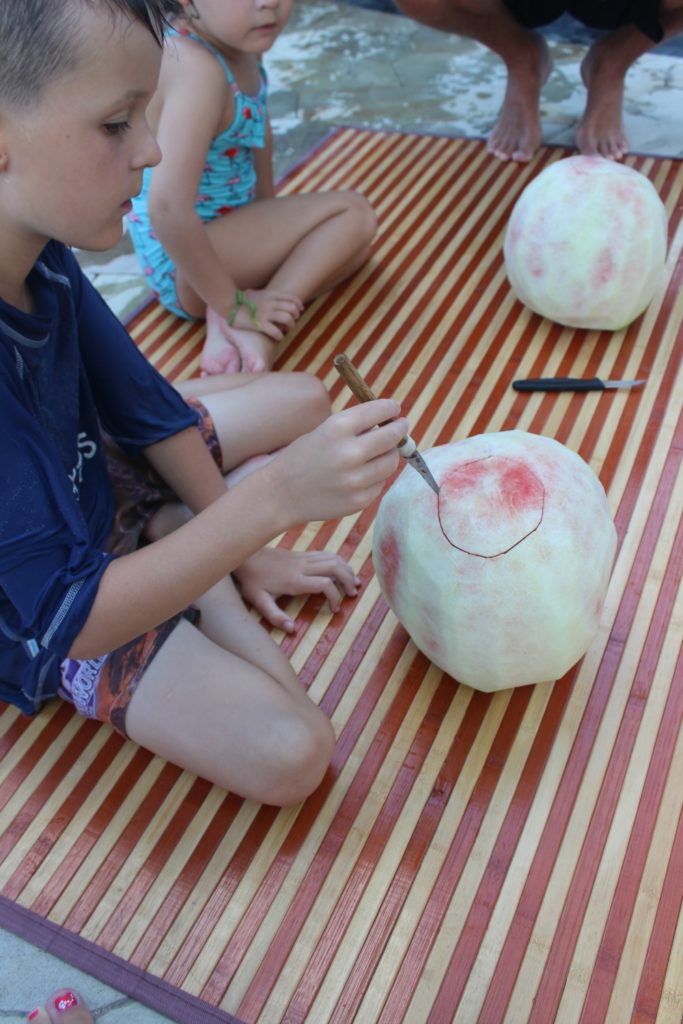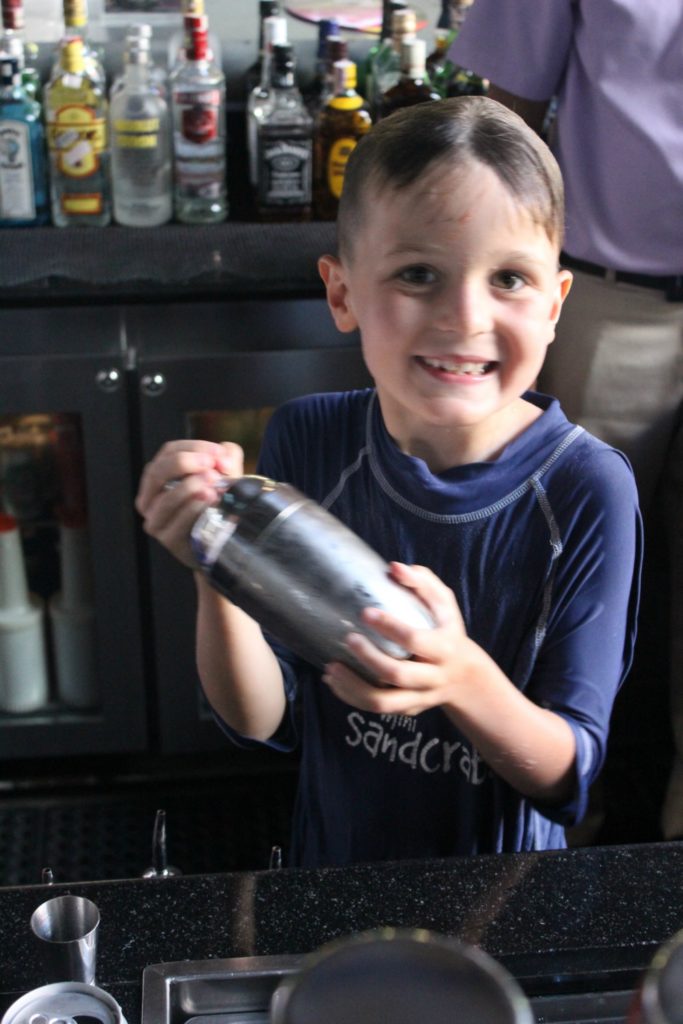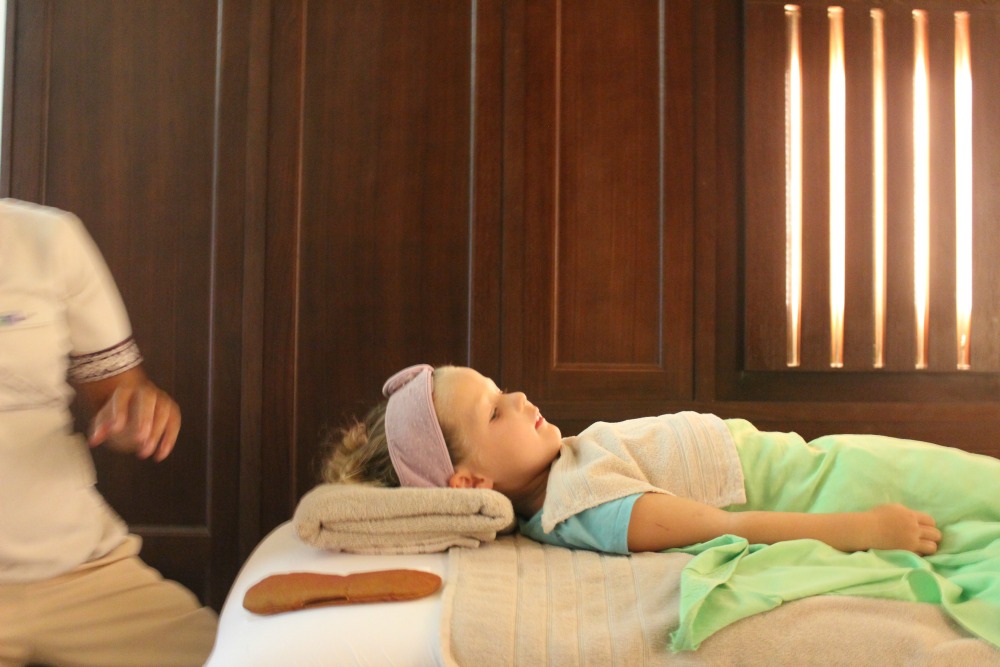 Check out our time at the spa by watching my video below.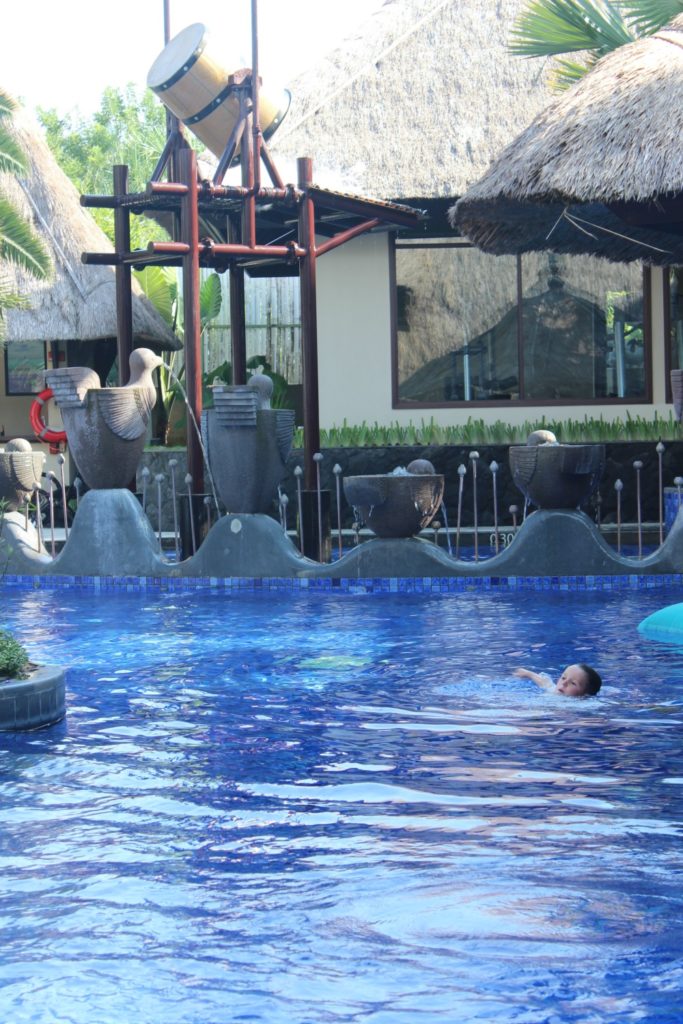 It didn't matter how we spent our time at the resort, because we were always having a great time just relaxing and being in the moment.
Check out our fruit carving session on my video below.
Kids Club at Holiday Inn Resort Bali Benoa
One of the first things my husband and I look for when booking a resort overseas is if they have a Kids Club. The reasoning is simple… we don't have family in Australia and we never get a chance to connect, so a Kids Club is a way for my husband and to connect for 1-2 hours a day knowing that Finlee and Chloe are not only going to have fun, but at safe.
We've been to many Kid's Club over our years of travel, but the Holiday Inn Bali Resorts Kids Club was amazing. The vibrant circus-themed area was inviting and filled with more activities than you could imagine.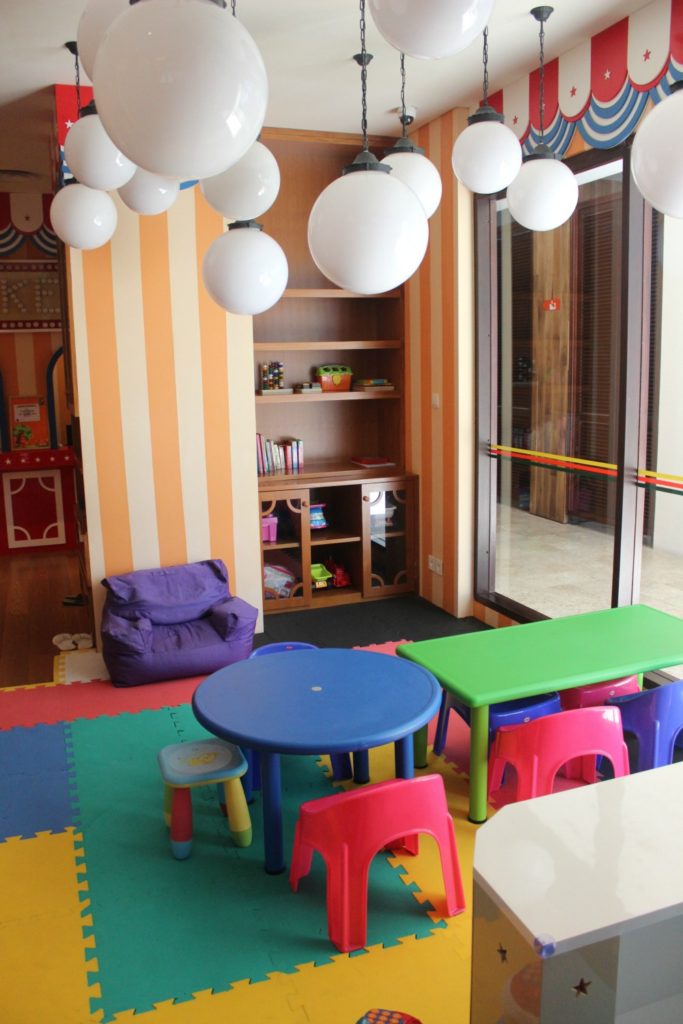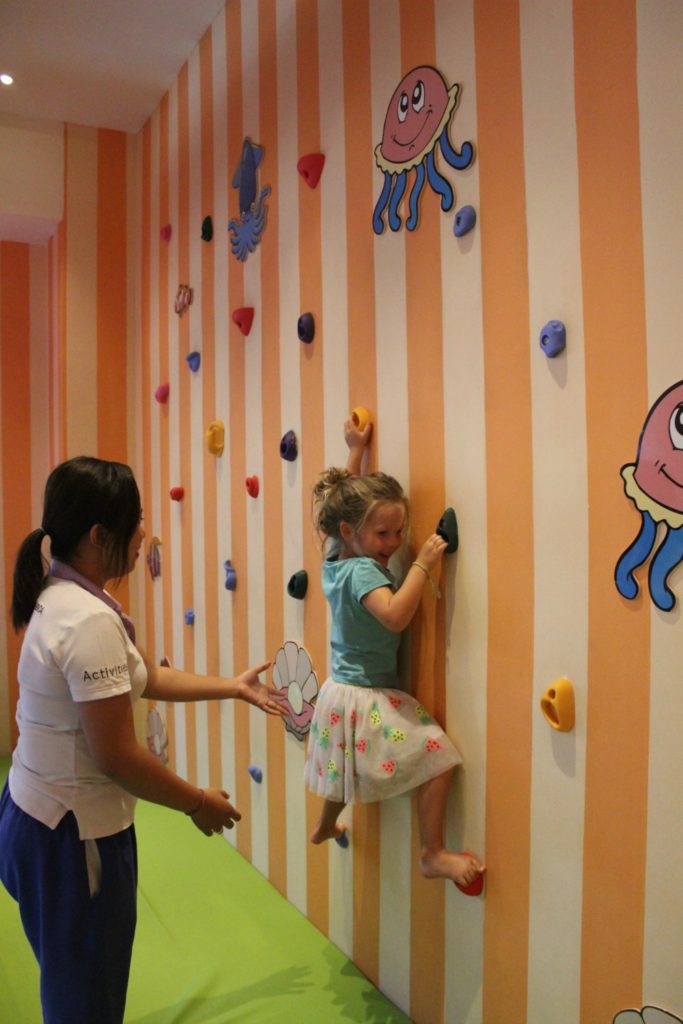 The Kids Club opens from 9:00am – 5:00pm and then reopens again from 6:00pm – 9:00pm. Everyday of the week there is a daily schedule that outlines all the activities that the kids can do for the day such as but not limited to:
Paper mask making
T-shirt painting
Science experiments
Games
Puzzles
Yoga
Pottery painting
Pizza making
And soooo much more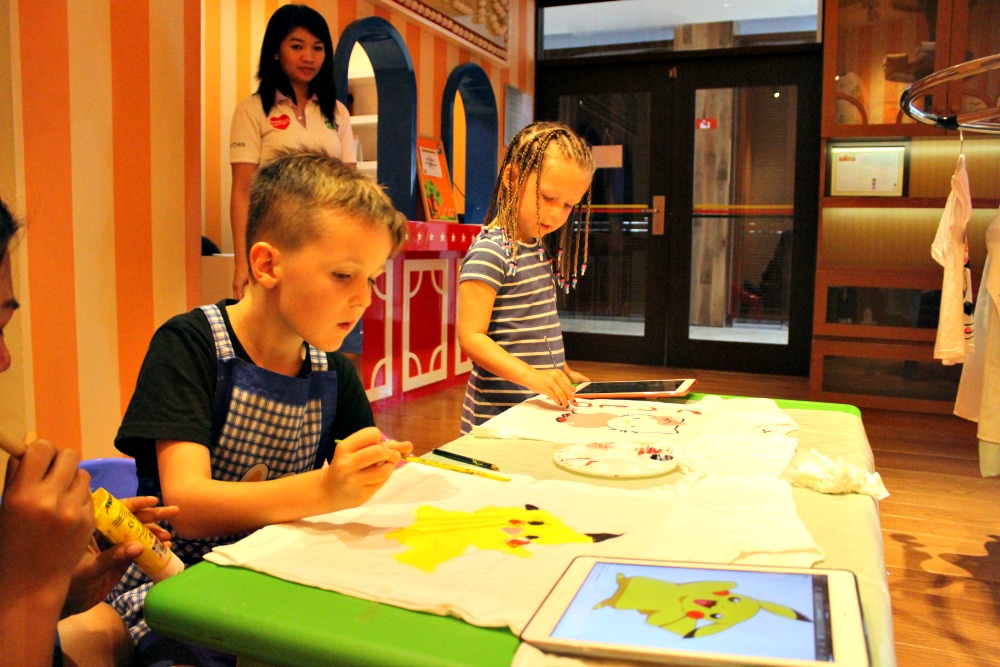 Kids ranging in age from 4 years old through to 12 years of age are welcome to attend the kids club. If you have children under the age of 3, they can attend, but you'll need to pay an additional charge for a nanny to be with them at all times.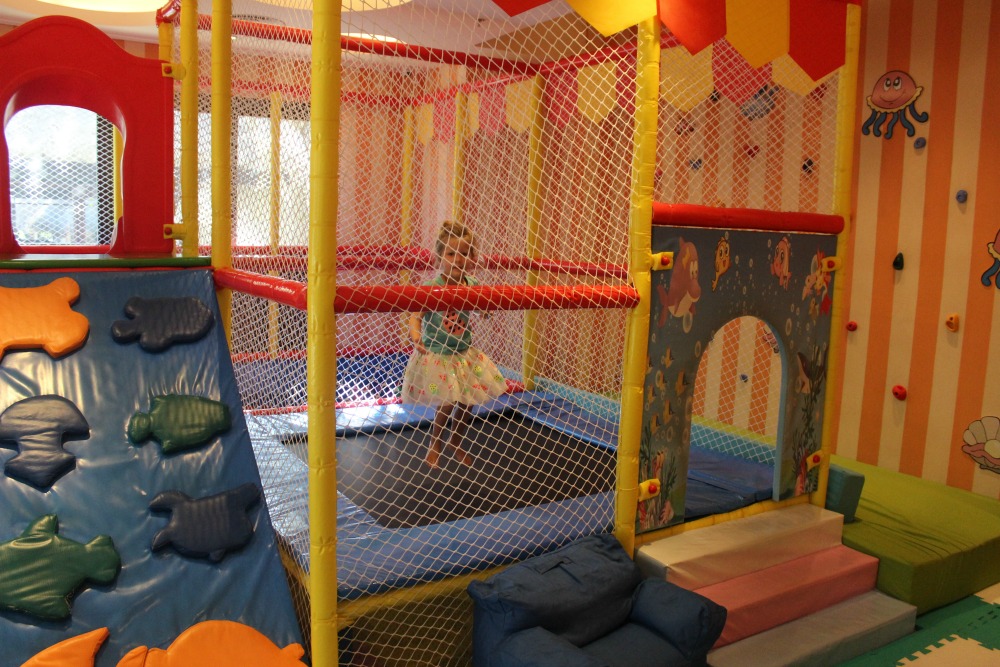 Finlee and Chloe LOVED going to the Kids Club for the activities but they equally loved the friendly staff that greeted them with smiles everyday, connected with them through different types of activities, but more importantly provided a safe environment.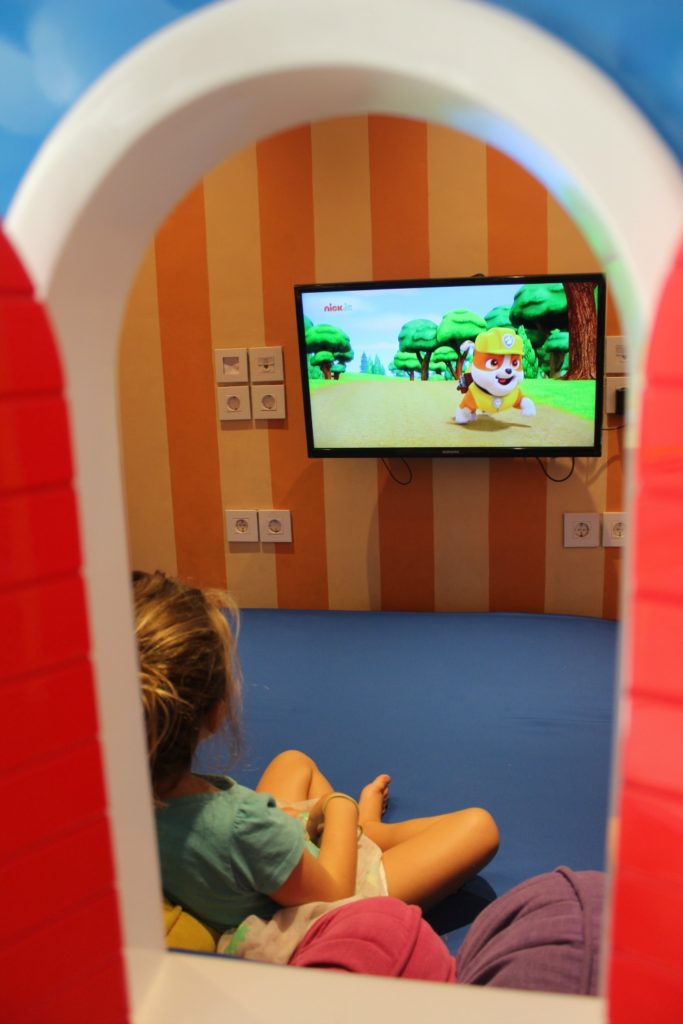 Activities for Adults at Holiday Inn Resort Bali Benoa
It's not all about the kids I say; ha ha. The Holiday Inn Resort has some amazing activities for adults to participate in.
My husband and I participated in our very own Balinese Cooking Class, while the kids attended the Kids Club. For 1.5 hours my husband and I worked with one of the chef's to learn and also make a variety of Balinese cuisine.
During our time we made: fish ball soup, satay chicken served with vegetables and finished with a local dessert called Dadar Gulung – which is grated coconut in palm sugar and then wrapped with flour crepes (I may have eaten these all myself; don't judge).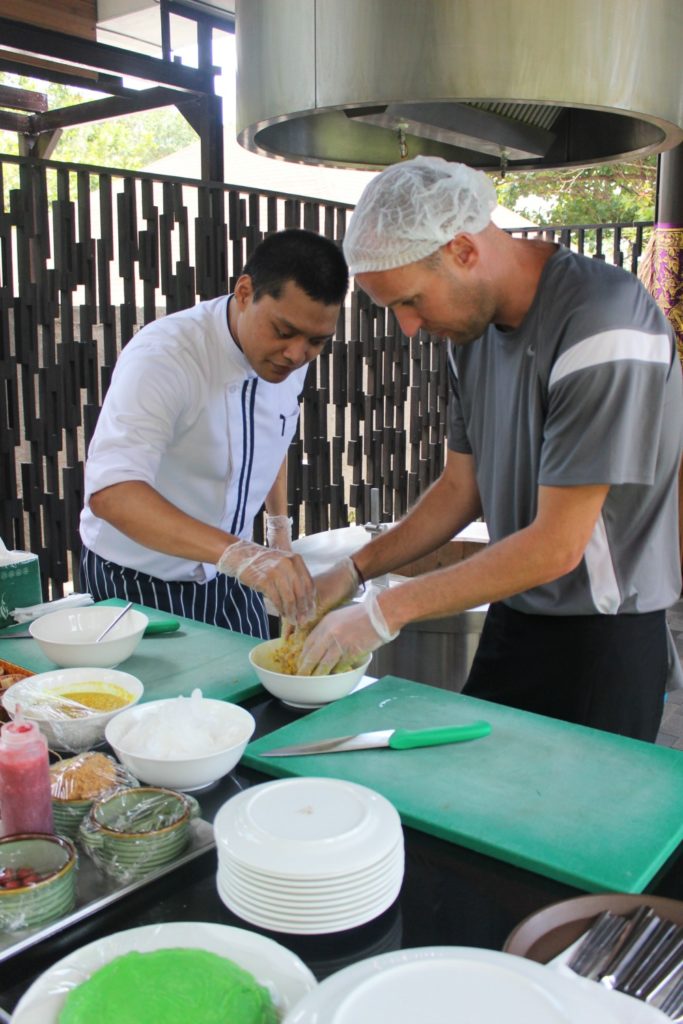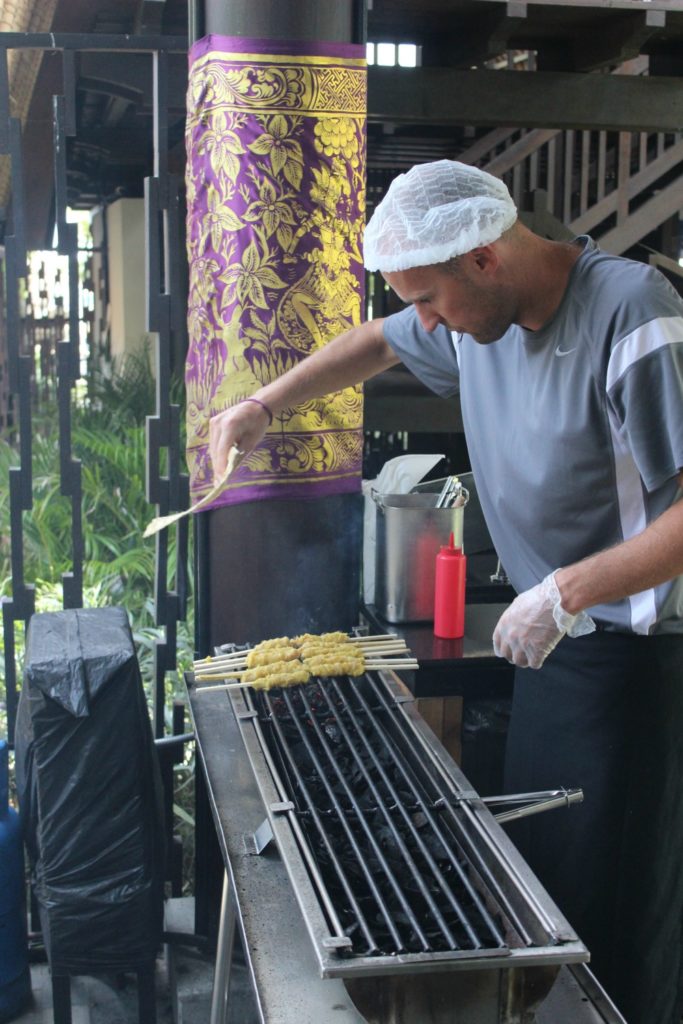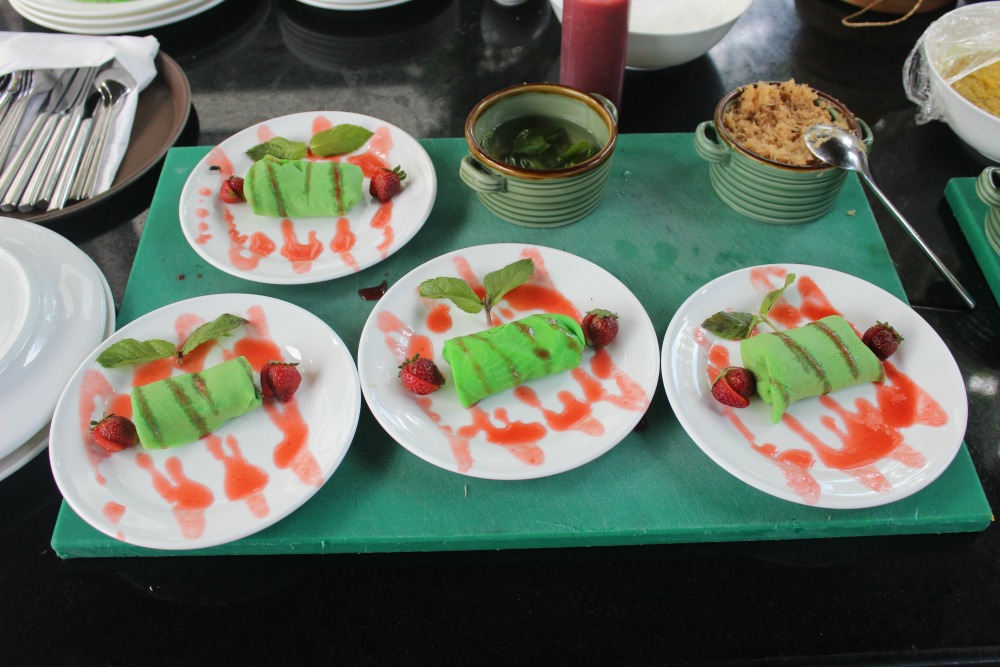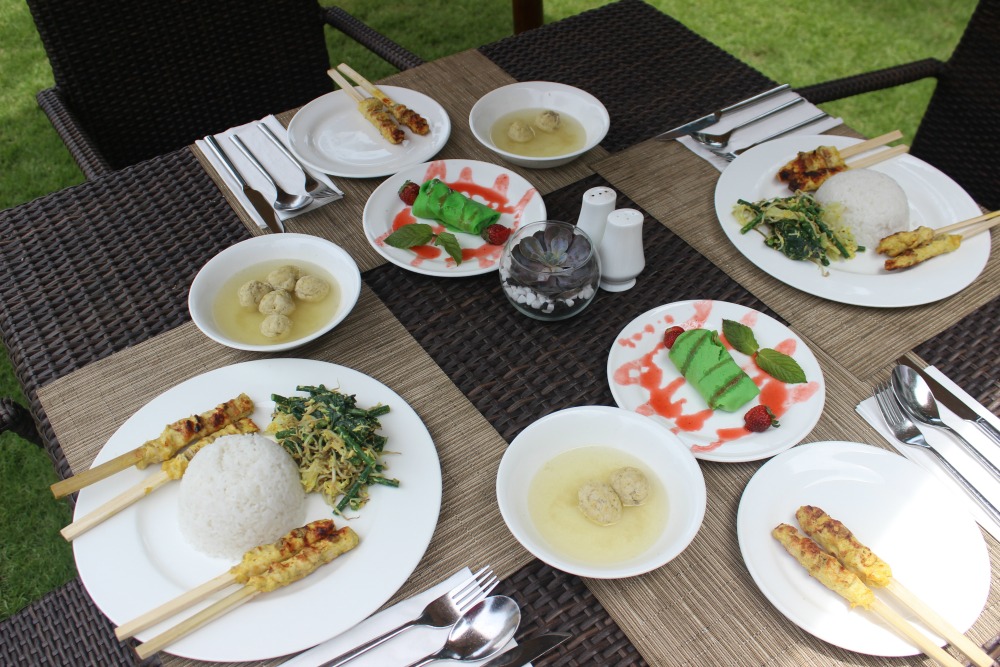 We then served it up and then had the kids come back so we could share this experience with them.
This is just one of many activities that adults can participate in while staying at the resort. They also have the spa, you can hire bikes, or head to the beach and participate in a numerous water sport activities.
Conclusion on Holiday Inn Resort Bali Benoa
Our time at Holiday Inn Resort Bali Benoa was filled with an array of activities that met the needs of Finlee and Chloe, but also had my husband and I in a state of relaxation.
From swimming in the pools, to playing on the beach, receiving blissful massages, to learning to cook local cuisine, to eating amazing food – the Holiday Inn Bali Benoa has something for everyone. So if you're looking for a Bali family beach resort I would strongly suggest heading to Holiday Inn Resort Bali Benoa.
Love to all,
Angela xx from Finlee and Me
Angela is an author, entrepreneur, blogger, mental health clinician and most importantly a mother. She explores various topics related to parenting/children on her blog and also in her three books: 30 Days, 30 Ways for Mothers to Take Care of Themselves, 30 Days, 30 Ways for Connecting with Your Child and Healthy Snack Ideas for Kids.
Connect with her on Facebook, Instagram and her website Finlee and Me.
Save
Save
Save
Save