Baby Wrap Giveaway from Finlee & Me
Keep your little one close to your heart by wearing one of these beautiful, organic cotton/bamboo baby wraps that Finlee & Me are giving away. We're not just giving 1 baby wrap away, but rather 10 baby wraps away. We know there are a lot of families out there right now that are about to have a baby/had a baby and have been looking for a baby wrap, but may not have the funds to purchase right this minute as it's not a high priority. Therefore, enter our Baby Wrap Giveaway now for your chance to WIN!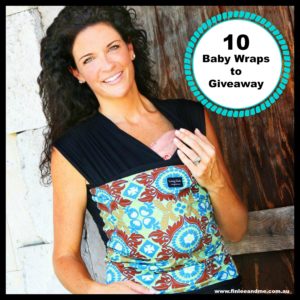 WIN 10 X Baby Wraps from Finlee & Me
To enter our giveaway it's simple. Just click below, complete the requested information and don't forget to feel free to share with others who may also needs/want their one baby wrap.
Sling Giveaway from Finlee & Me
Baby Gifts, Educational Toys, Sensory Building, Imaginary Play and More…
If you're about to have a baby, have a baby, have a toddler, have a child, need a baby shower gift, Easter gift, birthday gift, Christmas gift then make sure to head to Finlee & Me with over 1300+ quality products to choose from.