The most upsetting thing about Attipas shoes is that I wished I had found them earlier for my two older kids when they were in their toddler years!
These shoes, in one word, are BRILLIANT!
Attipas shoes are made with a rubber, non slip base that have been designed and researched over 7 years with growing feet in mind. Because they are made with a wider toe area I noticed that my daughter walked around with more stability than in other pre walkers. They also have small breathing holes in the bottom so are great for either summer or winter wear.
The gorgeous sock top (which is attached to the base), comes in some delightful and funky styles for both boys and girls and are by far the easiest shoes that I have ever purchased to get on to a wiggly, wide footed 1 year old. The best part about this shoe is that once the shoe was on Miss 1's foot there was no way she was pulling them off so the chance of losing them somewhere down a supermarket aisle is slim.
All shoes are easily washed and are quick drying which with an inquisitive toddler that is just starting to explore is a must in this house. In addition, these shoes are durable, long lasting and definitely value for money.
Attipas Australia is giving Finlee & Me readers 30% off by using the code FINLEE at checkout. It is only valid until July 31st, 2014. So head over to www.attipas.com.au to take advantage of this great discount.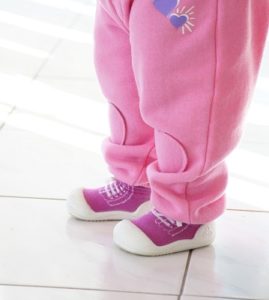 Disclosure: Finlee & Me Team were given shoes to review on our blog. All views and materials (including photographs) produced are that of the Finlee & Me Team. Australia's Best Baby/Kids Store Head to Finlee & Me