Healthy Chicken Noodle Soup for Your Family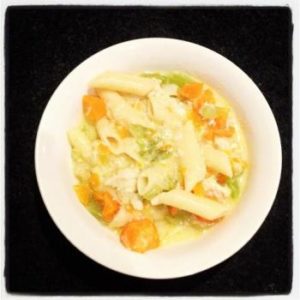 I feel a good chicken noodle soup is not only fantastic on a cold winters night, but also fills the soul when you're under the weather. There is nothing better then the smell of homemade soup cooking and then once prepared dipping a piece of crusty bread into and feeling the warm going through your entire body.
Ingredients
1 large brown onion (roughly chopped)
2 garlic cloves (skin off)
1 teaspoon oil
3 large carrots (roughly chopped)
3 large celery stalks (roughly chopped)
750ml water
2 large teaspoon of Thermomix veggie stock
300g chicken tenderloin
2 cups small pasta
Salt/pepper to taste
Preparation
Step 1: Turn Thermomix on and add onion, garlic and oil. Chop on Speed 4 for 3 seconds. Then cook on Heat 100C, Speed 1, for 2 minutes.
Step 2: Add to Thermomix your carrot, celery and chop on Speed 4 for 3 seconds
Step 3: Add your water, stock, chicken and pasta and cook on 100C, Speed 1 and Reverse for 16 minutes.
Options
* You can add 1/2 cup of canned corn at the 14 minute mark if you would like to have some extra vegetables.
* Allow family members to salt and pepper their own bowls of soup.
* Buy a beautiful loaf of bread to dip with your soup.
And if you love this recipe, make sure to check out our other Yummy Mummy recipes and crafts area or go shopping at our baby shopping online store