Easy No Cook Playdough Recipe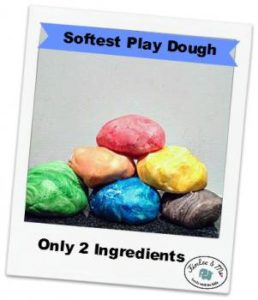 In the 4 years that I've been a mother, I have avoided playdough on many occasions until now when I created this easy no cook playdough recipe for my kids. Either because the smell of the store bought play dough makes me want to vomit or the fact that the homemade salt playdough feels disgusting. However, after being on PInterest, I came across different playdough recipes that kept intriguing me by the simple fact they said: "2 ingredients only or softest playdough," so I finally ventured out to make this wonder play dough and let's just say I'm in LOVE with it!!
Ingredients
3 cups of cornflour
1 ½ cups of conditioner
Food colouring
Directions
Step 1: Place conditioner into medium sized bowl.
Step 2: Add cornflour ½ a cup at a time and mix thoroughly. Then continue until all cornflour is fully mixed. If your mixture is still slightly sticky (conditioner brand varies) simply add a little bit more cornflour until mixture is no longer sticky.
Step 3: Place mixture on countertop and knead until mixture is no longer crumbly.
Step 4: Decide on how many colours you'd like and divide mixture evenly into bowls and add food colouring (I personally prefer to knead my mixture in order to get the colour spread out evenly and suggest depending on the food colouring you use to pop on a pair of gloves or spare plastic bags just to get the food colouring working through and to avoid getting on hands).
Step 5: Place in air tight container, which will allow the play dough to last longer. Iif you're mixture starts to dry out, simply place a couple of tablespoons of olive oil into the mixture and mix through entire play dough; this helps to give it back its moisture.
Benefits of Using Play Dough for Toddlers and Young Children
There are a million benefits of using play dough for toddlers and young children, not to mention the endless amount of open play options for a child. Suggestions for Play: have your child (ren) go around the house to find items they can use to build with the play dough. It might be sticks, feathers, spoons, cookie cutters, funnels etc; allow their imagination to run wild. While you're playing with the play dough talk to your child and ask questions like: what does it feel like? Is it soft? Smooth? Rough? What colours do you see? Does it smell nice or yucky? This engagement with your child will not only create a bond with you, create fun and lastly memories, but also their brain to develop.
For a wonderful selection of education toys head on over to Finlee and Me Educational Toys
*** This play dough is not for eating due to conditioner being an ingredient ***