Halloween Crafts For Kids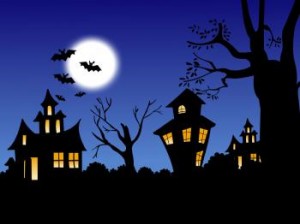 Kids love Halloween, and mums do too.  Halloween crafts for kids mean making something a bit spooooky and who doesn't love a change for pretty once in a while!  Halloween ROCKS. Kids get to dress up as their favourite ghoulish character, go trick or treating and end up with a big stash of sweet treats. Keep them occupied for hours making some of these simple Halloween crafts that you can use to decorate your home for when the neighbourhood comes knocking.
Quick and easy spooky Halloween craft ideas
A quick trip to the discount store will get you stocked up easily for these creepy crafts. Hang them on your porch, in the pot plants or let your kids decorate their rooms for fun.
•             Freaky front door – Turn your front door into a Halloween work of art. Supplies:- Black cardboard, black wool, Blue tack and scissors.  Get the kids to cut out some large shapes such as spiders, bats, ghosts or cats. Use the black wool and blue tack to weave some spider's webs in the corners of your door. Blue tack the shapes randomly over the door and you have created a big masterpiece of Halloween magic.
•             Evil Eyes – This is a great way to use up that never ending collection of empty toilet rolls. Supplies:- Empty toilet rolls, scissors, glow in the dark sticks, sticky tape and fishing line or string. Place the toilet roll on its side. Cut two eye shapes into the side of the toilet roll. Cut a length of fishing line or string and secure it around the middle of the toilet roll leaving a length long enough to tie to a tree branch. As it gets dark, 'crack' a glow in the dark stick to activate it, and place into the toilet roll. Use a little sticky tape to secure it. Hang the evil eyes from tree branches for glowing sets of eyes.
•             Pasta skeletons – Pasta make great 'bones' and can be used to make skeleton posters. Supplies:- Bags of uncooked pasta, black cardboard and craft glue and glow in the dark paint. Lay the cardboard on a flat surface. Using the craft glue, stick the pasta shapes on to the cardboard in the shape of a skeleton. Add some glow in the dark paint for a scary night time glow.
•             Halloween bunting – Hang bunting anywhere that needs a spooky lift.      Supplies:- Black cardboard, orange cardboard, black wool, sticky tape or stapler. Cut triangle shapes out of both colours of cardboard. Cut a long length of black wool and spread it out on a table. Create a 1cm fold on the shortest side of the triangle and loop over the wool. Use the sticky tape or a stapler to secure the triangles. For extra fun you can use stickers to decorate the triangles or hang some small plastic spiders with extra lengths of wool between each of the triangles.
•             Ghostly lollipops – The kids will love making and eating these cute lollipops.  Supplies:- Round covered lollipops, small white paper serviettes, packet of craft eyes, craft glue, sticky tape. Open out a serviette and place a lollipop upside down in the centre. Holding on to the stick, fold the serviette up to cover the lollipop head. Turn right side up and use a little sticky tape to secure the serviette over the lollipop, right up where the lollipop connects to the stick. Glue on two craft eyes and you are done.
Kids will enjoy making these simple Halloween crafts, and when the day is over, they can be stored in a plastic bag and be kept for use next year. The lollipops would also make a great topper for cupcakes as treats for family and friends.  Ghostly good fun for all!
Did this article give you some scary good ideas? Click like or share!
Check out our craft section for more ideas.