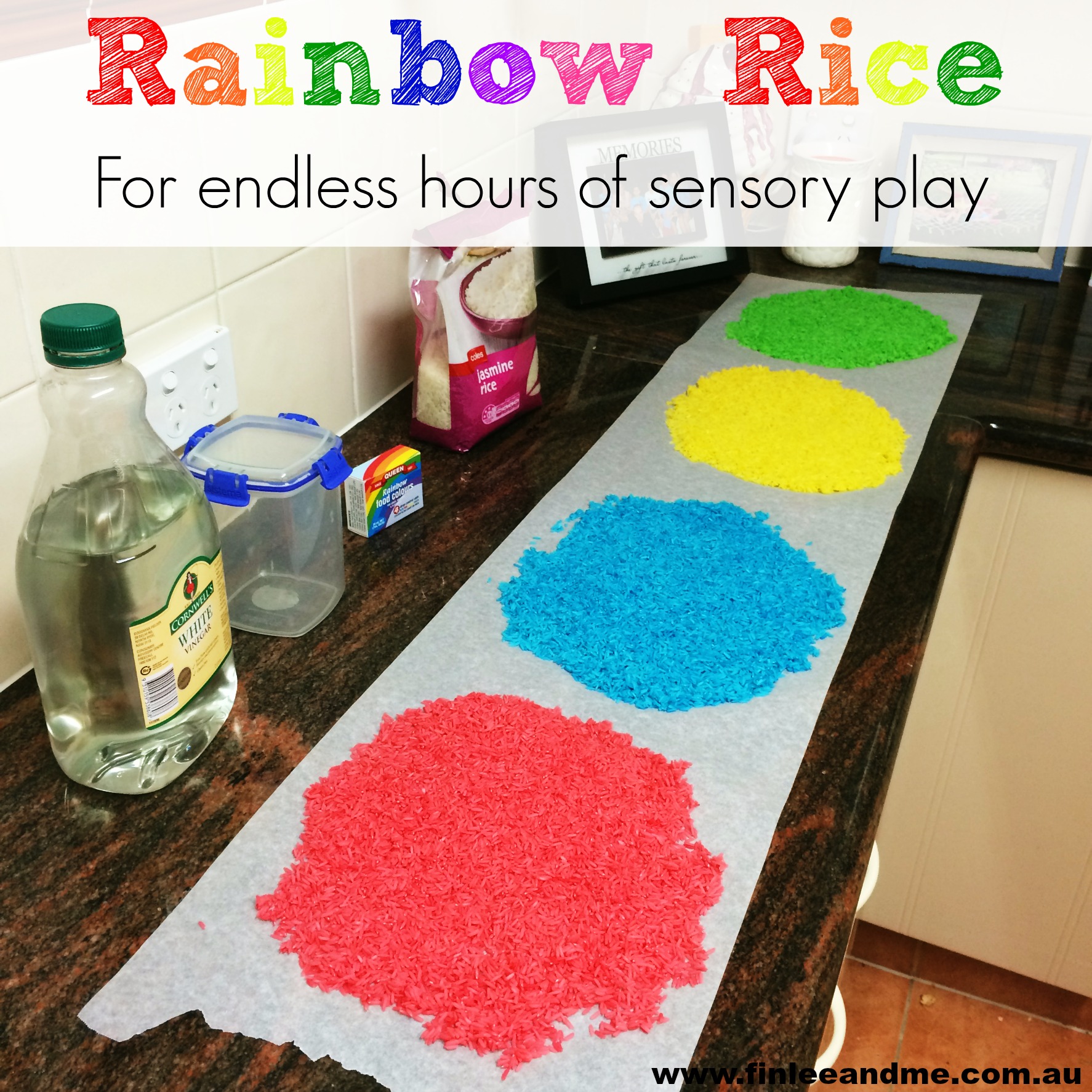 The look of awe on a young child's face when a tub of rainbow rice is placed in front of them is priceless. It would have to be one of the most inviting sensory play materials. Young children explore and experience the world through their five senses – and rainbow rice gives them the opportunity to explore 4 out of the 5 (it's not edible!!!). The beautiful colours being combined together, the sound it makes as it's poured, you can even add a scent to heighten the sensory experience. But above all, it feels amazing to run their little fingers through it!
Rainbow rice will keep kids of all ages entertained for ages and it's super easy to make. You can get your children involved in the process as well.
How to Make Rainbow Rice
Rainbow rice is SUPER easy to make and the best part is you'll have the majority of the materials already in your home.
Step 1: You will need rice (any kind will do), food colouring, vinegar, zip lock bags and baking paper or foil. Note: for a variation to this recipe, you can replace the vinegar with liquid hand sanitizer.
Step 2: Place 1 cup of rice, ½ teaspoon vinegar (or a squeeze of hand sanitizer if you go for this option) and food colouring into the zip lock bag. Note: the more food colouring you use, the brighter the colour will be (we used 20 drops per colour).
Step 3: Seal the zip lock bag (this is very important otherwise you'll have a huge mess!!). Let your child help you by shaking it all around until the rice is completely covered.
Step 4: Lay rice out on your baking paper or foil to dry out over night.
Step 5: Repeat for as many other colours as you'd like to make.
How to Play with Rainbow Rice
When you're ready to let your children go for it, you can keep it simple just with the rainbow rice in a large tub for them to explore the sensory play experience. Or you can add various other tools such as scoopers, buckets, shovels, or just have a look in your kitchen utensil drawer for other bits and pieces. They can measure with measuring cups, stir, pour, mix which all encourages the development of fine motor skills. You can even hide 'treasures' for them to find or it can provide for calm and quiet time for children who need it. There are just so many possibilities for little imaginations to run wild and you'll be astounded at their creativity.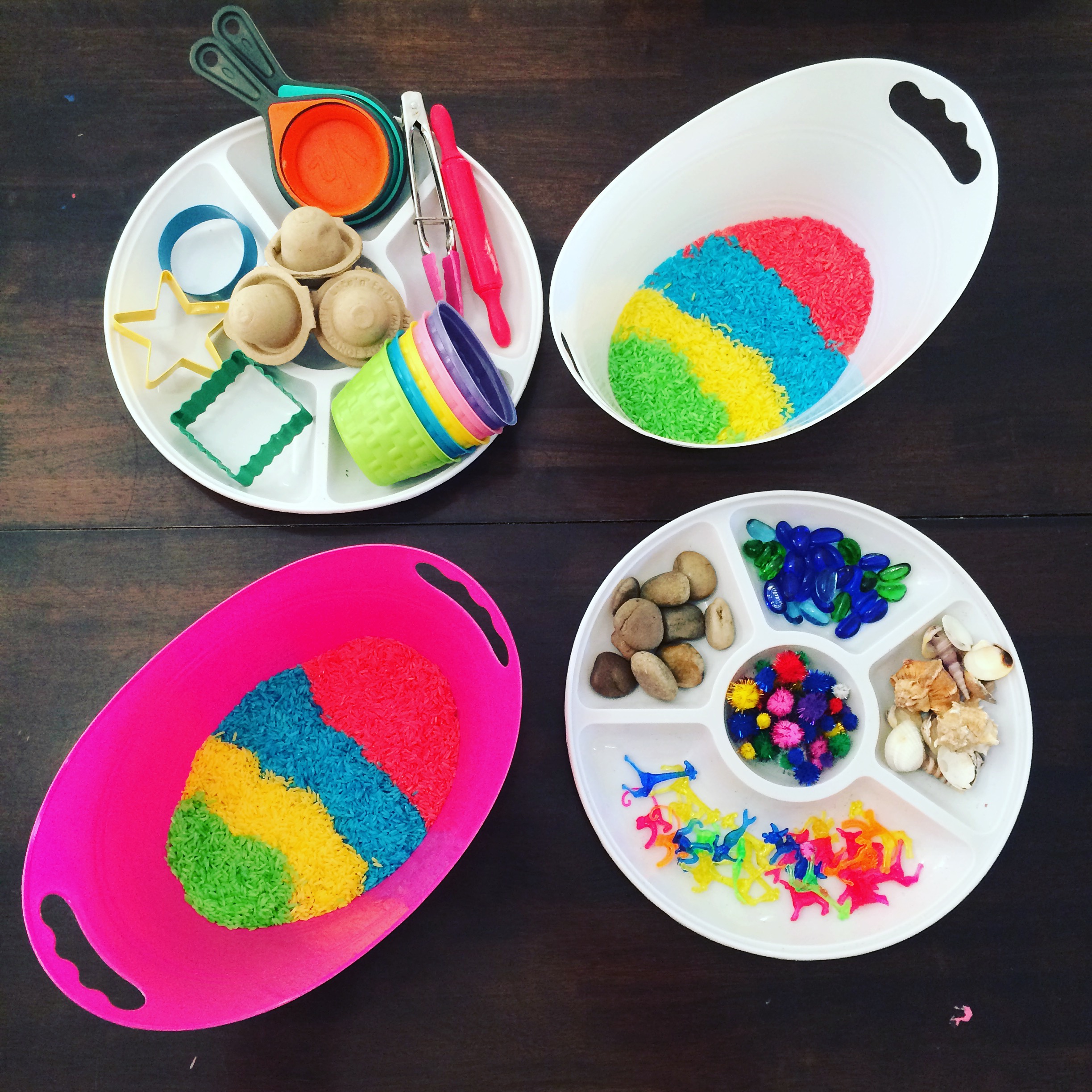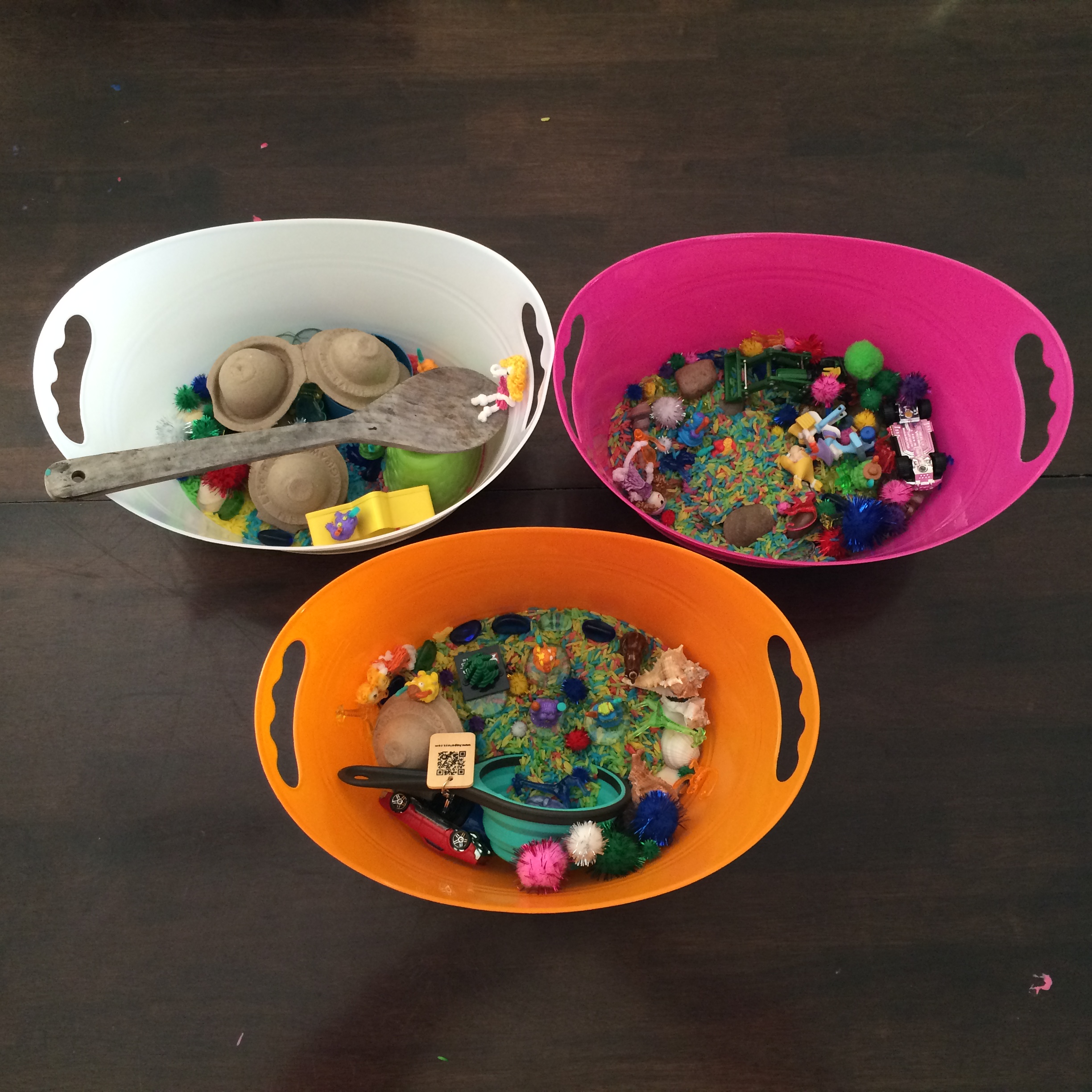 Be prepared for a bit of mess (as to be expected with all sensory play experiences), but it vacuums up pretty easily. Trust me when I say your kids will absolutely love it and they'll ask for it again and again.
Rainbow rice is awesome for sensory play, but equally awesome for creating childhood memories through play.
About the Author (s)

Written by Lauren Hunt of Teacher Types. Lauren is a mum of two and an early years teacher from Adelaide SA. She blogs about all things early learning and parenting at her blog www.teachertypes.com
Photography done by Angela Henderson. Angela is an author, entrepreneur, blogger, mental health clinician and most importantly a mother. She explores various topics related to parenting/children on her blog and also in her three books: 30 Days, 30 Ways for Mothers to Take Care of Themselves,  30 Days, 30 Ways for Connecting with Your Child and Healthy Snack Ideas for Kids. Connect with her on Facebook, Instagram and her website Finlee and Me.