Description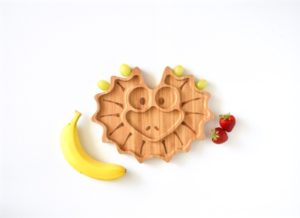 Lizzy Lizard is the cutest bamboo dinnerware for kids around. Lizzy loves to be the life of the party and help kids from all around Australia enjoy meal times.
This amazing bamboo plate is made from 100% Bamboo and we love the multi compartment design as it allows you to either offer an elaborate meal or a simple meal.
The beautiful thing about this bamboo dinnerware for kids is that it allows meal times to be fun, innovated and leaving kids wanting more.
Additional information:
Please note every plate with vary in grain and colour due to the nature of bamboo
Made of 100% Bamboo and non toxic
Food safe certified and ethically made
Approximately 27 X 21 X 2cm
Do NOT put in the dishwasher, microwave! Simply wash with warm water and soap, dry with a dish towel and leave standing to dry.