Quiche in a Bread Cup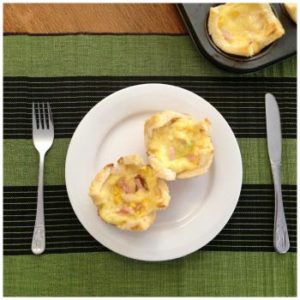 These quirky little quiches make a great lunch for school lunchboxes, at home or on a picnic. Ingredients can be changed to match what your children like or you could sneak in a new vegetable or two.
Ingredients
· Six slices of bread
· Butter or margarine
· 1/3 cup frozen corn
· 1 rasher bacon
· 1 spring onion
· ¼ grated cheese
· 2 eggs
· 1/3 cup cream
· Salt and pepper
Method
· Turn oven on to 180 degrees Celsius and grease a six muffin tin tray
· Cut crusts off bread, butter both sides, and use to line muffin cups
· Chop bacon and spring onion, mix with corn and cheese, and spoon in to muffin cups
· Mix eggs and cream and pour into muffin cups
· Bake for 20 minutes or until set.
Kids can help with (choose what is appropriate for their age):
· Buttering bread
· Measuring ingredients
· Spooning ingredients into muffin cups
· Breaking eggs
· Mixing
· Pouring