Recycling Craft Ideas for Kids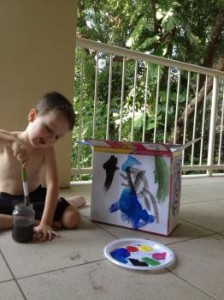 It's 7am. You've been up since 5am and you've already played cards, read books, had breakfast, played hide and seek, brushed teeth and you think … it's only 7am what will I do next?
The other day this is exactly what happened with my 4 year old. So we went searching around the house for items we could use to make a craft and to get Mr.Finlee's 4 year old brain working.
Items Needed for Craft
Huggies box
White paper (but any colour will work)
Tape (any kind)
Paints (but you could also use crayons, stickers etc)
Paint brushes
Plate to put the paints on
Jar for washing paint brushes
Instructions to Making Your Masterpiece
Gather all items needed
Tape paper to outside of box
Put paints on a plate so you don't have to stop and start with getting new colours
Let your little one get creative
Have fun by joining in
It's hard to remember that you don't need a bunch of flash art supplies to have fun with your little ones. Use what ever items you have around the house: feathers, sticks, stones, glue, newspapers, tooth picks etc. But most importantly, have fun and create life long memories.
If you enjoyed this craft idea make sure to explore our other craft ideas click here: Finlee & Me Craft Ideas or if you're looking for great gift ideas for kids check out Finlee and Me Education Toys.