Nappy Bags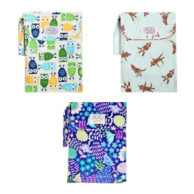 Nappy bags that make changing nappies easy and fun! No we aren't kidding. Check out this super cool, chic and compact nappy bag collection and you'll know just what we're talking about.
All-in-one nappy bags, like these, pack fresh nappies, a change mat and a wipe case, easily and conveniently.
So, when you're at the park, at the clinic, in the car, you can change nappies without missing a beat!