Santa Sacks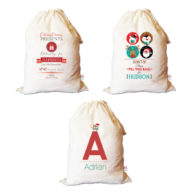 Santa sacks add a super special touch to Christmas mornings when kids wake up to see their personalised Christmas sacks that Santa's left under the tree, brimming with gifts and goodies for them.
Gorgeously designed in a range of vibrant, holiday-themed colours and prints, these personalised Santa sacks make gift-giving on Christmas mornings so much more fun!
These beautifully made and generously sized personalised Christmas sacks make great keepsakes as well and you'll love bringing them out every year!