The Kindness Elves™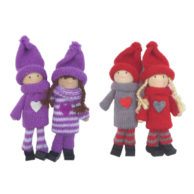 The Kindness Elves™ are a wonderful holiday tradition that will be spoken about for many years to come.
Bright and merry, The Kindness Elves will come to your home and immediately start to spread kindness and happiness.  The Elves believe it's important to encourage kids to not be entitled but rather give back during the holidays season. Your kids will start to learn and feel a sense of gratitude for what they have but also for the kindness they'll spread towards others.
The Kindness Elves are sure to bring many years of excitement into your holiday season and will create long lasting memories for years to come. Start your family tradition today and grab your very one set of the The Kindness Elves™.