Colouring Books for Adults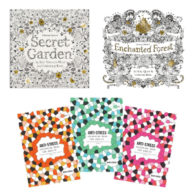 Shop a range of colouring in books for adults. The range of adult colouring books have been selected for their whimsical illustrations and graphics. A majority of the adult colouring book range has been designed and made in Australia.
Adult colouring books are a great way to de-stress and clear your mind. The colouring books are compact so they can be used at work, on the train or even a cafe. Discover your inner child today and explore our range of colouring books for adults.