Arts and Crafts for Kids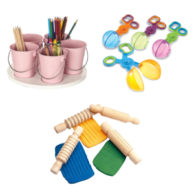 Inspire creativity, encourage artistic expression and foster independent thought with our amazing selection of arts and crafts for kids.
Educational toys that encourage learning while having fun and make memories that kids will cherish is what we're all about and our arts and crafts for kids selection is no different.
You'll find delightfully cheery and non-toxic crayons and paints, convenient to carry drawing sets and a range of stylish kids art display and storage options too!
Everything you need to make creativity, learning and fun a chance to make wonderful memories with your kids.
BROWSE ALL Arts and Crafts for Kids