Blocks for Kids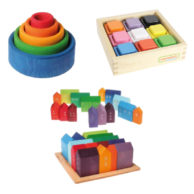 Blocks for kids are a proven, time-tested and Mum-approved way of encouraging learning, creativity and even, verbal expression, all the while having tons of fun. As far as educational toys for kids go, blocks are pretty much an all-star!
Blocks for Kids Build Cognitive and Motor Skills
The simple acts of picking up blocks, sorting them, arranging them, creating structures and more, help develop thinking and problem-solving skills, encourage creative thinking and also, strengthen motor skills.
At Finlee and Me, we pride ourselves in carefully choosing the best educational toys for kids and ensuring that your family only gets the toys that we trust our own kids with.
BROWSE ALL Blocks for Kids