Educational Books for Kids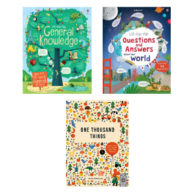 Books for kids that nurture, engage and entertain young readers is what you'll find here.
From delightful classics like, Planting a Rainbow by Lois Ehlert to modern favourites, like This is a Ball by Beck and Matt Stanton, our shelves are brimming over with the best books for children of all ages.
Books, Books, Books for Kids
Whether you're looking for a book that encourages vocabulary development or for one that nurtures emotional expression or maybe one that'll have interactive activities and learning, you'll find them all here.
We're constantly adding to this carefully chosen selection, so if there's a book, you'd like to see here, send us an email and let us know.