Fine Motor Skills Toys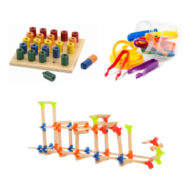 Fine motor skills toys are educational toys that help kids improve the actions they make using their fingers and thumbs, such as picking an object, using the pincer grip, and so on.
These learning toys are perfect for encouraging children with writing skills, picking and sorting skills as well as have tons of fun too. That is a given, you know!