Kids Superhero Costumes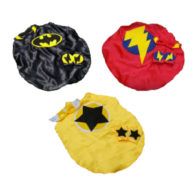 Hours and hours of pretend play and dress up fun in store with kids costumes that are superhero-themed.
Made from eco-friendly material and with loving attention to the smallest of details, these kids costumes are packed with imagination-boosting superpowers and cape-abilities that give your kids everything they need for an afternoon filled with creativity and excitement.
As Mum to Finlee and Chloe, I can vouch for these superhero kids costumes as being the best way to rescue a day from being boring or ruined!