Kids Music and Dance Toys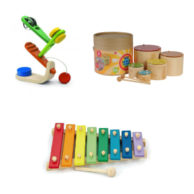 "Do…a deer, a female deer, Ra- a drop of golden sun…"
The house will be alive with the sound of music, with our carefully handpicked selection of kids musical instruments and dance toys. Perfect for encouraging little ones to develop an ear for music and a sense of rhythm.
Whether you're looking for thumping drums or melodious xylophones or tinkling bells, you'll find them all here.
Music and dance toys are a wonderful way for children to learn about music, enjoy dancing and get physical activity into their days and best of all, have tons of fun, singing and dancing with you!
BROWSE ALL Kids Music and Dance Toys