Pretend Play Toys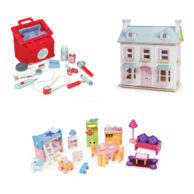 Pretend play toys are what every child dreams of.
Cars that go vroom, little fairy houses that intrigue and delight, kitchen sets where little chefs can whip up meals for dolls and of course, forts and magic treehouses where mystery and excitement come to live!
Pretend play is an essential part of childhood and educational toys that encourage and nurture this innate imaginativeness while adding to the fun are what every playroom needs more of.