Dollhouses and Dollhouse Accessories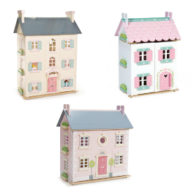 Dollhouses and dollhouse accessories are the stuff a child's dreams are made of.
Gorgeously crafted wooden doll houses, furniture and accessories that add a special touch, are a must for every kids' playroom.
These stunning wooden dollhouses are crafted with attention to the tiniest details and are built to last.
Dollhouses are a wonderful way for kids to learn about role playing, chores, responsibility and also, independence, while improving their fine motor skills, communication and nurturing their creativity and imagination.
Hours of pretend play in store as kids bring their dreams to life with these beautiful must-have dollhouses and accessories.