Kids Teepees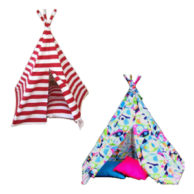 Kids teepees that are super stylish and oh-so-fun. These handmade designer teepees and tents for kids are perfect for playrooms that encourage creative pretend play.
Gorgeously designed with cheery prints and material that's made to last, these stylish kids teepees and tents will not only be a cosy nook to read, hold secret meetings and play in but also, a delightful décor element for kids' rooms.
As a mum I know how much quality matters and so, you can be sure you'll find the best kids teepee in town here!