Vulli Magic Treehouse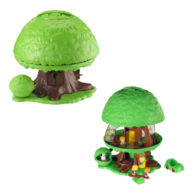 The Vulli Magic Treehouse is a wonderful retro-style classic toy that nearly all of us, Mums remember having.
As a Vulli kid myself, I am delighted to have a limited number of these Vulli Magic Treehouses to share with all of you.
Beautifully made, with original characters and furnishings, the Vulli Magic Treehouse is what every child needs in their playroom. Imaginations come alive and the fun never ends as the Treehouse opens up to reveal an adorable house, perfect for endless hours of pretend play.