Wooden Doll Houses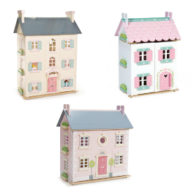 Wooden doll houses that are delicate-looking but built to last are what you'll find here at Finlee and Me. A beautifully made wooden doll house is so much more than just a toy.
It is a keepsake to be cherished and loved for years to come. Crafted from quality materials with careful attention to detail, these delightfully detailed doll houses are perfect for encouraging imaginative and creative play.
Wooden Doll Houses are What Memories are Made Of
Nearly all of us have memories of playing with our own doll house or at least, dreaming of owning one! These beautiful childhood essentials bring alive those memories while creating new ones for your kids.