Over the last few weeks I've been trying to focus more on my family and how I can re-balance my life; more importantly staying connected with my kids. I mean lets be honest, this modern world we live in can suck a fat one at times. From the pressures and challenges so many of us are facing on a daily basis: work related stresses, trying to figure out this school gig, from financial worry and lets not forget the good old marital tension (admit it – we all of have this) life isn't easy. And with all these stresses that we're trying to manage, it can start to take a toll on our kids. Answer this… how are you currently staying connected with your kids?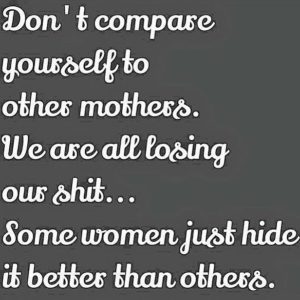 Yesterday morning we woke up and I told the kids to pack a bag as we were off on an adventure. I quickly was met with the: "where are we going? Is it far away? Will it be cold? Do I need a swim suit?" With excitement in their eyes and squeals coming from their mouths, I knew this was going to be an excellent way in working towards staying connected with my kids. To be honest, I didn't have a clue where the hell this adventure was going to take us. The only thing I knew was that I had a hotel room booked at Kingscliff – New South Wales and we could check in anytime after 2:00pm.
Creating Memories with Your Kids
Kids don't care where you go or what you do with them as along as you're focused on them. Really focused on them. Not on the phone on Facebook, Instagram, Twitter, checking e-mails (you get my point), but really just being in the moment with them. So as I packed for our trip, I left my laptop at home and had my camera ready to go, so that I could snap the memories I would be creating with my kids.
First surprise: a play at the their favorite park. The kids are always asking to go to Funderwood Hollow which is located at Underwood Park as it's not only the largest Spielart playground in Australia, but it's filled with so many wonderful things for kids to play with: the flying fox, slides, diggers, rock formations and so much more. However, it's quite a distance from our home and I don't take them as often as I'd like to, none the less today was about the kids.
Second surprise: a bit to eat and some lollies for the hotel. I'm pretty strict with the lolly intake at our home, so I thought a pit stop to get some lollies would be a welcomed touch our adventure.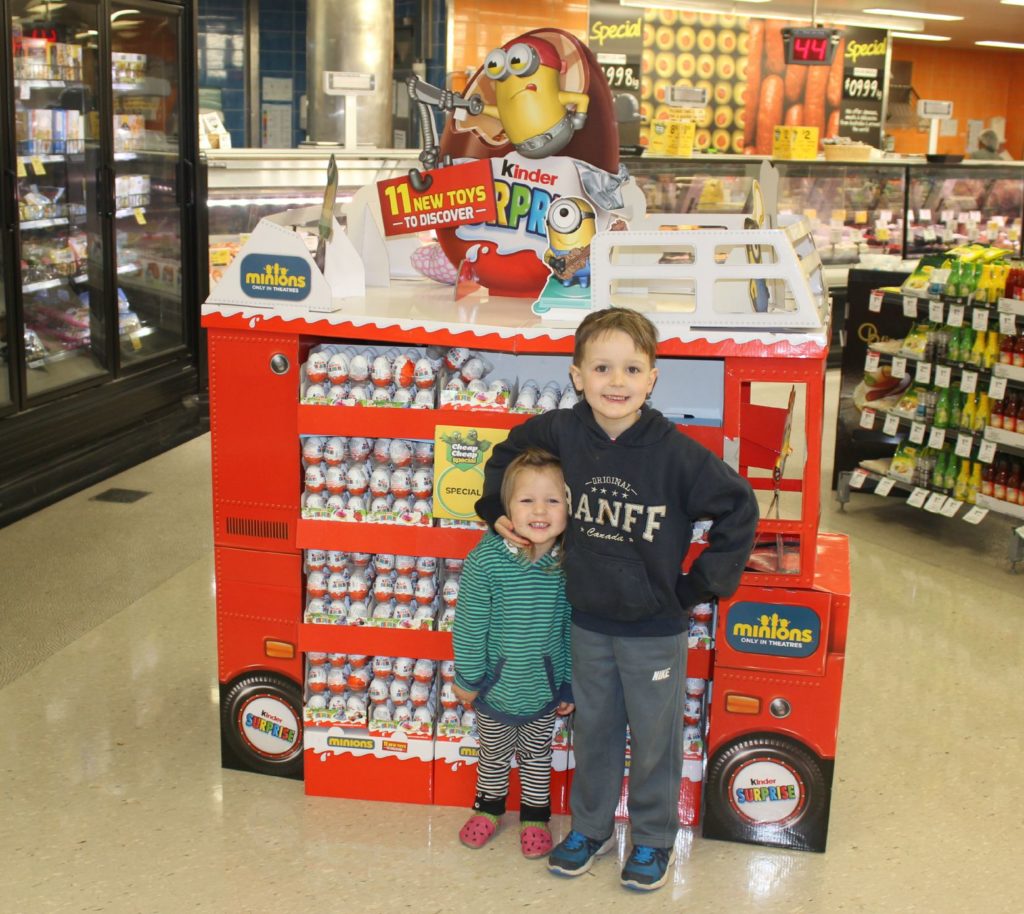 Third surprise: a play at the beach. We may only live an hour away from the beach, but hardly ever go. So a trip to the beach is something they both truly enjoyed.
Fourth surprise: massive bubble bath, book reading and cuddles. Now this may not be like a massive surprise however, tonight I was connected with my kids. I wasn't rushing around trying to do the dishes, fold the laundry, check emails etc. I was in the moment with them and because of that, the kids were pumped!!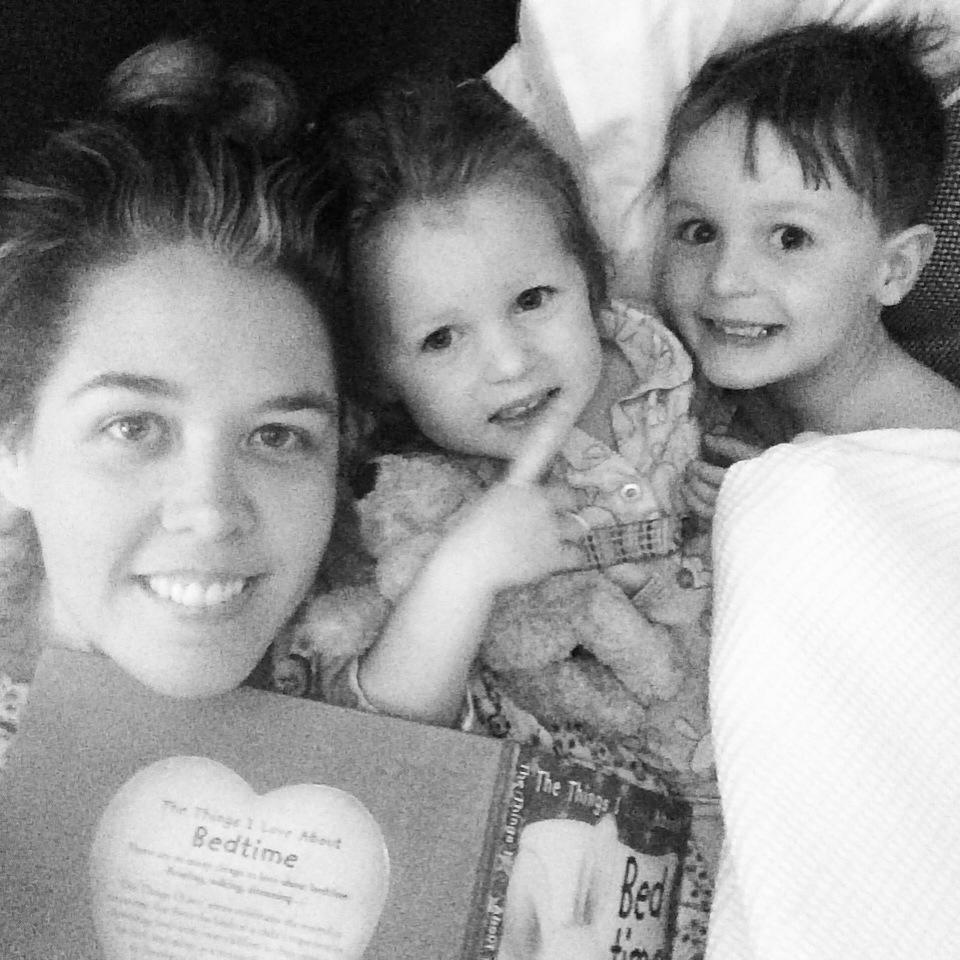 Fifth surprise: Kinder surprises for breakfast!! No explanation needed for this one; mother of the year!!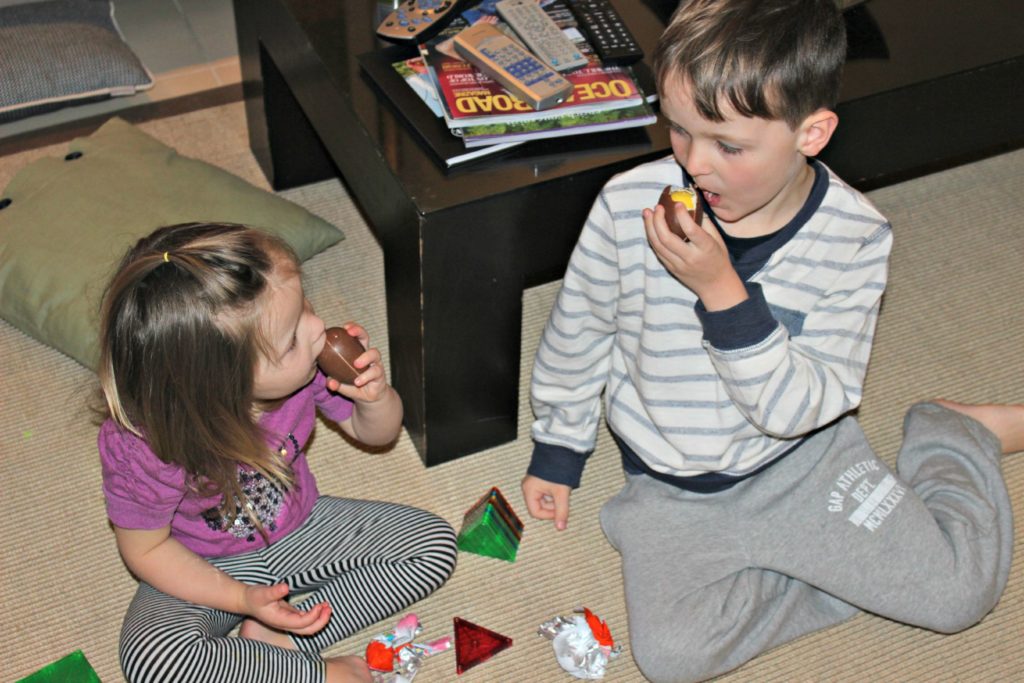 Sixth surprise: board game of monopoly. Finlee loves board games and one of the items he packed was monopoly. So I was conscious this morning to make sure we played it and to value what he wanted too.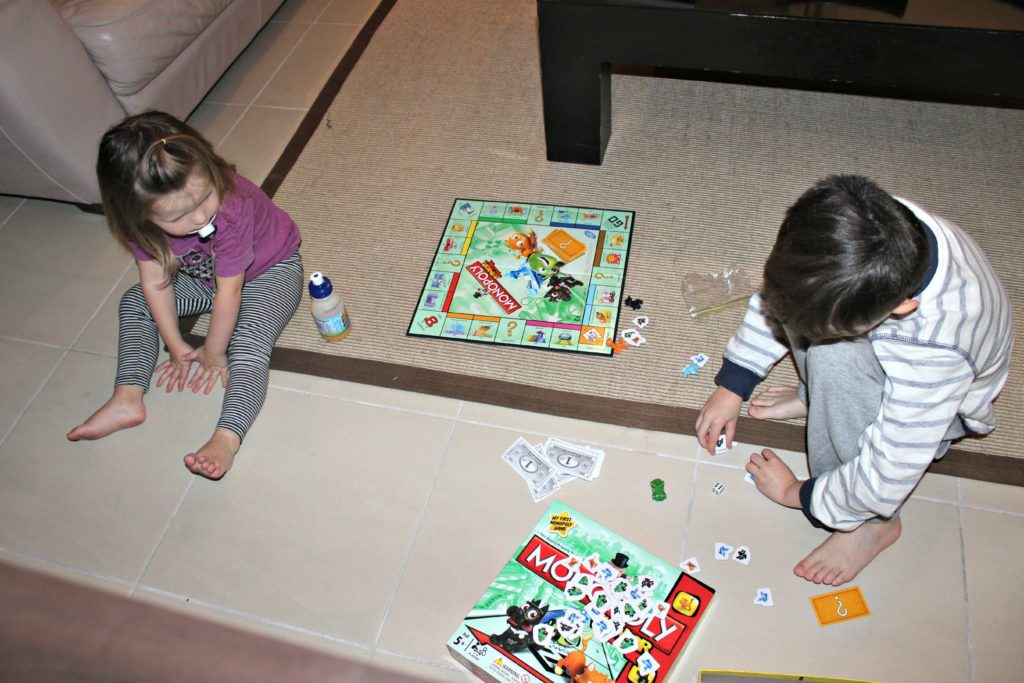 Seventh surprise: another stop at the beach and park before we made our back home. It was slightly cold this morning, so the thought of going to the beach wasn't something I was fist pumping the air about, but the kids were at the door with their bucket and spade, so off we went. And I am soooo thank-ful we did. Time stood still. They explored, they laughed, they had the water running through their toes, sunshine on their faces and smiles for ear to ear.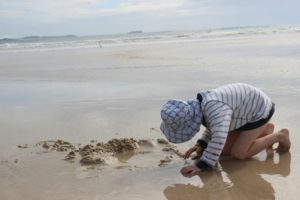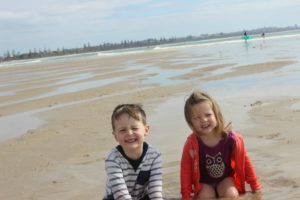 Eighth surprise: stop at an animal farm and ice-cream. Chloe and Finlee really have a connection with animals, but living in Brisbane doesn't really allow for this connection to be explored often. So I thought, a stop at the animal farm and some ice-cream was the perfect ending to a wonderful adventure.
I thought the last two days were so important to Chloe and Finlee however, it's been equally as important to my husband and I. You see, my hubby has had the man flu all week and so by taking the kids away I also wanted to give him some time to a) get better b) have some space to do what he wants without us and c) to have a sleep in. As for me, I just needed to have some one on one time with Finlee and Chloe. Finlee turns 6 in just a few weeks and as cliche as it sounds, I just don't know where the time is going. I need to know that when my kids grow up they will memories embedded vs my husband and I running around trying to keep up with the demands from this high paced world we live in.
So for those of you that also struggle with trying to balance everything – keep your head up as you're doing the best you can. Remember that even if you don't get a lot of one on one time with your kids, I'm a firm believer that quality time vs quantity of time is just as good, if not better. Lastly, if you can remember the following question: "how are you currently staying connected with your kids?" the fact that you're asking yourself this question; change is already starting to take place.
Love to each of you – Angela xoxo