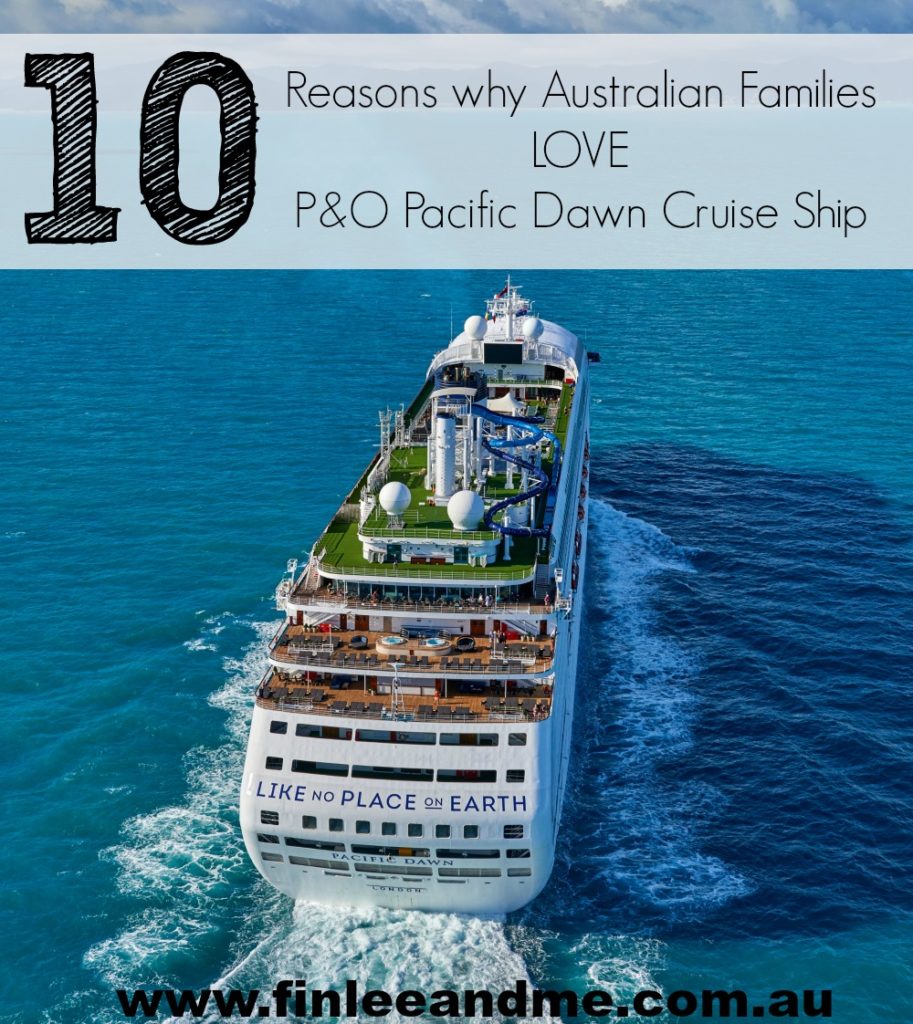 A Collaboration between Finlee and Me and P&O Cruises
The day had come that I could finally let Finlee (my 7 year old) and Chloe (my 4 year old) in on a little secret my husband and I had been keeping from them; our cruise we'd be heading on in just a few short hours with P&O Pacific Dawn.  But before I could let them in on the secret they needed to head off to school and day-care and I had to keep reminding myself… patience Angela patience.
You see the last 6 months haven't been easy on our family. My son and I have had an array of medical investigations that have been going on and this has been impacting on our family in a variety of different ways. So, when P&O Cruises asked my family on board the four-night, newly refurbished Pacific Dawn cruise from Brisbane to the Whitsundays; it was just what my family and I needed to relax and reconnect as a family.
The Surprise
Dale and I picked Chloe up first from day-care and then Finlee from school. We were hit with a million questions especially when they saw the suitcases in the back of the car. Where are we going? Is it on plane? Are we going to the Gold Coast? Are we going for a long time because there are two suitcases Mommy? Tell us! Tell us!
As we drove to the port to board Pacific Dawn, Dale and I played a game filled with clues. The closer we got to the port, we had a clear view of the cruise ship. I started asking questions like: I wonder where that cruise is going? How fun would it be to go on a cruise? And then we finally made the right-hand turn towards the cruise ship. The penny dropped and both Finlee and Chloe started squealing with excitement as they were finally going on their first cruise.
About the Pacific Dawn
We parked our car and started making our way to the ship. As we walked closer to the Pacific Dawn, we were greeted with the epic size of the ship. With its elegant blue and white exterior, staff eagerly preparing our arrival and the view of the wildest and longest waterslides on any Australian cruise ship; we knew our family adventure was going to be filled with an abundance of special moments.
Before I share with you the remarkable experience my family and I had, I want to share some fun facts about the stunning Pacific Dawn:
Built in 1991, but was recently refurbished in March 2017 with over 700 contractors spending more than 100,000 hours transforming the ship
Gross tonnage: 70,285
Length of ship: 345 metres
Width of ship: 32.2 meres
Passenger decks: 11
Speed of ship: 22.5 knots
Passengers: up to 2,000
Rooms on ship: 798
Crew on ship: 730 crew which is more than one crew members per three passengers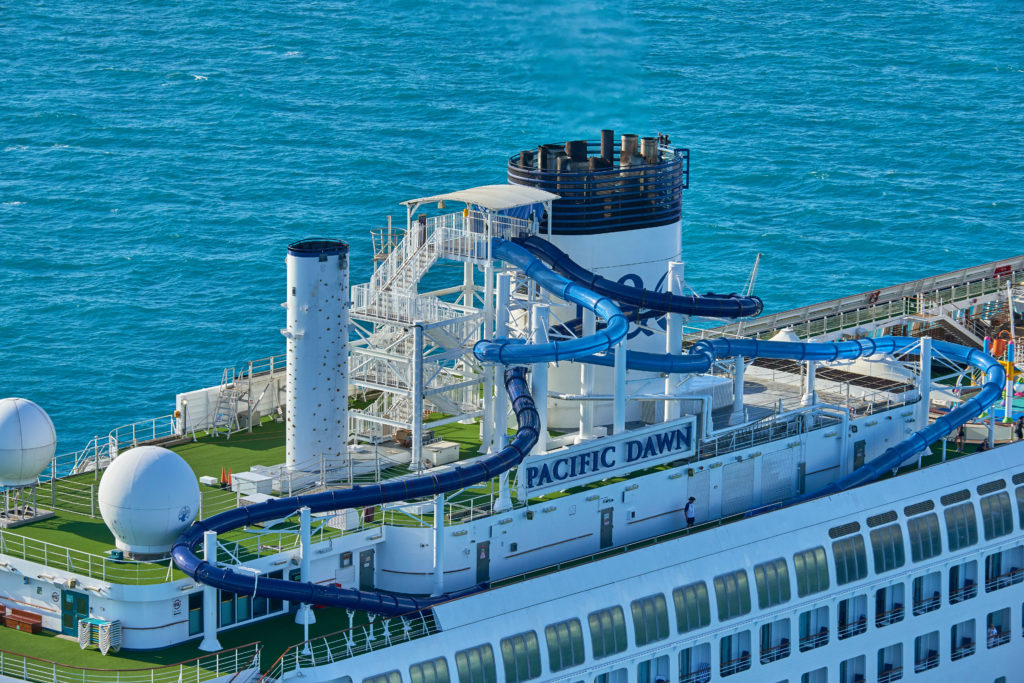 Check-in and Boarding Process with P&O Cruises
I always dread any check in process when I have Finlee and Chloe in tow. Quite honestly, it can be the breaking point to a day depending on the mood of the kids, if the kids are hungry and how long their little souls have to wait. P&O have this process down pat. We literally walked in, was told what line to stand in, we were called up to customer service, provided our ID and literally that was it.  The most painless check in process I've ever encountered while travelling with the kids.
Once we checked-in, we headed through security, made our way to the gangway and stepped foot onto the cruise ship. Immediately upon boarding the ship there was an ambiance I've never felt before; a sense of calm, balanced with excitement. The staff greeting us with their beautiful smiles and immediately making us feel welcomed. Accompany this with two very excited kids, it was a vibe I'll never forget. And it was at this moment, I knew that we were in for a fantastic holiday.
Top 10 Reasons why Australian Families love P&O Pacific Dawn Cruise Ship
I have to be honest, there are way more than 10 reasons why I specifically love P&O Pacific Dawn Cruise Ship, but I would be writing for days. As a result, I've listed my top 10 that resonated with me the most.
Reason #10 Safety – In the world we live, there is constant daily conflict and with this comes uncertainty. As a result, I am always mindful of my family's safety when planning a family holiday getaway. P&O Cruises Australia have the safety of all passengers at the forefront of their minds when making all decisions. For example, when we were traveling with P&O Cruises, Cyclone Debbie was in full force. The Captain kept everyone informed through out our entire journey and due to the severity of Cyclone Debbie it was decided that we would not be going to Airlie Beach. This would not have been an easy decision to make, but I really appreciate that he wanted to ensure we all arrived back to Brisbane safe and sound.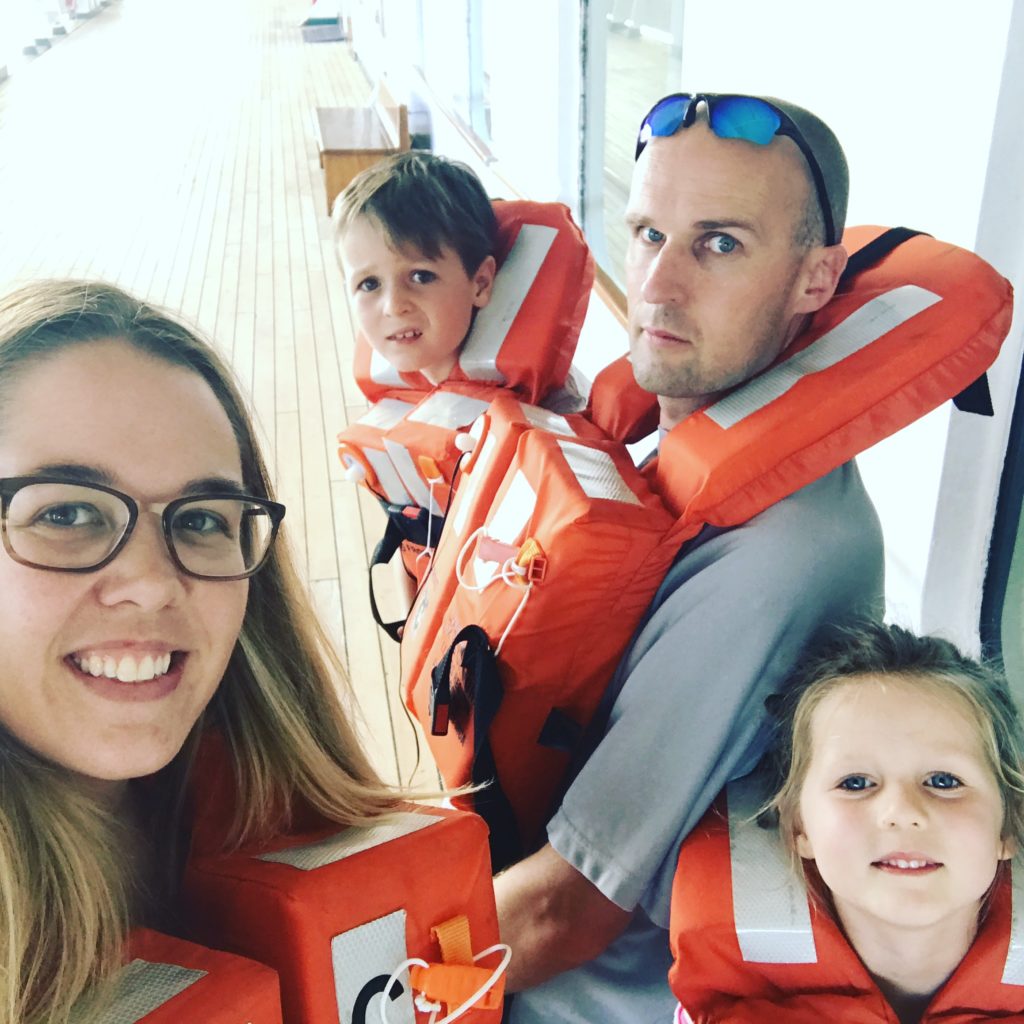 Reason #9 Time Away from Technology – Technology is sucking the life out of so many Australians. In fact, it's a growing addiction and destroying the life's of many families not only in Australia, but around the world. In a time, where people are suppose to feel connected, they actually feel disconnected due to lack of face to face human contact. What I loved about being on the Pacific Dawn was that I had an opportunity to really unplug from technology as a whole and was able to truly enjoy spending quality time with my family through engaging in a variety of great activities around the ship.
Reason #8  Simplicity – As a Mother, when I go on holiday I want simplicity. I want to  only unpack once. I want my meals to be cooked for me, my beds to be made and fresh towels to dry myself with; that I didn't have to wash, dry or put away. When traveling on the Pacific Dawn this became a reality and a reality I could get use to.
When cruising with P&O Cruises, everything is packaged together, making it easy for the entire family. There is no need to do anything else, but book your cruise because everything else will be ready and waiting for your family when you board.
Reason #7 Multi-generational Family Holiday – What I LOVED about being on board P&O Pacific Dawn was that they truly cater to all ages. This was demonstrated by the perfect balance of activities for adults as well as kids, while at the same time providing  designated spaces for adults-only to kid friendly zones and even wonderful spaces where the entire family could be as one. This is a key reason why, cruising is perfect when catering for a multi-generational family.
Activities for Kids

Meet the Captain
Hit Australia's longest water slides on a cruise ship
Laser tag
Hit the dedicated Lego Play zone
Swim in the pool or splash park
Watch a movie together on the deck as a family
Engage in the deck games (golf putting, table tennis, quoits and more)
Have an ice-cream at the ice-cream shop
Watch the TC & Skipper's Island Adventure production show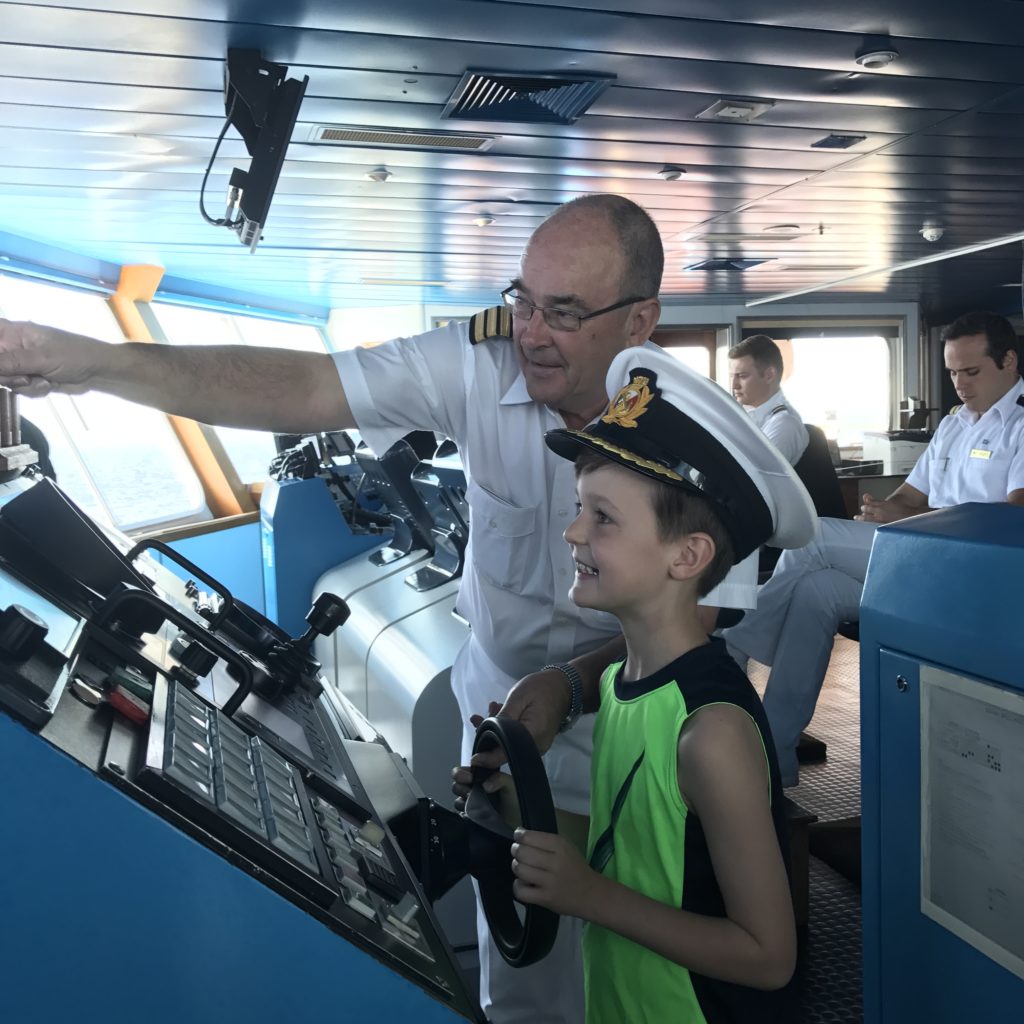 Activities for Adults

Book in for a relaxing spa treatment
Take in one of the night time shows
Sit back and listen to the live music
Engage in a trivia or game show
Head to the casino
Join in on a mixology class
Try your hand at a game of BINGO
Indulge in some retail therapy
Hit the on board gym
Grab a book from the library and find the perfect spot on desk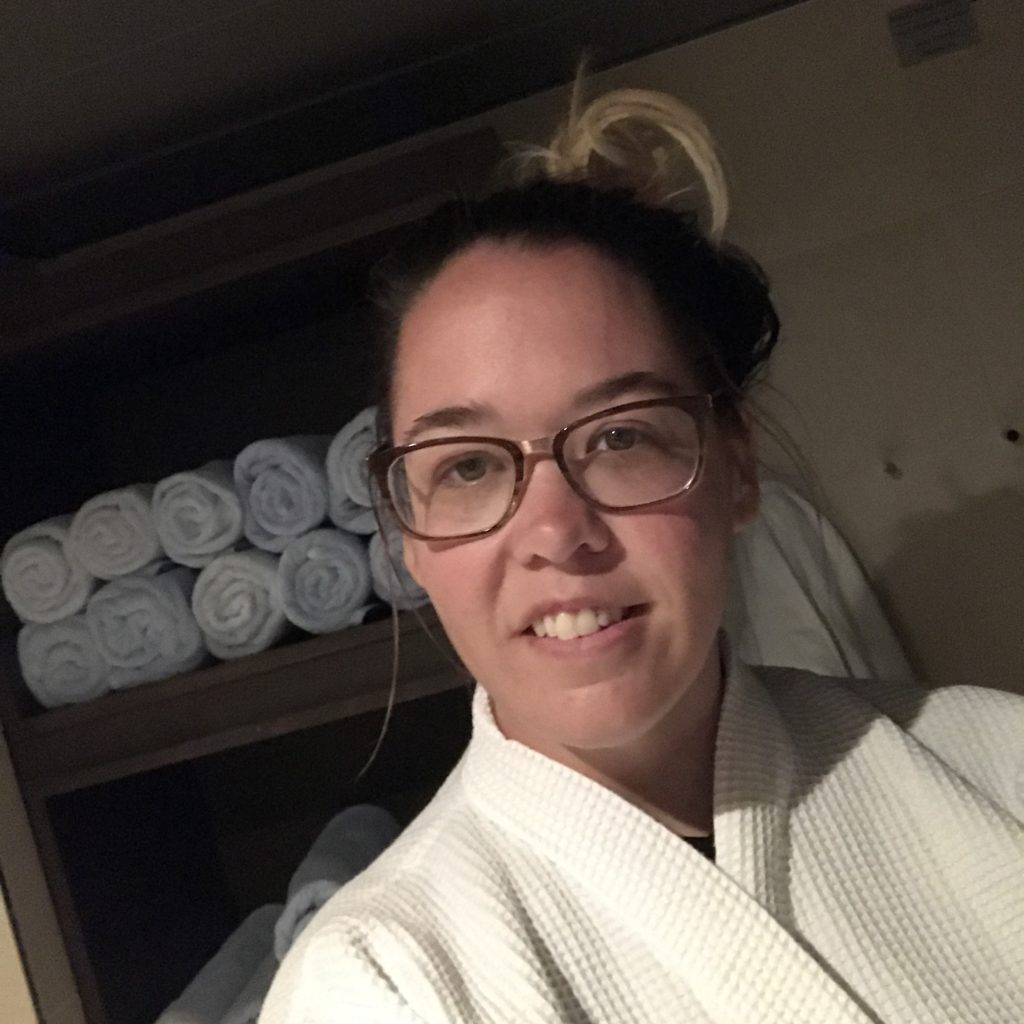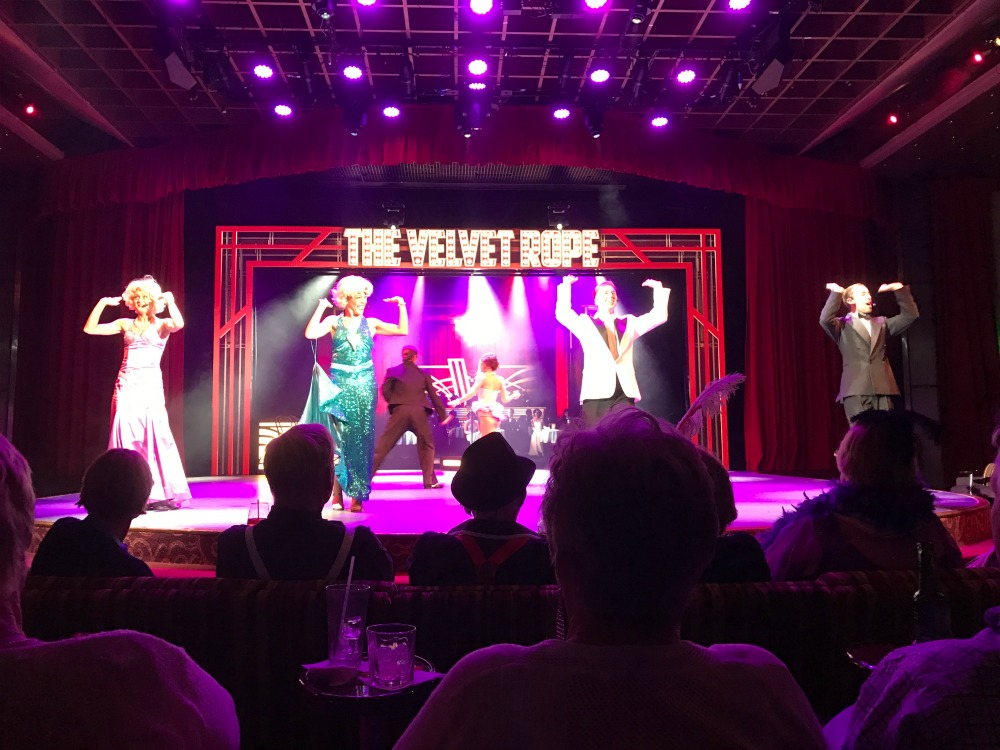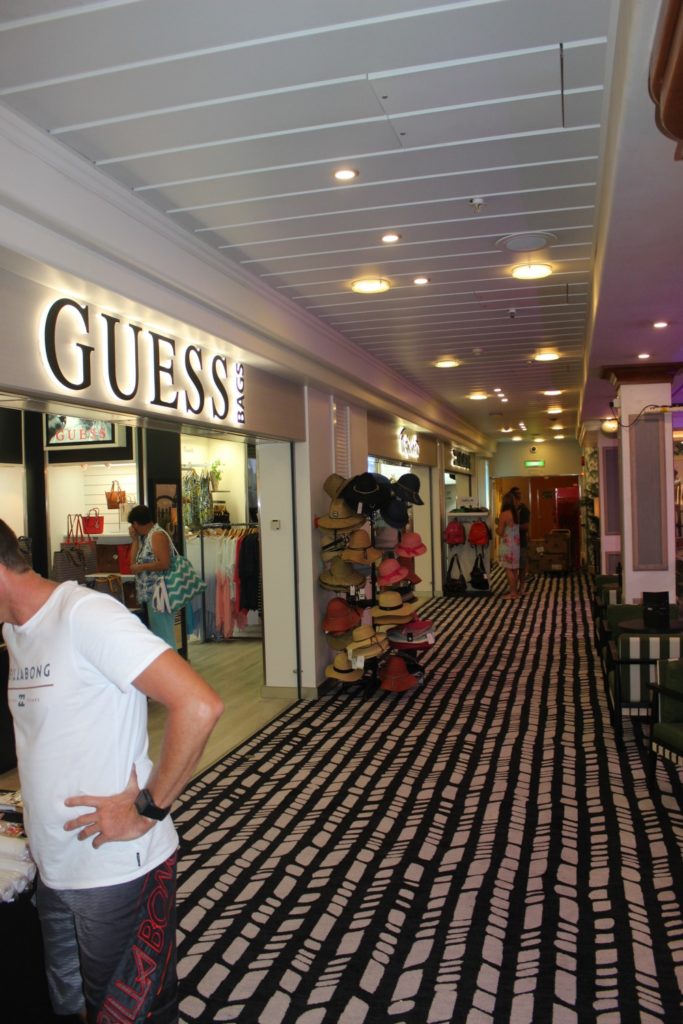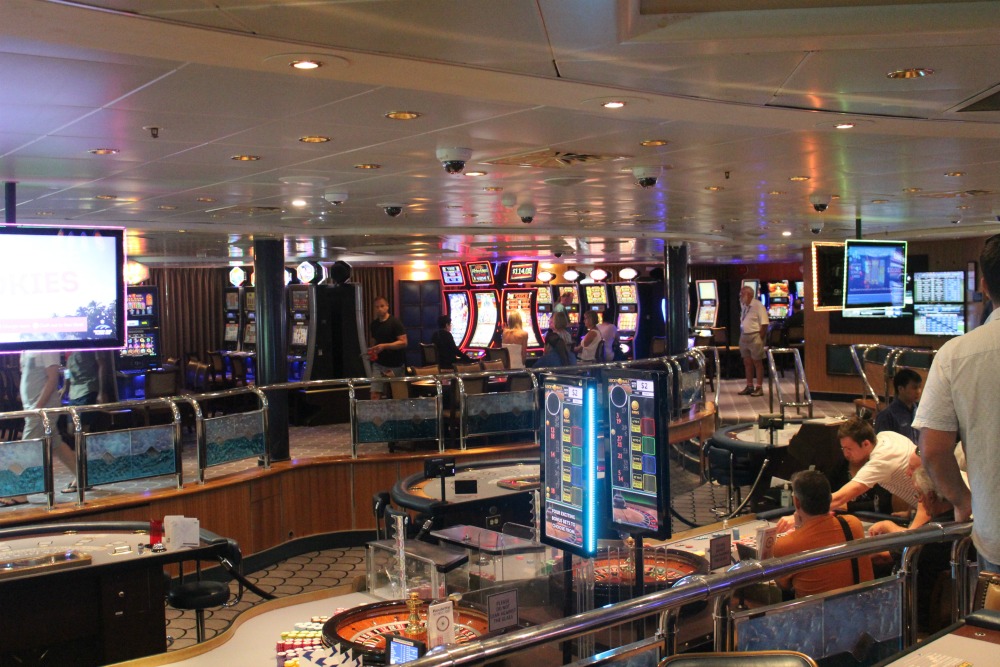 Reason #6 – The Amazing Food – Not having to cook for 4 days was legendary! Even better was that I didn't have to wash the dishes. And added bonus, the food on the Pacific Dawn was delicious and always left me counting down the minutes to my next meal.
What sets P&O Cruises Australia apart from other cruise lines is their commitment to innovative, fresh and fantastic food – otherwise known as P&O's Food Revolution. On the Pacific Dawn the food options were endless and include:
The Pantry – if you're looking for an all you can eat buffet with a twist then you want to head here. The Pantry is all about providing a one stop shop for multiple eateries in one location. You can choose from:

The Curry House – a smorgasbord of classic curry flavours and authentic dishes.
Mexicana – Mexican tacos filled with favorites like homemade salsas and pickles, chili, guacamole, fresh lime and cheese.
Hook's Fish and Chips – serving up crispy battered fish and hot chips with the perfect amount of crunch.
Stix – stir-fries, sizzling noodles and soups.
Kettle and Bun – freshly baked bread, expertly crafted sandwiches, great tasting salads and mouth-watering soups.
Sugar Bar – sweet selection of perfectly baked cakes, flaky buttery pastries and delightful individual desserts.
Fat Cow – serving up the finest cuts of meat possible and served with daily vegetables.
Nic and Toni's – Mediterranean dining options with fresh seafood and pasta dishes.
Mcgregors Garden – serving up a selection of fresh salads that change daily.

The Grill – Eat alfresco on top deck where the vibe is casual and the meals are mouth-watering.
Waterfront Restaurant – with over 40 à la carte menu items for breakfast, lunch and dinner, this modern Australian restaurant serves up a sophisticated selection of both classic dishes and cutting edge cuisine. Plus you can keep the kids happy with their mini menu.
Shell & Bones – the newest Australian seafood dining experience at sea. Enjoy a bounty of sumptuous seafood, featuring crab from Queensland or blue mussels from South Australia. Not into seafood, don't worry because you can choose from a variety of short ribs, beef, roasted chicken and more.
Salt Grill by Luke Mangan – the first Australian celebrity chef restaurant at sea – Salt grill by Luke Mangan. Luke only uses the freshest and finest Australian ingredients and turns this into signature dishes like the crab omelet, enoki mushroom salad with miso broth, and the famous liquorice parfait with lime syrup.
Chef's Table – the most exclusive dinner party on the ship. Join the Executive Chef for a degustation dining experience you won't forget!
Multiple Cafes – needing your daily caffeine fix or sweet treat then head to one of the local cafes.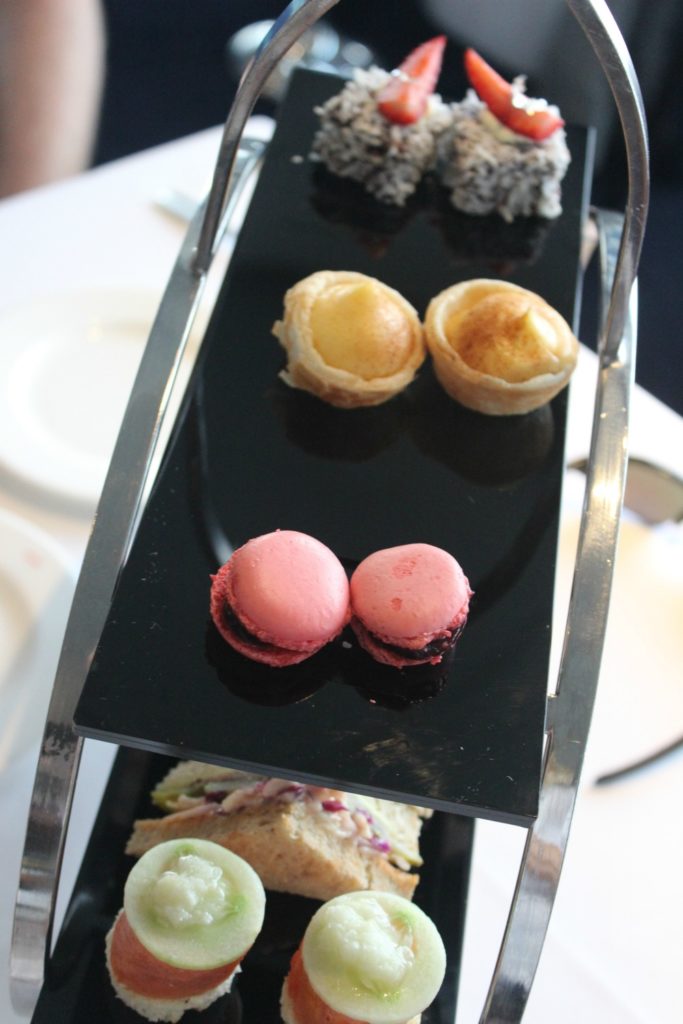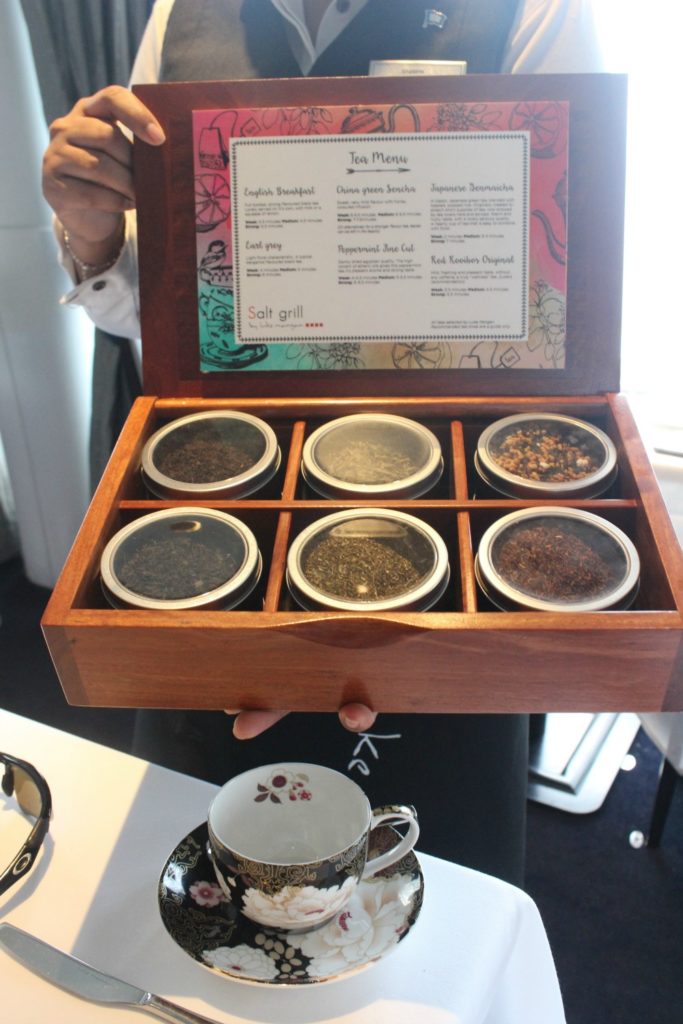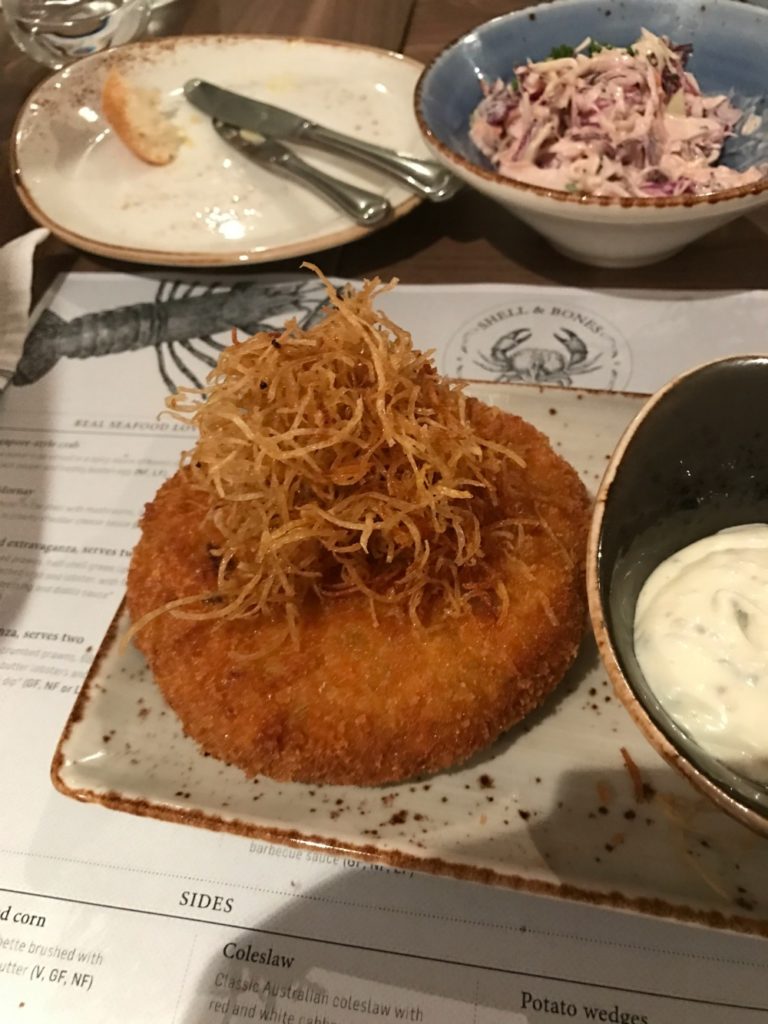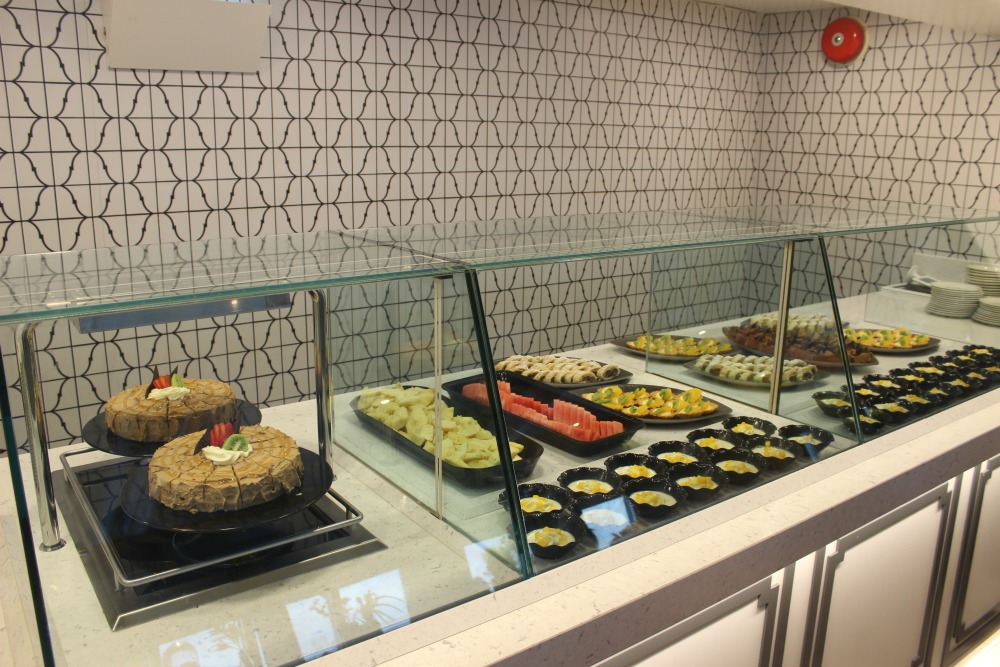 Reason #5 P&O Edge Adventure Park – P&O Edge is all about getting you out of your comfort zone, so if you're up for some adrenalin focused activities then you'll want to check P&O Edge Adventure Park out.
It's Australia's largest adventure park at sea and let me tell you, it's AMAZING! If going for a spin on the flying fox, walking the plank, rock climbing and more tickle your fancy, then you need to check out these action packed activities.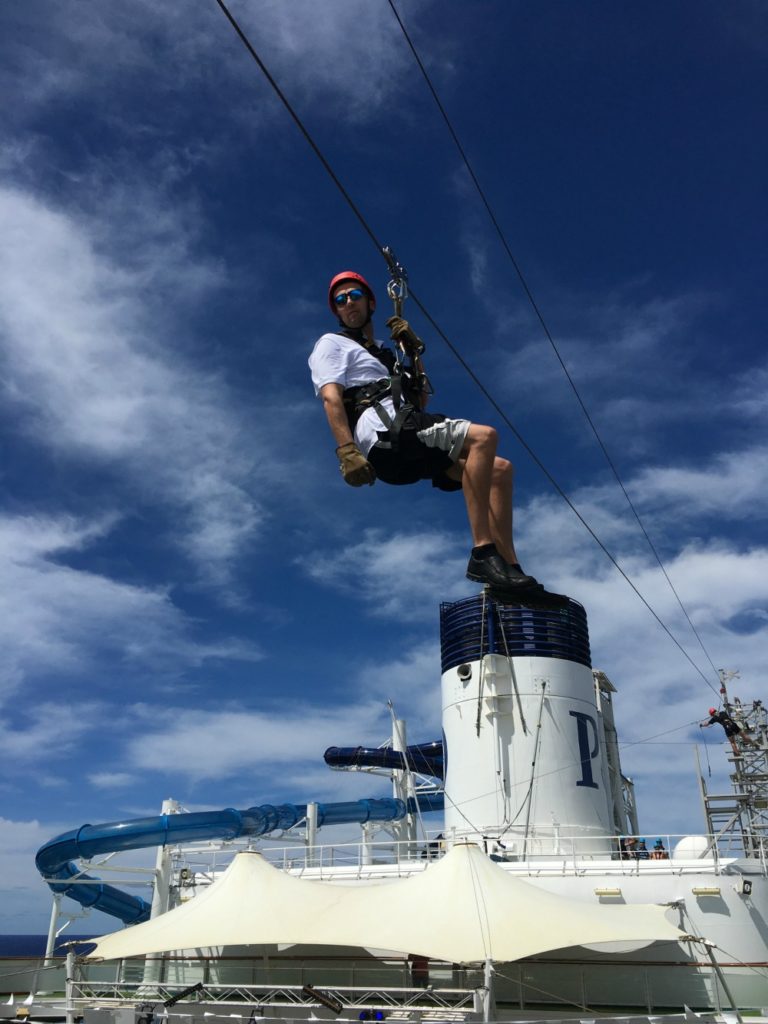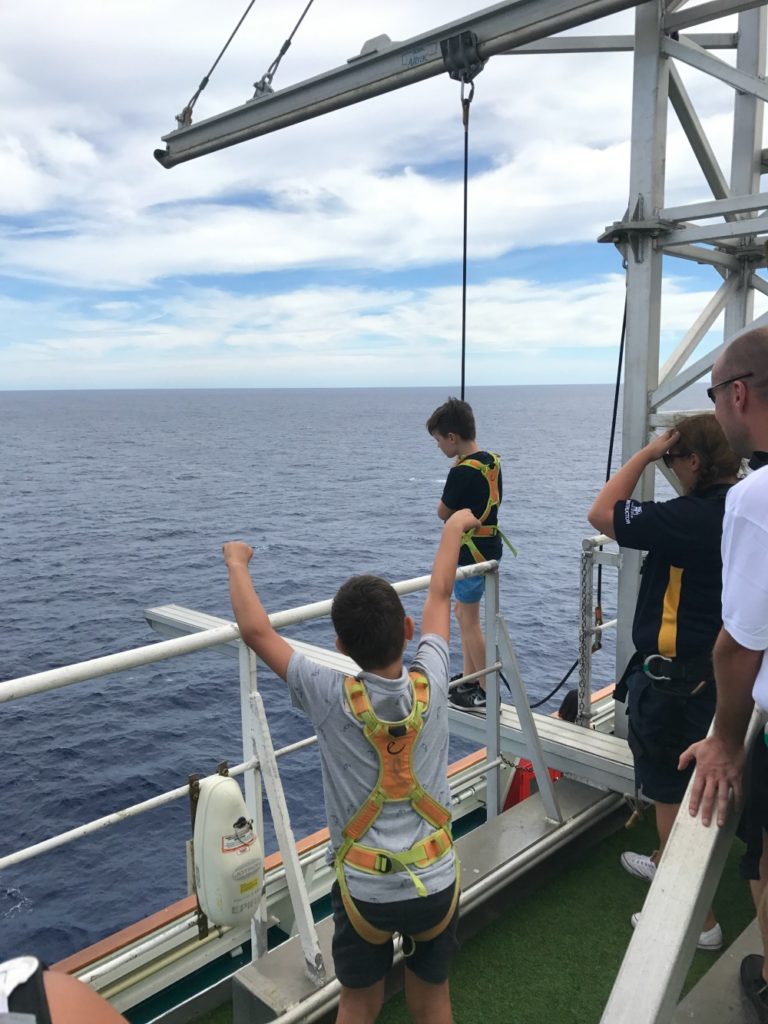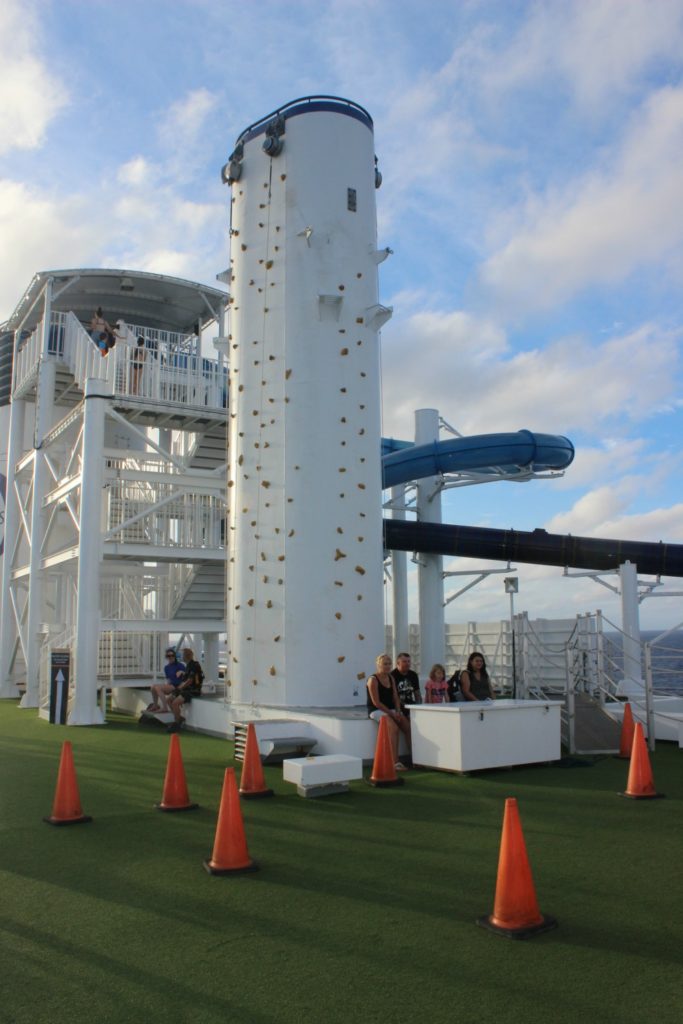 Reason #4 Australian Wildest and Longest Waterslides on a Cruise – when we found out there were waterslides on the Pacific Dawn, we were immediately ready to unleash our inner child and head down one of the waterslides.
What we really liked is that were two waterslides we could go down. The first slide was transparent so that spectators could watch us shoot through its twists and turns, while the other slide was multi-coloured, with music and lights pumping through which gave us a super high impact ride from start to finish.
And while you have your swimmers on, make sure to hit the pool.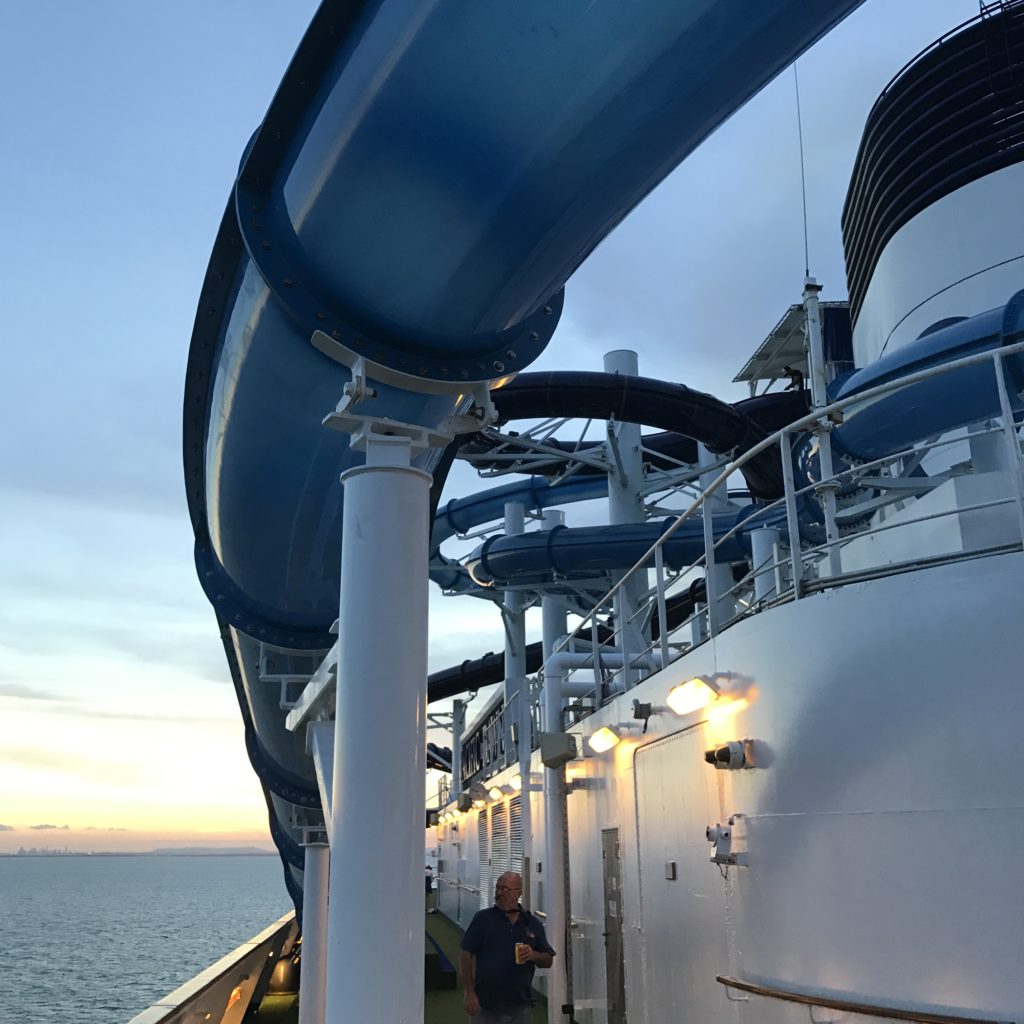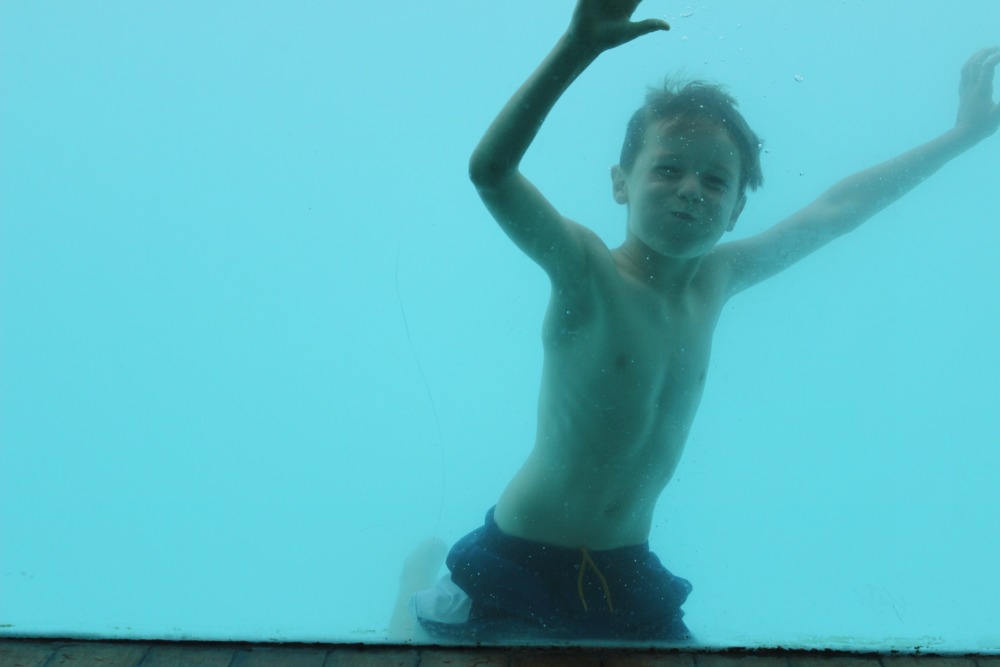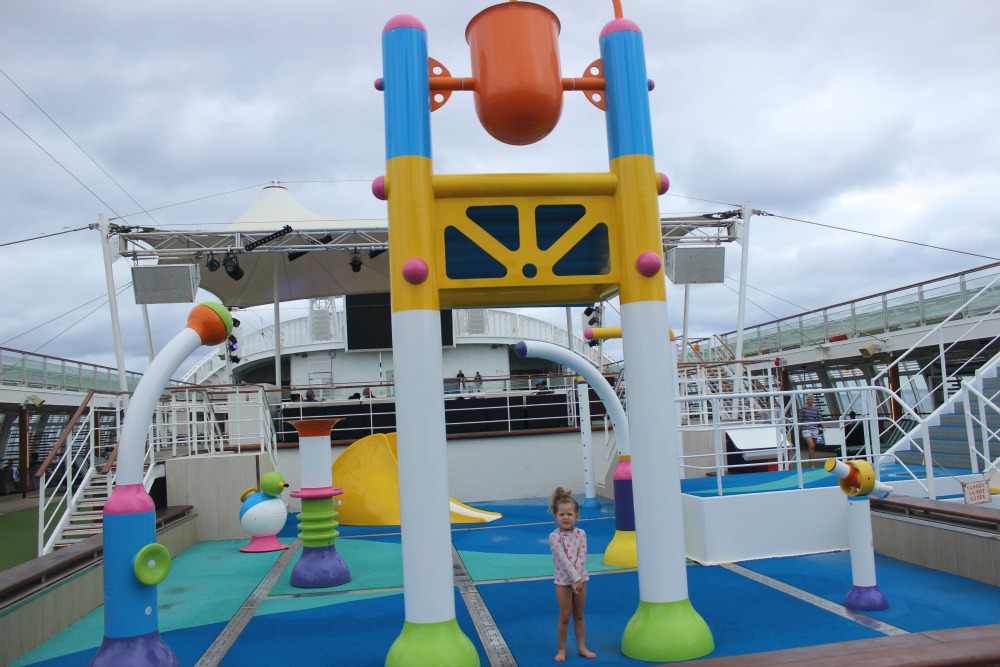 Reason #3 Free Kids Club – My husband and I don't get a lot of time to be adults, let alone have some one on one time with each other, so when I found out there was a Kids Club on P&O Cruises I was fist pumping the air with excitement.
P&O Cruises Australia have worked really hard at creating fun kids clubs for different age brackets to ensure that all family members have a great time at sea. The four kids clubs are:
Turtle Cove (2-6 years of age)
Shark Shack (7-10 years of age)
HQ (11-14 years of age)
HQ+ (15-17 years of age)
All kids clubs are open until late each day, including port days. In addition, you can pay a nominal fee for a babysitter to watch your kids from 10:30pm-1:00am, which means when cruising with P&O it can be date night, every night.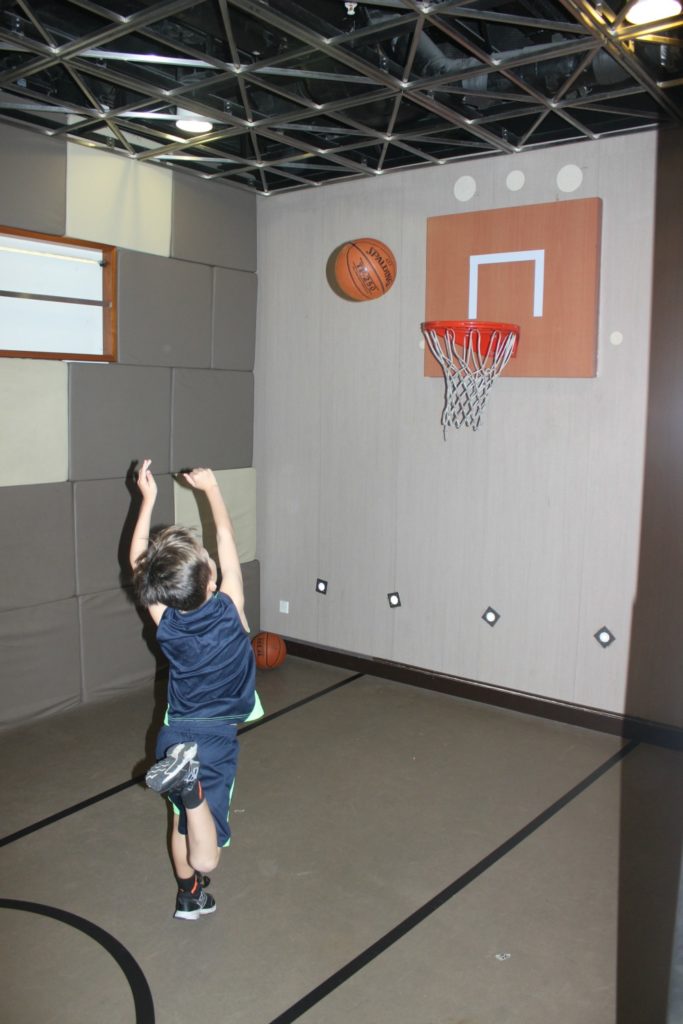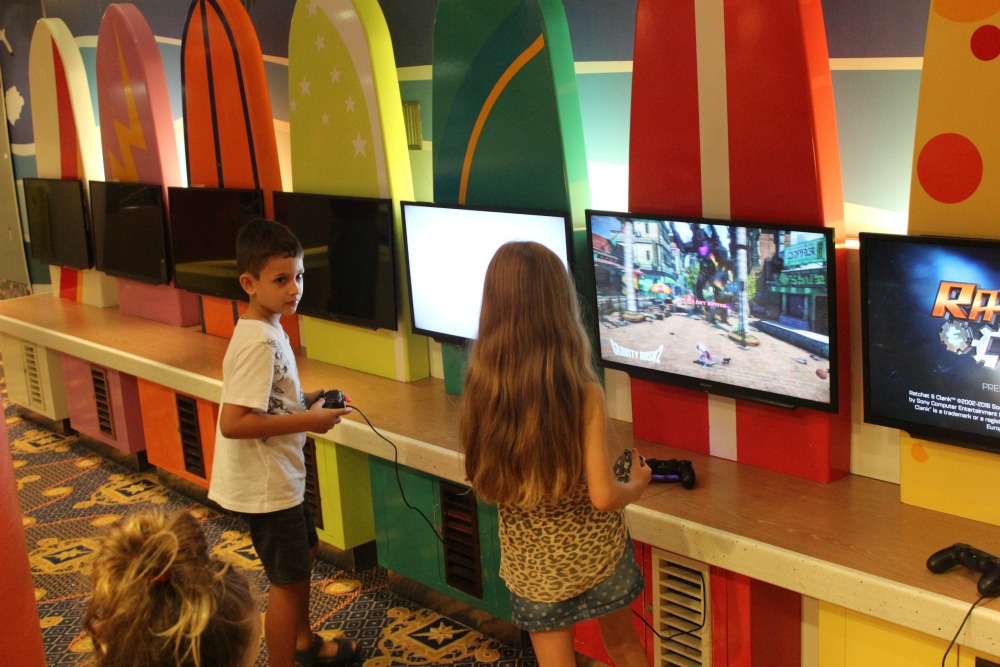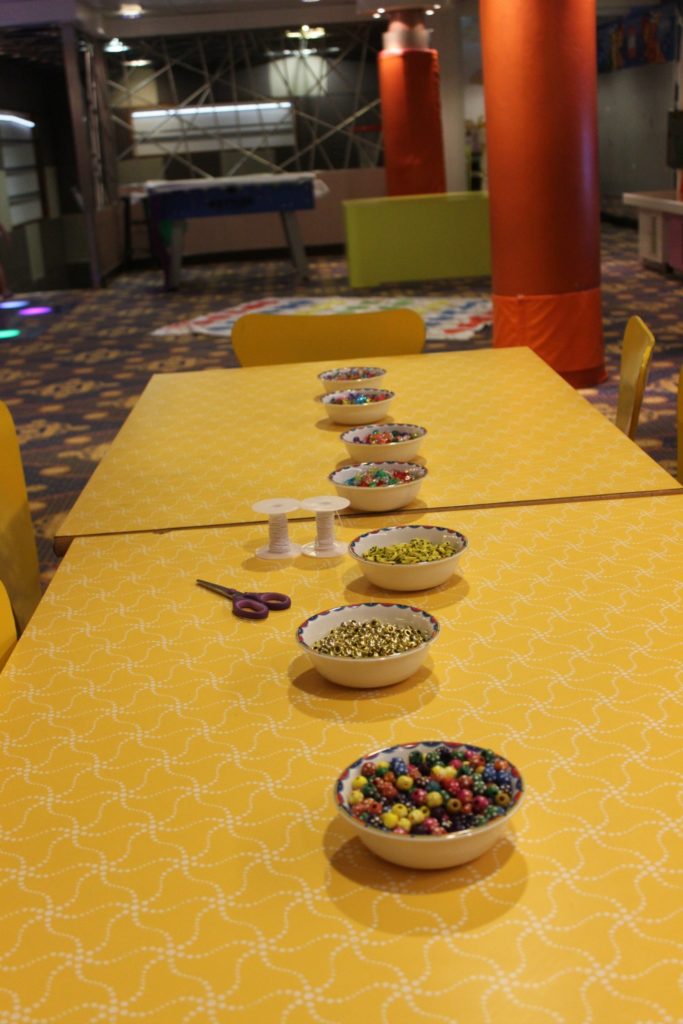 Reason #2 The Excellent Value/Price – I've travelled to a lot of places with our family, but we've never been on a cruise together. However, after being on P&O Pacific Dawn it's easy to see the value you get from not only being in one spot, spending quality time with your family, but also how cost effective it is to go on a Australian family cruise.
With accommodation, meals, activities, childcare and transportation between different destinations all included into one set price, clearly cruising provides bang for your buck. Even better, P&O Cruises have offers through out the year where children under 18 get to travel for free when they share a cabin with two paying adults.
Reason #1 Creating life long memories – I know that in our busy day to day life when we're not on holiday, it leaves me very little time to truly connect with my family. Between trying to juggle school drop off and pick up, to homework, extracurricular activities, work and running our Finlee and Me business etc it truly is a constant struggle. However, I'll forever be grateful to P&O Cruises for creating a magical holiday experience providing my family and I an opportunity to create life long childhood memories.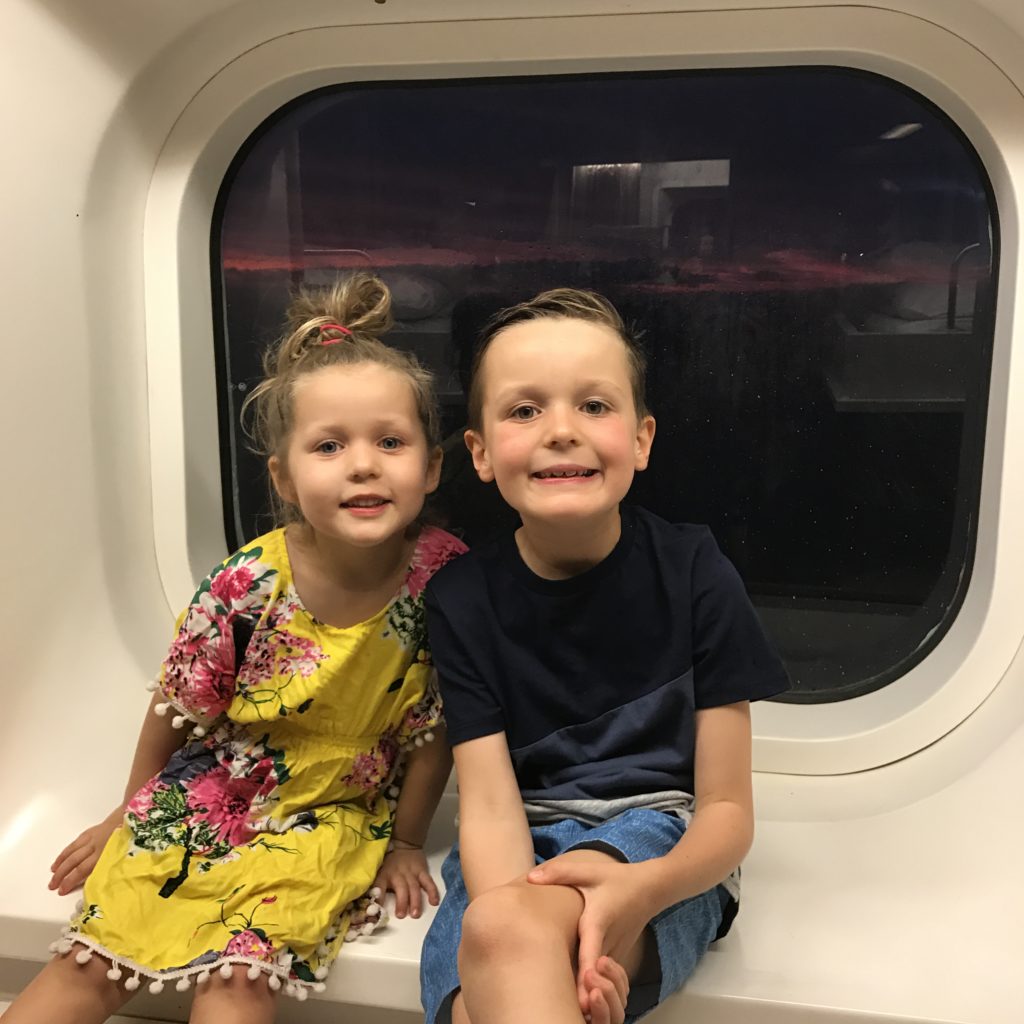 View my short video of P&O Pacific Dawn below:
The Pacific Dawn is a floating resort filled with endless activities for every family member. From water slides, to swimming pools, the flying fox, rock climbing, nightly shows, the day spa and mojitos that flow like the Rio Grande; you can do as much as you want or as little as you want.
If you're wanting to experience an unforgettable family holiday where memories are created and embedded forever, then check out the wonderful selection of cruises offered by P&O Cruises Australia.
What cruise destination would you like to take your family on, let me know in the comments below?
Angela xx from Finlee and Me
Angela is an author, entrepreneur, blogger, mental health clinician and most importantly a mother. She explores various topics related to parenting/children on her blog and also in her three books: 30 Days, 30 Ways for Mothers to Take Care of Themselves, 30 Days, 30 Ways for Connecting with Your Child and Healthy Snack Ideas for Kids.
Connect with her on Facebook, Instagram and her website Finlee and Me.
Save
Save
Save
Save
Save