Best Chocolate Chip Cookies in Thermomix (easily made by using hand mixer too)
I've officially become a school mum over the last week and life will never be the same. Tonight on our way home from school I made a promise to my 5 year old son Finlee that I would make chocolate chip cookies (quietly hoping in my mind that he would forget). Immediately after bath time I was reminded that I had made a promise for the best chocolate chip cookies and with that I'm currently writing this blog with the smell of the best chocolate chip cookies lingering in the air.
Ingredients
125g butter (any brand)
110g white sugar
110g brown sugar
1 tsp vanilla
1 egg
260g self-raising flour
170g choc-chips
Method
♥ Turn oven on to 180 degrees Celsius
♥ Place butter on counter to soften. If pulling butter directly from the fridge place in microwave just until butter is soft, not melted which is approximately 15 seconds.
♥ Once butter is soften… add butter, both sugars and vanilla into the Thermomix bowl. Cream together for 1 minute on speed 4.
♥ While the Thermomix is still running, simply add the egg through the Thermomix hole in lid and continue mixing on speed 4 for 30 seconds and then stop machine.
♥ Add flour and knead on interval speed for 30 seconds.
♥ Add chocolate chips and stir through with wooden spoon or spatula.
♥ Line baking tray with baking paper.
♥ Drop tablespoon of cookie dough onto baking tray and leave enough space for each cookie to expand.
♥ Bake for 10-13 minuted or until golden.
♥ Pour yourself a big glass of cold milk, coffee or tea and inhale the best chocolate chip cookies (or in my case try not to inhale too many so I can keep my promise to Finlee for his school lunch).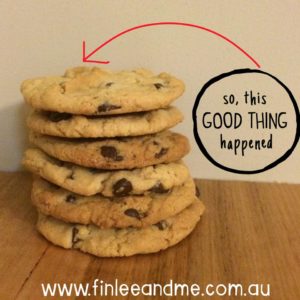 Don't forget if you're looking for the BEST Australian Toy Store for anything to do with imaginary play, sensory play, educational play and so much more head to Finlee & Me