In collaboration with Finlee and Me & Mamee
I'm only going on week eight of the school year and I'll let you in on a little secret; I can't stand making school lunches. With Finlee my 8 year old and Chloe my 5 year old having such different tastes – it means I have two different sandwiches to make, two different fruits to cut, two different treats to pack. You get the picture that making school lunches isn't at the top of my fun list, but what I can say is that over the last few years of making school lunches I have the best 5 Tips for Taking the Hassle Out of Making School Lunches that all households should know about.
5 Tips for Taking the Hassle Out of Making School Lunches
Here are my top 5 tips for taking the hassle out of making school lunches.
Tip #1 – Get Your Kids Involved
When I first started packing Finlee's lunch in his first year of school, I quickly learned that just because I packed a great lunch didn't mean that he would actually eat it.  It got me thinking about why he wouldn't eat it and then it dawned on me instead of me being in control of his lunch I would start to get him involved in the process.
Over the years and now with Chloe I let them get involved with making lunches – from helping prepare the grocery list, to collecting the items at the grocery store and helping to make their lunches too. I've found by allowing them to be part of the process not only do they feel included, but the also eat the majority of their lunch.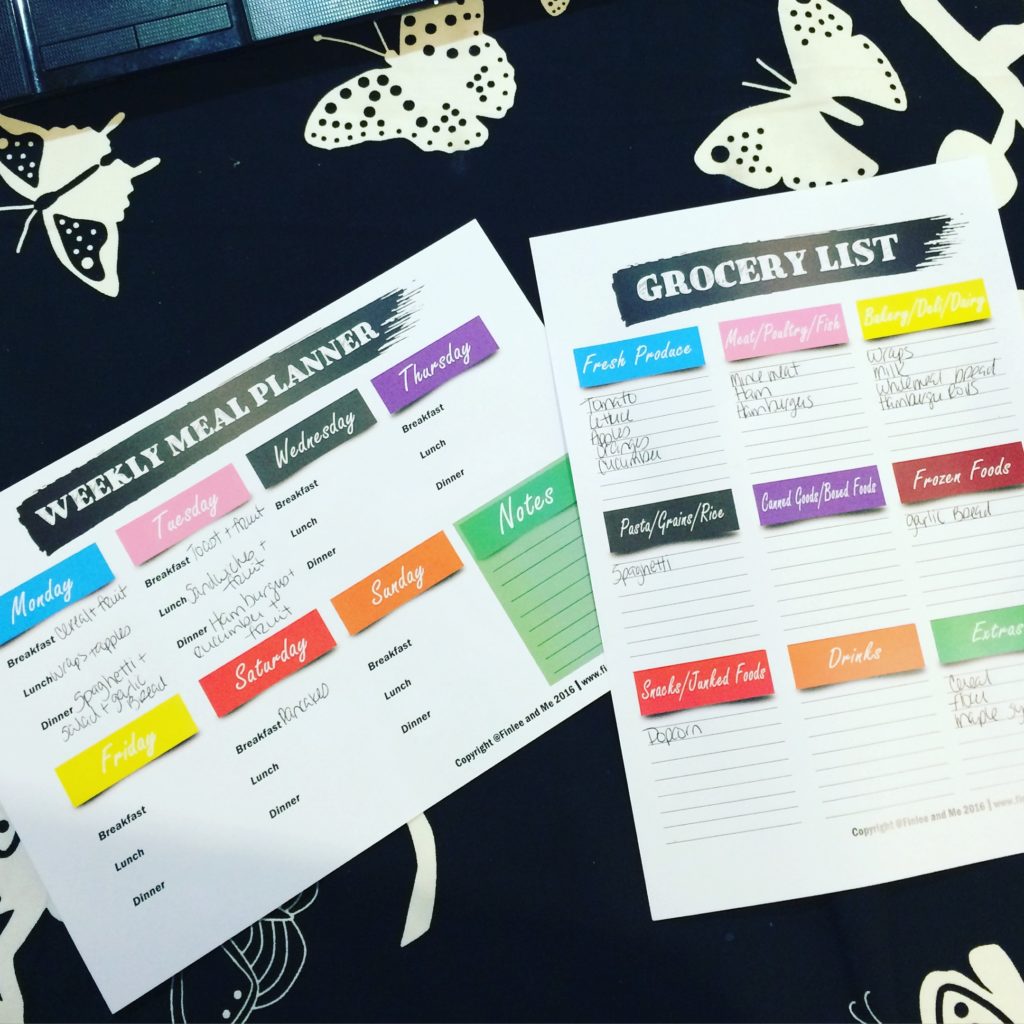 Tip #2 – Have a List of Lunch Box Ideas Posted on Your Fridge
Now this might sound super simple, but I can't tell you how many times this list of lunch box ideas for making school lunches has saved me; especially at 6:00am in the morning and you're so tired your tired is tired.
Either make your own list, or feel free to print off our list and then pop it up on your refrigerator. You can use it when you're making your grocery list or when your preparing lunches; either way it works a treat.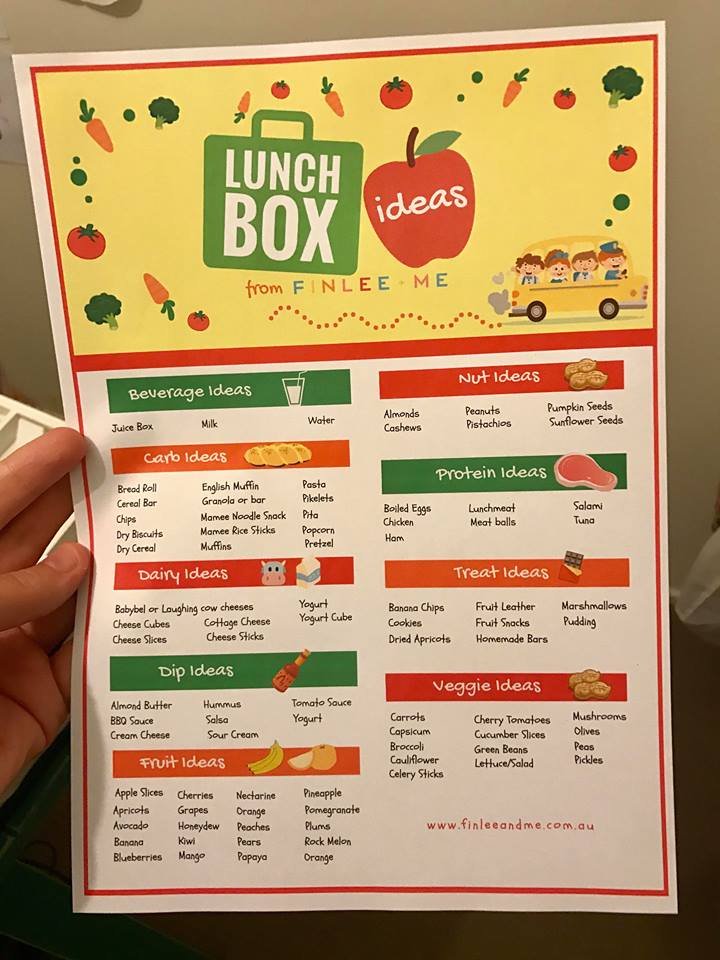 Tip #3 –  Batch Making Sandwiches/Snacks/Salads and More
It doesn't happen often, but when I do have some extra time on my hands I love to batch make sandwiches/snacks/salads etc. What this means is that instead of making one of something I make multiples, so that when it comes to packing the school lunches I have a variety of items ready to go. For example, some weeks I'll make salads for the entire week on Sunday, or I'll make two weeks work of my banana chocolate chip muffins, or even prepare a weeks worth of jam sandwiches. What this means is that I just need to grab one or more of these batched items, add some fresh vegetables or fruits and you're good to go.
Tip #4 – Make Healthy Foods into Fun Foods
Just like adults we can get bored with our food and if we're completely honest have a packed lunch every single day, for four terms would cause some element of boredom in foods no matter how creative you are. So I've found that making healthy foods fun foods I add a whole new element to the once boring lunch box.
For examples, I love to get creative with cookie cutters; Easter eggs for Easter, hearts for Valentine's Day, snow angels for Christmas and even frogs for just every day fun. In addition, I like to make special fruit or vegetable skewers to add a pop of colour to the lunch box but it also allows me to introduce new  fruits or vegetables to Finlee and Chloe.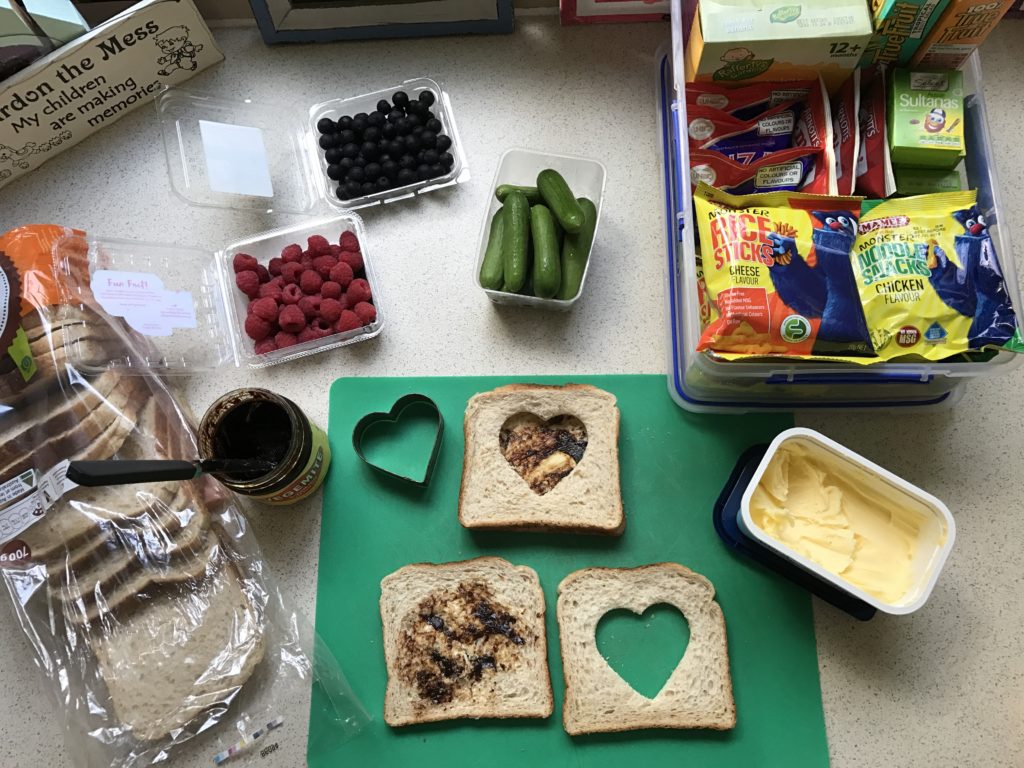 Tip #5 – Create a Snack Station
For those that have followed my Finlee and Me blog for years, you'll know I'm all about moderation and because I'm all about moderation I have a snack station that contains quick and easy, semi healthy snacks so when I'm under the pump, or we wake up late I know Finlee and Chloe still have a full tummy.
We have a variety of items in our snack station that range from granola bars, raisins, fruit leather and our Mamee Noodle Snacks and our Mamee Gluten Free Rice Sticks.
If you don't have a snack station, I'd strongly encourage you to get create one because you'll be thanking me for many years to come.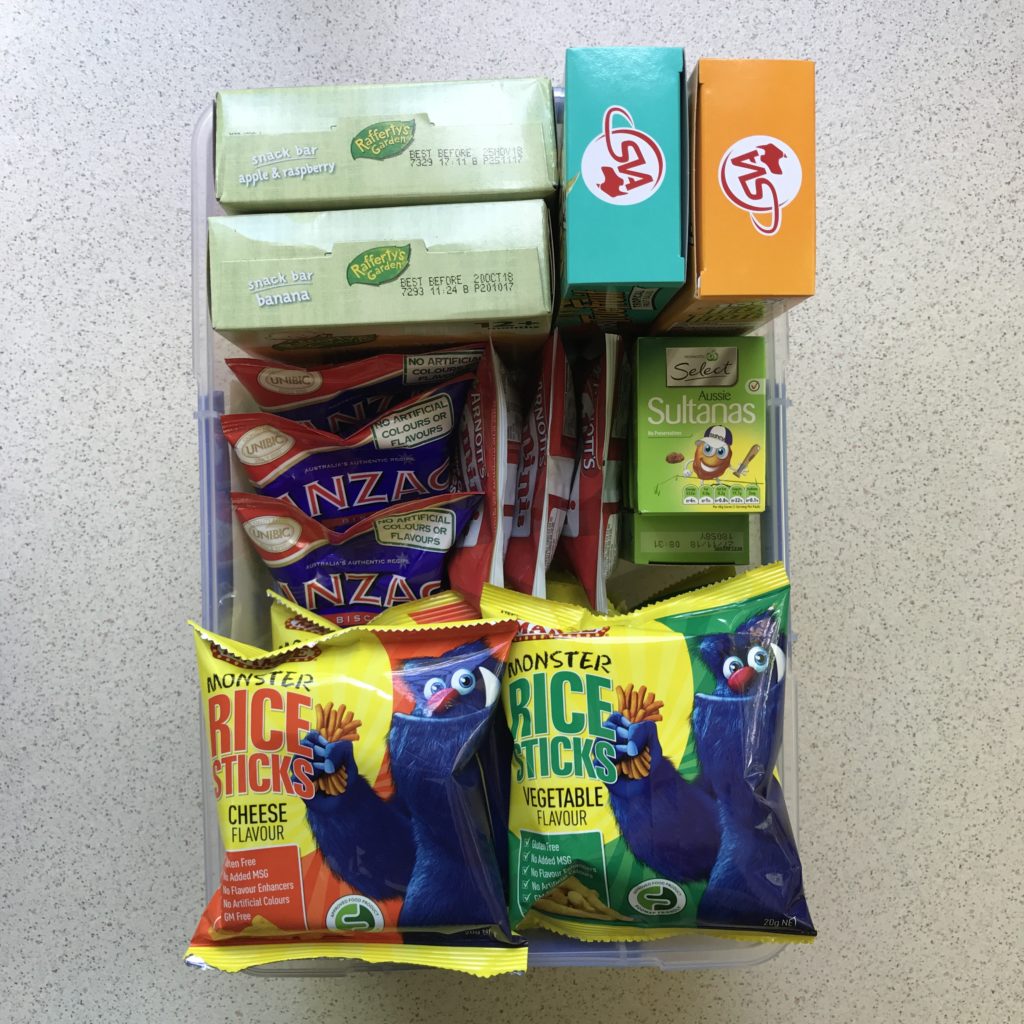 What We Love About Mamee Snacks
There are so many great things about Mamee Snacks:
Compliant with the Healthy School Canteen Strategy (Amber Approved)
Contain no added MSG
Made with RSPO sustainable Palm Oil
Mamee Noodle Snack 8pk Chicken & BBQ – Available from Woolworths chip Aisle
Mamee Gluten Free Rice Sticks Cheese – Available from Woolworths Gluten Free Aisle
So often as Mothers we put so much pressure to be perfect, especially when it comes to our kids. However, the way I see it is, the most important thing in making school lunches for our kids is that they actually are eating something vs the one in the magazine we think we should be making. Give yourself permission to be imperfect. And remember… our kids will survive even if that means they eat the same thing every single day or even get the occasional packaged food. They'll be ok; I promise.
Finlee and Chloe both personally enjoyed the Mamee Noodle Snack 8pk Chicken the best.
What go to foods do you have for your kids?
Angela
Angela is an author, entrepreneur, business consultant, blogger, mental health clinician and most importantly a mother. She explores various topics related to parenting/children on her blog and also in her three books: 30 Days, 30 Ways for Mothers to Take Care of Themselves, 30 Days, 30 Ways for Connecting with Your Child and Healthy Snack Ideas for Kids.