Chewy Chocolate Slice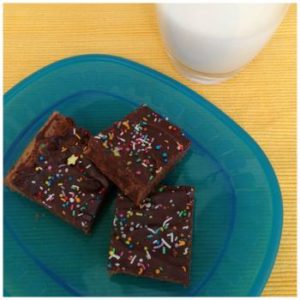 This chewy chocolate slice is a delicious combination of moist chocolate fudge and easy to make slice. It's a great lunch box snack or after school treat. Serve it cold from the fridge, or warm on a cool day, with a glass of milk. The kids just love it, especially with their favourite sprinkles on top.
Ingredients
· ½ cup (75g) plain flour
· ½ cup (75g) self raising flour
· 2 tablespoons cocoa powder
· 1 cup (220g) brown sugar
· 1 teaspoon vanilla extract
· 1 egg
· 125 g butter, melted
Chocolate Ganache Icing
· ½ cup (100g) chocolate pieces
· 1/3 cup (75g) pure cream
· 1 teaspoon sprinkles
Method
· Turn oven on to 180 degrees Celsius, grease and line a slice tin
· Place sugar, vanilla, egg and butter in a mixing bowl then mix in flours and cocoa powder
· Spread into slice tin and bake for 20-25 minutes until inserted skewer comes out clean
· Heat cream in small sauce pan until starts to boil then take off heat and mix in chocolate
· Pour chocolate mixture over slice and spread with the back of a spoon
· Shake favorite sprinkles on top
· Pop in fridge for 30 minutes so icing can set
Kids Can Help (decide what's appropriate for their age):
· Measuring ingredients
· Breaking eggs
· Mixing and spreading
· Breaking up chocolate
· Pouring icing
· Shaking sprinkles
For more yummy recipes go to our Recipes and Crafts section.