Creamy Healthy Icey Blueberry Treats!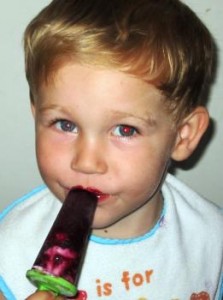 Blueberry Ice-cream Pops….cannot be healthy right? Wrong!  These amazing little summer treats are all about delivering the wonder foods you want your child to eat without the rubbish they really want to eat.  Berries, especially blueberries are an amazing source of vitamin C (although freezing deteriorates that) as well as good things for your child's brain, skin and vitality.  Berries are wonder foods, so what better ingredient for a summer treat!  These are best enjoyed by the whole family, out on the lawn on a bright, warm day!
What you'll need
A willing child who is excited about making his/her own icey treats
Ice-block moulds
1 punnet of blueberries (fresh or frozen)
1 punnet of other berries (fresh or frozen)
1 tablespoon icing sugar
1 1/2 cups yoghurt (berry or vanilla)
Enough patience to wait for them to freeze!
Optional:
1 whipped eggwhite to make iceblocks fluffier
1 mashed banana makes for a creamier texture
Method
Simmer the berries with the sugar until the berries begin to "bleed"
Once they are part liquid, remove from heat and allow to cool
Place a spoonful of yoghurt in the bottom of each iceblock mould (kids can do this!)
Place the remaining yoghurt in a bowl and gently stir in the berries (and other extras if applicable)
Fill the moulds until about 1cm below the rim
Freeze
Note that berries can stain clothing so it's best to eat in your old clothes, out on the lawn on a nice warm day!  Follow up with a little play out on the lawn and you've got a wonderful way to spend an afternoon as a family!
Guest Blog by Tony Cross
Tony Cross is one of Australia's leading outdoor recreation experts and a major supplier of Sir Walter Turf in Brisbane.  He also owns Hello Outside, a blog for the great outdoors and is a big supporter of outdoor fun for happy families.  Tony Cross has 24 years' experience in garden and lawn care and his business, Caboolture Turf is one ofAustralia's leading turf farms.