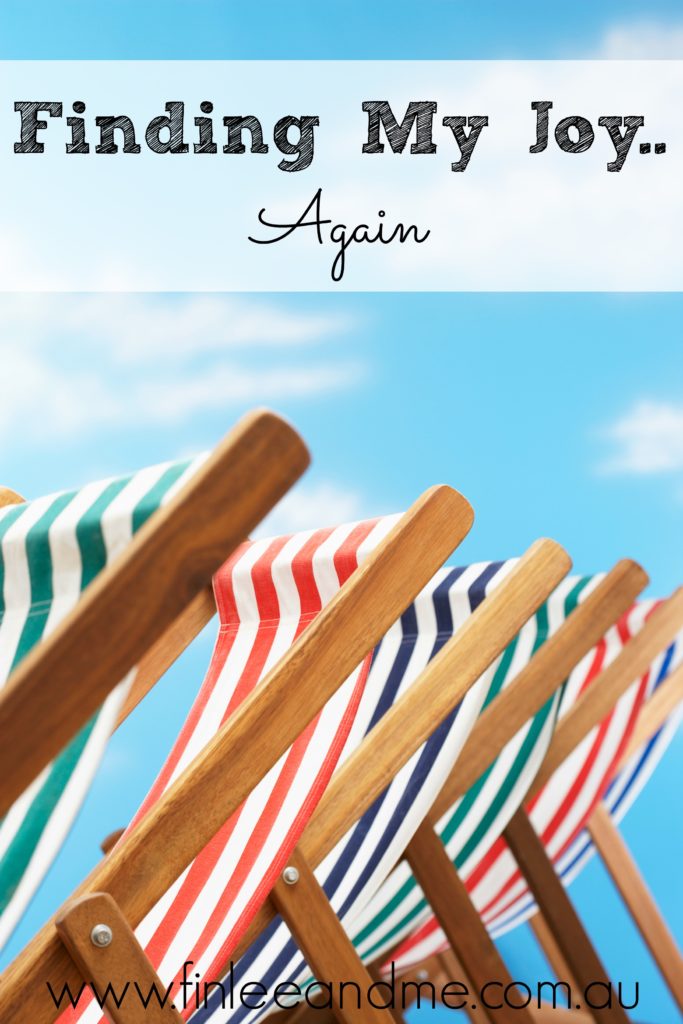 Somewhere between being pregnant and now (7 years later), I've lost my joy.
Literally. I have lost my joy.
I don't know what the fuck has happened, how it's happened, but it's fucking happened. My joy is gone and it's been slipping away little by little over the years, but it's only recently that I've realised something must change. I don't know exactly how this is going to happen, but you can be sure I'm finding my joy again.
Losing My Joy
Now losing my joy isn't because I've had kids, so please don't think that kids = losing your joy because this is not the case. In fact it's been a combination of things over the last 7 years, but it only hit me like a ton of bricks in October this year to realise that my joy is gone.
After work one day, I was doing my normal 45 minute drive home. I typically love this 45 minutes because it's an outlet for me to clear my head, listen to music and prepare to put on my mom/mum hat for the next few hours.
But…. this day was different.
I couldn't breathe. The tears wouldn't stop and I had to pull over on the side of the road. My world was spinning around me. I felt out of control, a feeling I hadn't felt for a very long time.
My joy was gone.
I remember looking in the rear-view mirror and wondering who is this woman staring at me. I didn't recognise that person in the mirror. I looked aged, tired and scared.
I was broken.
It was this moment I realised that from the time I was pregnant, to sleep deprivation, catching baby brain and losing the ability to remember anything, being so tired my tired is tired, sick kids, school pick up/drop off, making dinner, doing laundry, assisting with nightly homework, working full time as a mental health clinician, having numerous medical problems, running my online baby business Finlee and Me, combined with my need for perfectionism; my joy was truly gone.
And finding my joy was no longer a want, but a necessity.
Finding My Joy
Somewhere in my subconscious I must have known this moment was coming because I had an appointment already made with my GP for the following day.
I met with my GP and she agreed the time had come to put myself first. To take care of my medical concerns. To have time to heal. To to have time finding my joy again. She signed me off as being unfit for work to put the pieces back together. And it was then, that very moment that joy came back into my life.
I'll be honest, the last 2.5 months have been the hardest months. I'm no longer able to compartmentalise everything, but rather I'm having to get all my medical concerns investigated, I've been diagnosed with generalised anxiety disorder and I'm still trying to be the best mom/mum I can. However, regardless of the struggles I've faced over the last 2.5 months, I'm slowly creating a new story. A story where I have the space to let joy back into my life.
The word I've chosen to focus on this year is JOY. Every day in 2017, I'll be posting something that brought joy into my life for that day on my Finlee and Me Instagram Account. I'm only on day 8 of finding my joy, but I've been overwhelmed with the positive response I've had from the beautiful comments people have made and I would love for you to join me on this journey of finding joy.
Here are a few examples of me finding my joy again….
It's true you lose your joy. It's been lost before, but this funk will pass and my new story of happiness, love and joy will be replaced; one moment at a time.
To all the people out there struggling, you've got this.
And remember, it's ok to put yourself first. You must take care of yourself first sometimes in order to be a better mother, a better person and a better friend.
Are you working on anything at the moment for you? Or would you like to work on something? Would love to know so just leave a comment below.
Love to all,
Angela xx
Ps- Remember if you liked this blog, or think it could benefit a friend or family member remember to share.
About the Author
Angela is an author, entrepreneur, blogger, mental health clinician and most importantly a mother. She explores various topics related to parenting/children on her blog and also in her four books: 30 Days, 30 Ways for Mothers to Take Care of Themselves,  30 Days, 30 Ways for Connecting with Your Child ,  Healthy Snack Ideas for Kids and 30 Days of Christmas Cheer – A Month of Holiday Traditions and Memory Making.
Connect with her on Facebook, Instagram and her website Finlee and Me.
Save
Save
Save