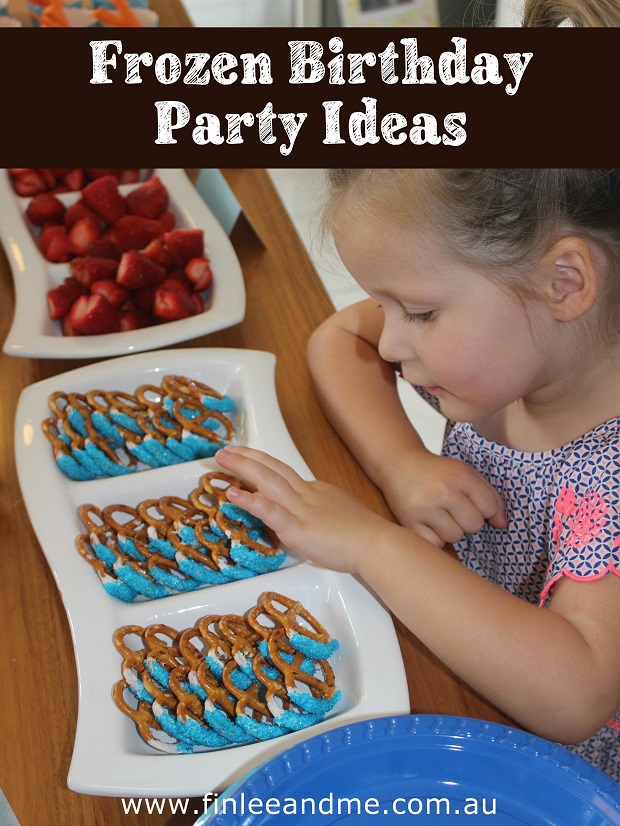 What little girl doesn't love Frozen so when it came to Chloe's last birthday we decided to put our heads together and come up with some Frozen birthday party ideas and then ran with our favourites. We covered all bases from the party bags through to all types of yummy food Chloe and her friends would love.
Materials Needed for our Frozen Birthday Party Ideas
For Chloe's Frozen birthday party we decided to make as much as we could from party bags, cupcake toppers, chocolate wrappers, popcorn, pretzels, Olaf's nose, snowflake jelly, fairy bread and even Anna's broken heart. You can adapt to suit based on how much time you have, how crafty you are and also how many kids you have attending. So simplify and tweak where you need to.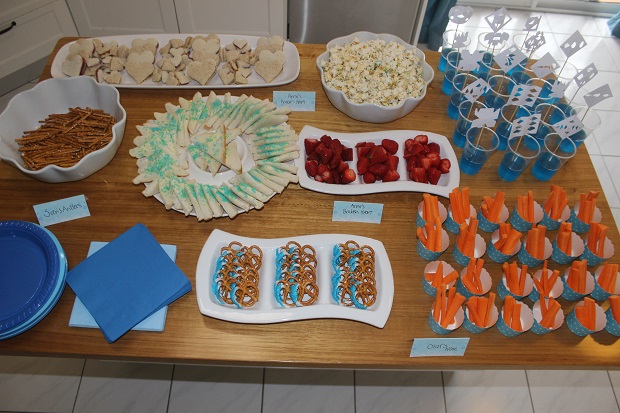 Blue paper bags – two different shades of blue if you can
White paper – to print the chocolate wrappers and to make the snowflakes for the jelly and lolly bags
White cardstock – to print the cupcake toppers
Toothpicks
Blue sprinkles
Silver cupcake papers
Blue sugar crystals
Carrots
Cardboard cupcake papers to hold Olaf's nose (the cardboard ones are firmer so they will stand up)
Clear plastic cups
Blue jelly
Small skewers
Popcorn
Pretzels
Strawberries
Bread
Furry Friend chocolates
Cupcakes
Icing
Glue stick or double sided tape
Snowflake patterned cardstock
Black marker
Scissors
Instructions to Make Your Frozen Party Accessories
We started with making the party bags and then prepped and got ready as much as we could before the party but obviously, some things are best left closer to the time and on the day.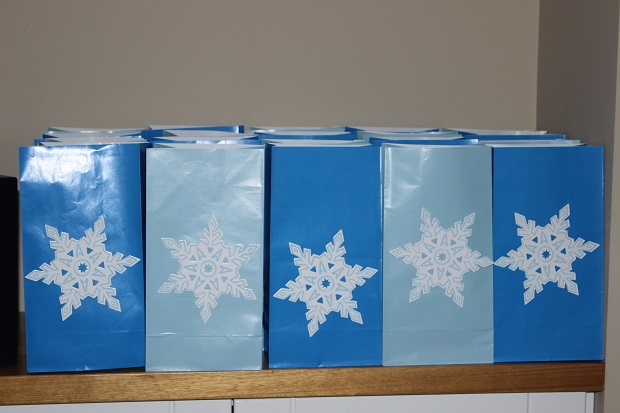 Step 1 –  To make the Frozen party bags we used paper bags in two different shades of blue and then kept it simple with using printed snowflakes and cutting them out and adhering to our bags with double sided tape.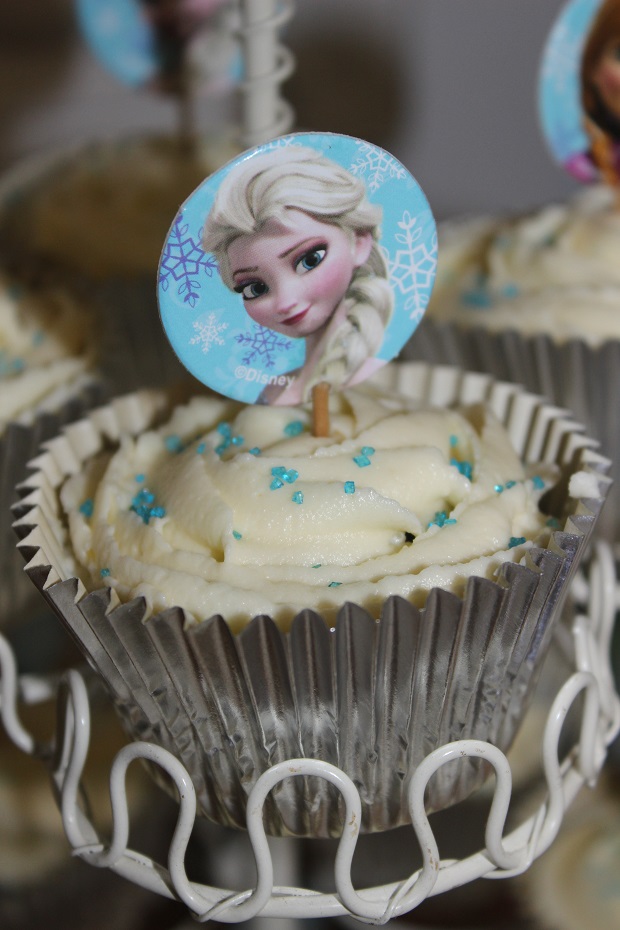 Step 2 – With our Frozen Cup Cakes, we used silver cupcake papers to bake our cupcakes in to keep within the colour theme and then decorated the cupcakes with white icing and blue sugar crystals. Then we made Frozen cupcake toppers by printing a round Frozen image that was approximately 1cm – 1.5cm in diameter and then cut them out. We then stuck one on each side of a toothpick with double sided tape and poked it into the top of our cupcakes.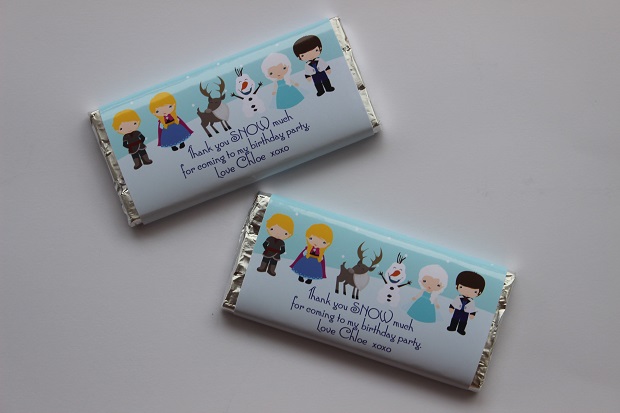 Step 3 – Our chocolate wrapper design was made with an image we found online and then just added the personalised message from Chloe. We then printed them on paper and cut them out and stuck around the Furry Friends adhering with some double sided tape.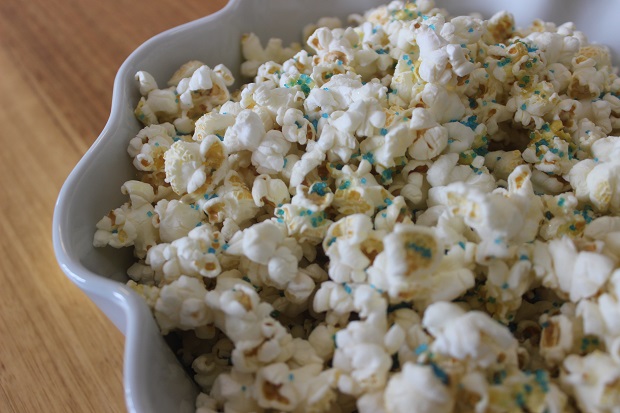 Step 4 – We popped our popcorn at the last minute and then just added some blue sugar crystals to give it some Frozen pizzazz.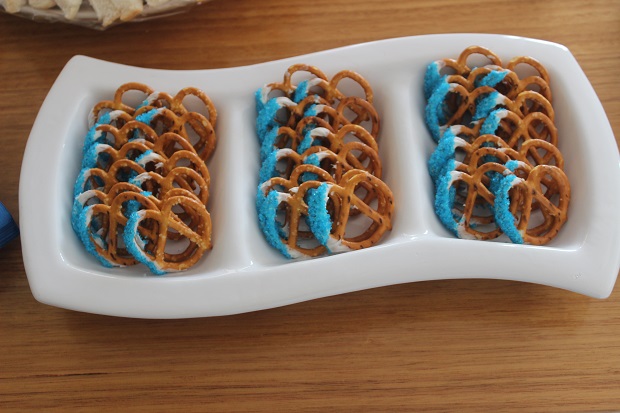 Step 5 – With our pretzels, we used some icing left over from our cupcakes and gently dipped one side of the pretzel into the icing and then quickly dipped it into the blue sugar crystals before the icing could set.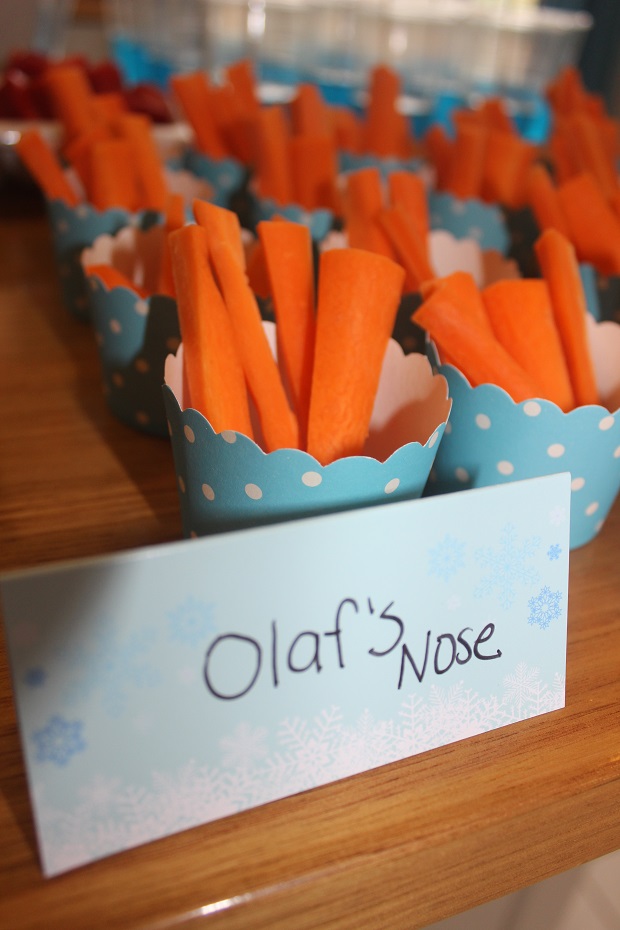 Step 6 – To make Olaf's nose we just peeled and sliced up some carrots long ways and popped them in the cardboard cupcake papers. Depending on your child's age and knife skills they may be able to do this step for you.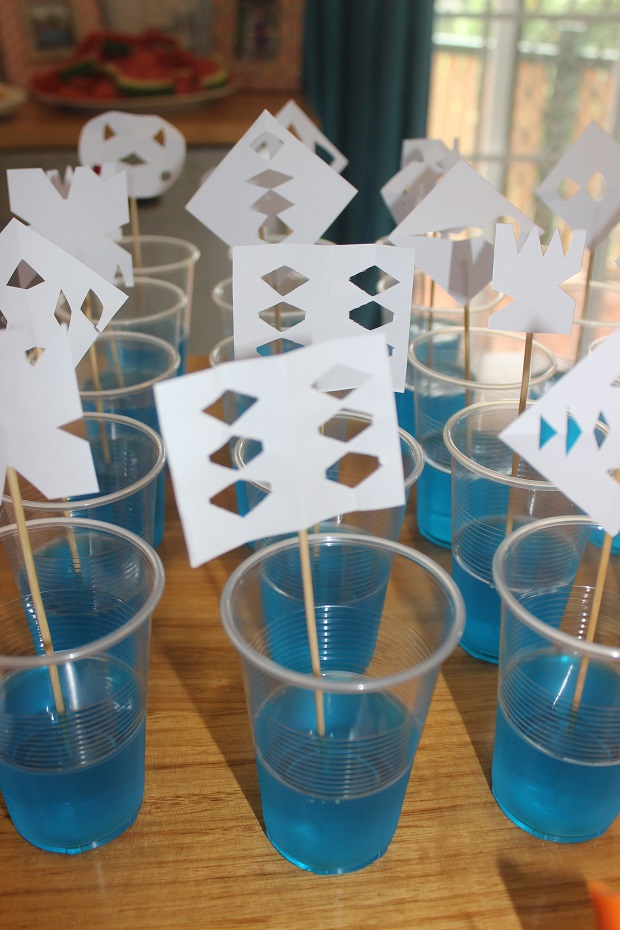 Step 7 – To make the jelly we just made up blue jelly which we poured into clear plastic cups. We let the jelly set, then using a small wooden skewer attached a snowflake we made from paper and inserted it into the jelly. To make the snowflakes we folded the paper in half and cut triangles out along the fold line leaving a small gap between each triangle and then when you open up the paper you have a diamond shape. An easy and quick way to create a pattern and great for little hands to do.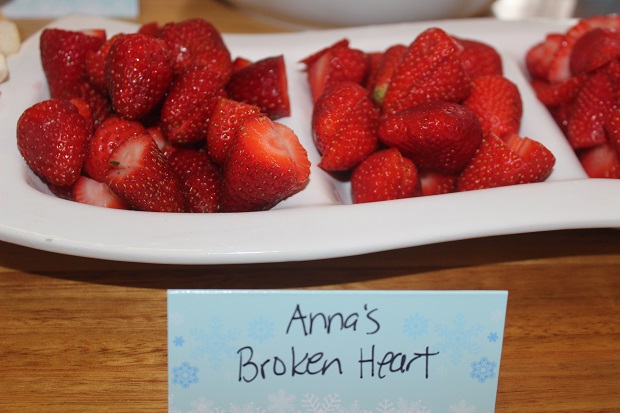 Step 8 – Anna's broken hearts were made by slicing a strawberry in half so nice and easy to do and a great job if you have some little helpers depending on their age and knife skills.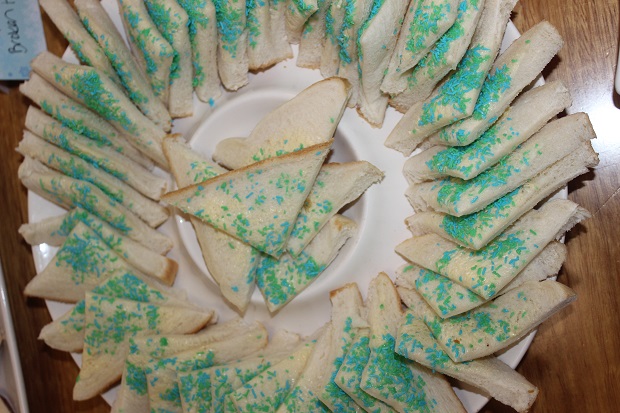 Step 9 – When it comes to our Frozen Fairy bread this is the same as all fairy bread – butter and sprinkle. In this case, to stay with our Frozen theme we used blue sprinkles.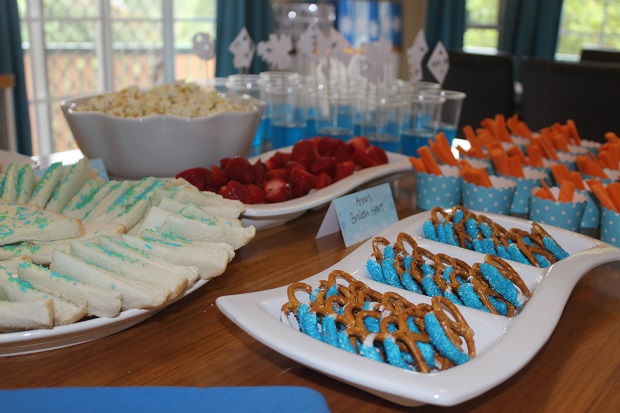 Step 10 – Then just to tie it all together we used our snowflake cardstock and cut out rectangles which we folded in half and then on the front wrote what the Frozen inspired foods were.
The Benefits of creating Frozen Birthday Party Ideas
Planning a party is a great way to get the whole family involved. Sit down together and throw around ideas for your Frozen inspired birthday party. Discuss what would work and what might not, what you would be able to create together or what you need to purchase. Do you have a budget you need to adhere too? The budget is a great aspect if you have older kids to let them manage and you could even task them with being the party co-ordinator and oversee the whole thing or help oversee the whole party depending on their age. That way they can practise their team working skills, delegation, etc.
With your party, it's your party or your child's party so tailor it to suit your lifestyles and skills. So make it as crafty as you wish or if you're not that way inclined then there's lots of stores and websites where you can buy all the bits and pieces needed so if you're time poor then you can still pull together a wonderful kids party.
So, what Frozen birthday party ideas did you use for your birthday party for your Frozen inspired birthday party? We'd love to hear and see about it so feel free touch base with us and share what you did.
Love to all,
Angela xx from Finlee and Me
Angela is an author, entrepreneur, business consultant, blogger, mental health clinician and most importantly a mother. She explores various topics related to parenting/children on her blog and also in her three books: 30 Days, 30 Ways for Mothers to Take Care of Themselves, 30 Days, 30 Ways for Connecting with Your Child and Healthy Snack Ideas for Kids.
Connect with her on Facebook, Instagram and her website Finlee and Me.
Save