Giving Kids an Allowance
I don't know about you, but this parenting business is tough work. First it was trying to figure out what my 1 week old was crying about, then it was potty training and now Finlee (my almost 5 year old) is wanting to get money to buy things. How did he grow up so quickly?
My husband and I have had to think about what does an allowance mean to our family and for us we decided it's about doing something to help our family, which in return assists Finlee to start learning responsibility, that things aren't just given to him and lastly that you have to wait to get something vs immediate gratification.
How to Earn an Allowance
So my we decided that Finlee could start doing some simple chores around the house. We talked with Finlee about things he could a) do at his age and b) things that are fun. We also used this great tool box called Chores Idea Box which had numerous chores for kids of all ages and the point is that kids can choose a chore out of the box, so that they feel part of the process.
Example of Chores Idea Box: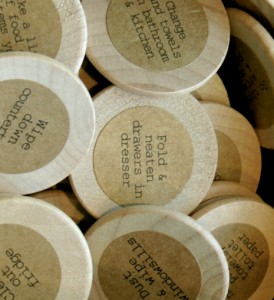 We also found this very helpful chores lists that is broken down into age appricate chores: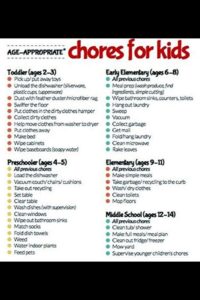 Learning to Save Money and Give Back to Community
We also want Finlee to learn to save money and also to give back to the community. Since we were already introducing allowance we also decided to introduce 2 other jars to which he'll put money in every week. The save jar and the give jar. We talked with Finlee (in simple language) the importance of saving money for a raining day and what this might look like. In addition, we spoke with Finlee about giving back to others and how some people don't have the things we do. Or how people might need help getting around like using a Guide Dog. Through this process we helped Finlee decide who he would like to help and he said "the doggies Mommy."  So at the end of each year, we'll take Finlee to the bank and show him where his saved money is going and we'll also take him to donate his money to the Guide Dogs once a year so he can also experience the feeling of giving and helping others.
Finlee assisted in making his jars and we did this so he is part of the process from the beginning and not to mention he loves arts and crafts!!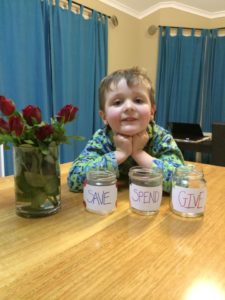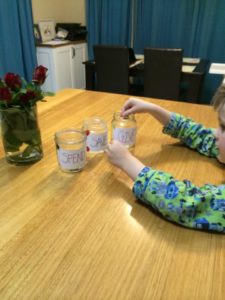 How Much is Reasonable
So how much do you give an almost 5 year old? My husband and I decided to give Finlee $6.00 per week and he'll put $2 in his spend jar, $2 in his save jar and $2 in his give jar. However, you could do whatever will work for your family.
It's exciting to embark on a new journey with Finlee and to start see him turning into a young soul who will now start to contribute to our family, his future and his community.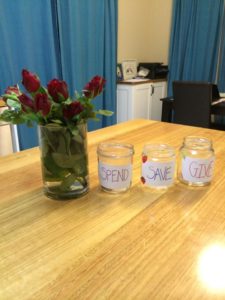 To view a range of educational toys, imaginary toys, sensory toys, outdoor products and other great ideas for baby, toddlers and mums head to Finlee & Me