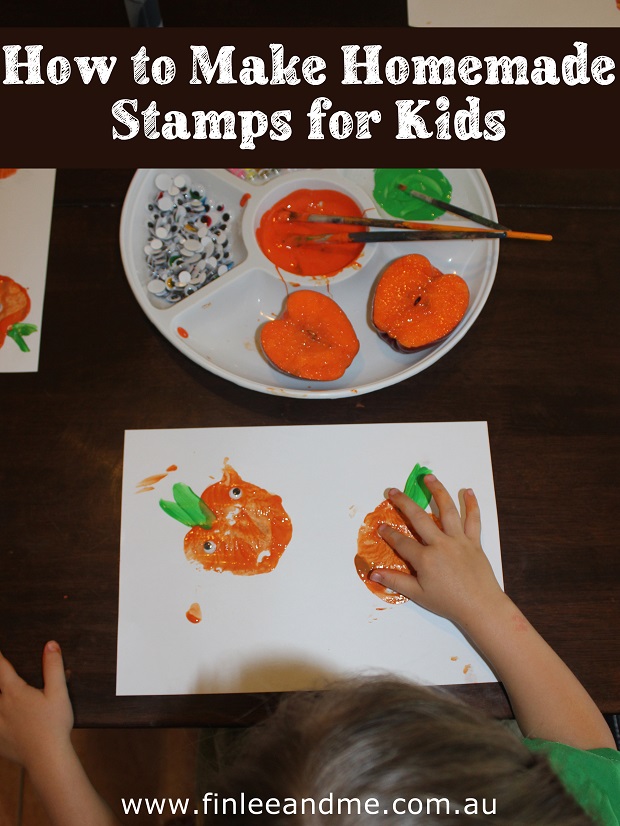 Making homemade stamps for kids is super easy when you can simply use things you have around the house; making it an awesome fun craft activity. In this instance, Chloe (my 4 year old) and I decided to use an apple and create a pumpkin painting. This would be a great kids activity to do near Halloween or you could just make the stamp again when it is closer and do some Halloween decorating.
Materials Needed to Make Homemade Stamps for Kids

With our apple, Chloe and I decided that when it was cut in half it reminded us of a pumpkin so we chose our paint colours to match that and what better way than to jazz up a pumpkin than with eyes, a smiley face and some glitter.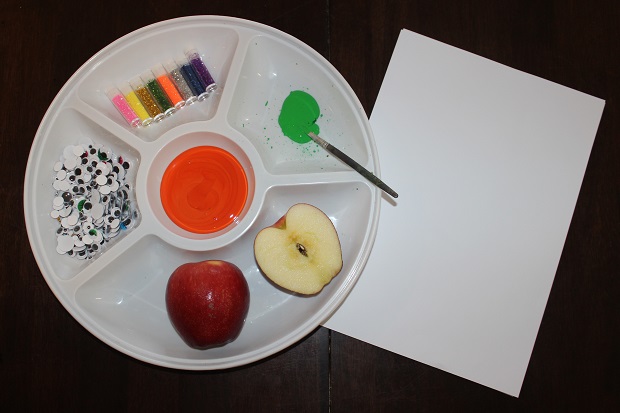 Apple or your choice of fruit or vegetable
Paint brush
Acrylic paint – orange and green
Paint pallet (optional)
Knife
Glitter
Eyes
White paper/butcher paper
Paint smock (optional)
Glue stick if your eyes don't have a self-adhesive back
Black marker
Instructions to Make Homemade Stamps with Apples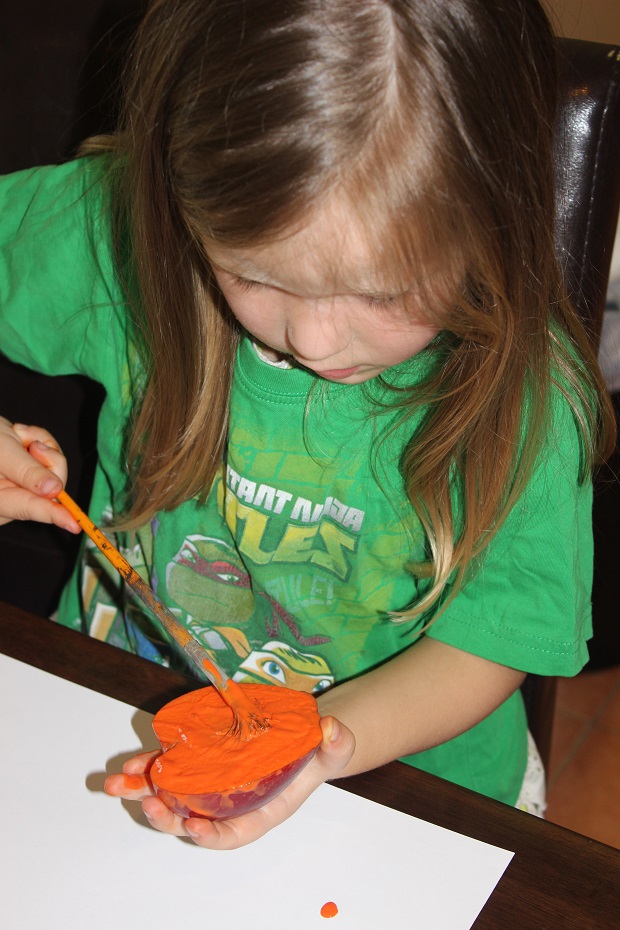 Step 1 –  Cut your apple carefully in half. Depending on your child's age it may be best if the adult does this. Then using the paint brush and your orange paint apply the paint to the apple.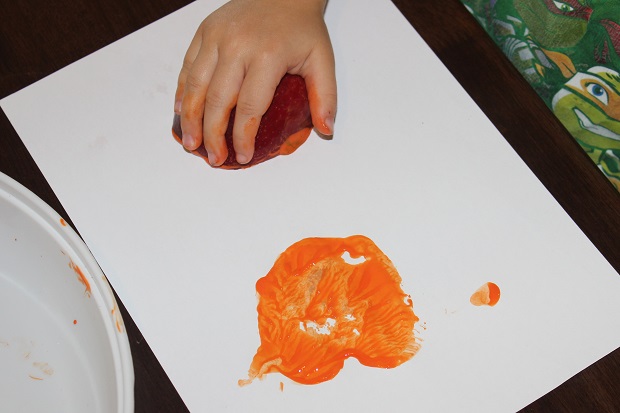 Step 2 – Then press the apple painted side down onto the paper. Depending on how much pressure and paint applied will depend on what sort of finish you get. You should be able to do multiple presses before repainting your apple normally.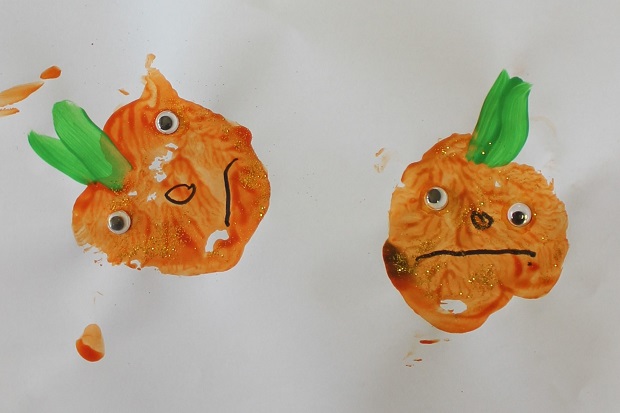 Step 3 – Using the green paint you can paint the pumpkin stem on. You could either use a paintbrush or your finger. The choice is yours!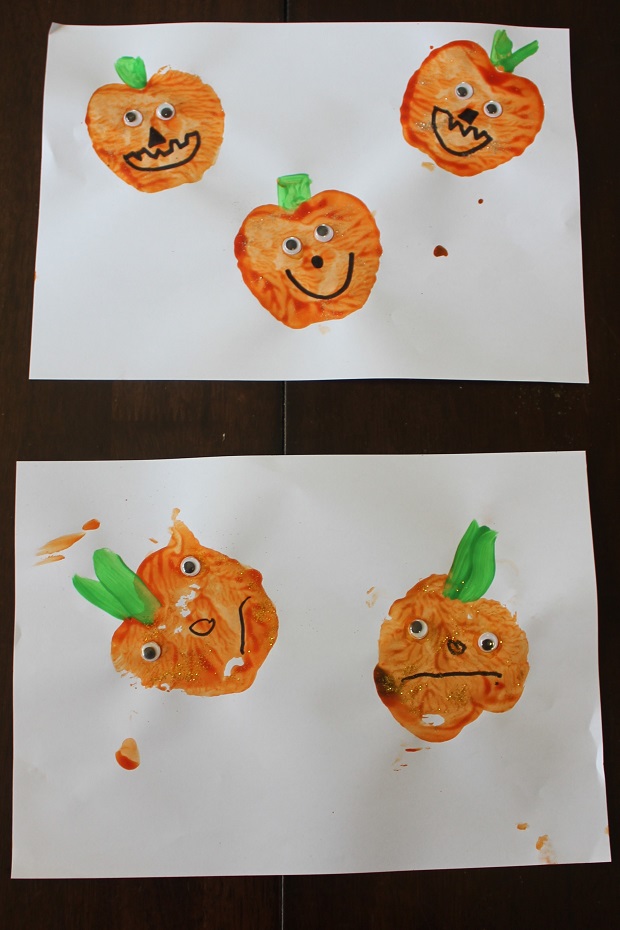 Step 4 – Before the paint dries sprinkle some glitter on if you wish and then add your eyes. Once the paint has dried you can draw on your smiley face and your pumpkin paintings are finished.
The Benefits of Making Homemade Stamps for Kids with Fruit and Vegetables
Creating with your kids is a great fun way for them to learn and expand their imagination. This fun craft activity is great for colour recognition as well as their imagination as you discuss the shapes and patterns your pumpkin apple stamps create. You could use the opportunity to talk about different emotions to depending on your child's age. What does happy look like, sad, angry, etc and how do they make you feel?
Other foods you can also use to make homemade stamps are potatoes, carrots and celery stalks and other things you can make are greeting cards, gift bags, or even decorate fabric bags and t-shirts. If you do decorate fabric items though just make sure you use fabric paint and follow the directions so if you need to wash them it lasts.
So what awesome homemade stamps have you made with your kids? We'd love to hear what fruits and vegetables you used and send us some pictures of what you made or decorated.
Love to all,
Angela xx from Finlee and Me
Angela is an author, entrepreneur, blogger, mental health clinician and most importantly a mother. She explores various topics related to parenting/children on her blog and also in her three books: 30 Days, 30 Ways for Mothers to Take Care of Themselves, 30 Days, 30 Ways for Connecting with Your Child and Healthy Snack Ideas for Kids.
Connect with her on Facebook, Instagram and her website Finlee and Me.