If you're looking for a kids activity that you can do over and over again, one that will keep the kids occupied and engaged for hours, then you need to try this I-spy alphabet slime.  Before you get on the 'I hate slime' train and chant 'No way'!  Have you tried it? Or more specifically, have you tried THIS recipe?
This alphabet slime is based on a no-stick bouncy slime recipe and it isn't gooey, sticky, gross or messy like you might be dreading.  It's pretty easy actually and creating a letter hunt with an alphabet I-spy game makes it fun, engaging, sensory AND educational for kids.
You will need
Clear school glue
Borax
Warm water
Alphabet sequins
Glitter
Food dye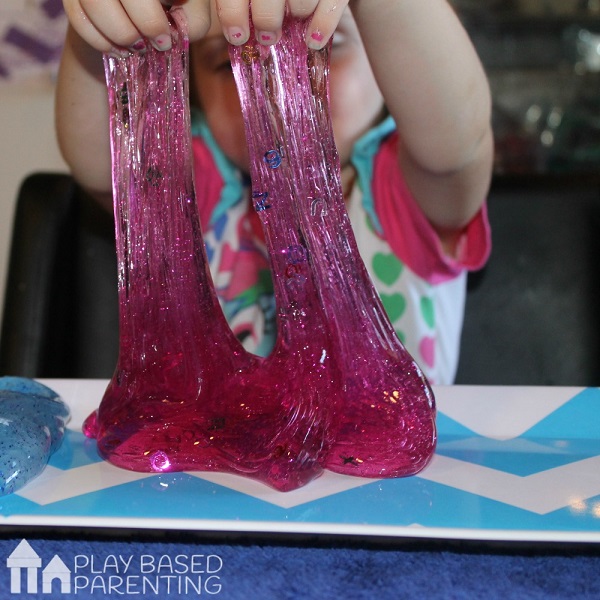 How to Make I Spy Alphabet Slime Kids Activity
You will need two separate bowls to make two separate mixtures.  In the first bowl dilute a teaspoon of borax into one cup of hot to warm water, add glitter, colour and sequins as you wish.  In another bowl mix even parts of clear school glue and water, our school glue was 145 ml.
Once you have this, add your borax mixture slowly and gradually into the glue mixture.  You will see it thickening.  Take it slow.  Making slime is a process!  Make sure you add it in bit by bit, mixing for a couple of minutes in between.  Sometimes you can even let it sit for a few minutes, then return to mixing.
As the chemical in the boron mixes with the PVA in the glue, it will continue to thicken, therefore it is important to gradually mix and allow the two components to thicken. You might not even need the entire boron mixture if you're happy with the consistency.  The worst thing you can do is dump the mixtures together because your boron mixture could be a bit too strong and it might clump up your glue instantly and be a big fat FAIL of a slime.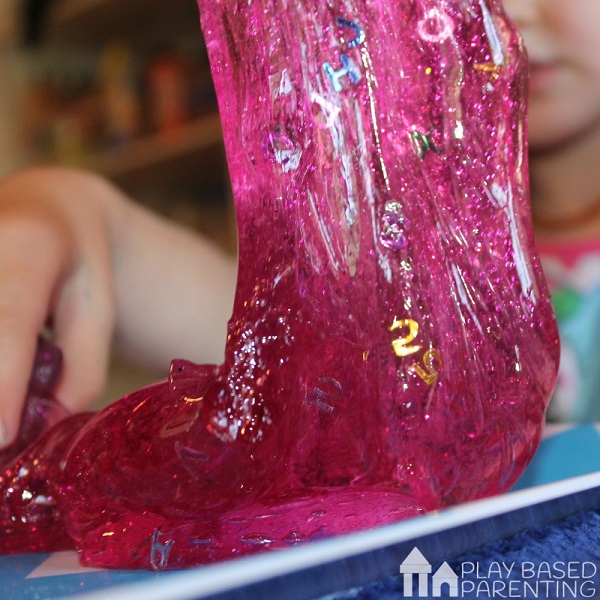 How to play with I-spy alphabet slime
When your slime is complete, give your child a smooth tray or surface to play on.  A flat plastic serving tray works well. Make sure you lay down some rules… Like, keep the slime on the tray, keep the slime away from hair and material, no tasting the slime.  Slime is fun, and this is a mess free recipe, BUT any slime will attach itself to material and hair or porous surfaces if it is left for too long.  If this does happen, you can use vinegar to remove it.
Step 1 – Free play and exploration.  Let them play with the slime for a moment and experiment with it.  Let them stretch it, poke it, roll it, see if they can break it. Squish it…
Step 2 – When they have explored the alphabet slime for a while, start a game of I-spy by simply asking "I-spy with my little eye, the letter S…  Can you?".  Then ask your child to find it among the slime.  Continue through with a few letters.
Step 3 – Step it up a notch by saying "I-spy with my little eye, the letter at the beginning of Snake" and ask them to find it.
Step 4 – Depending on the age and developmental level of your child, you could continue I-spy games but increase the difficulty.  For instance, "I spy the letter at the end of fantastic" or "I spy the letters from your name".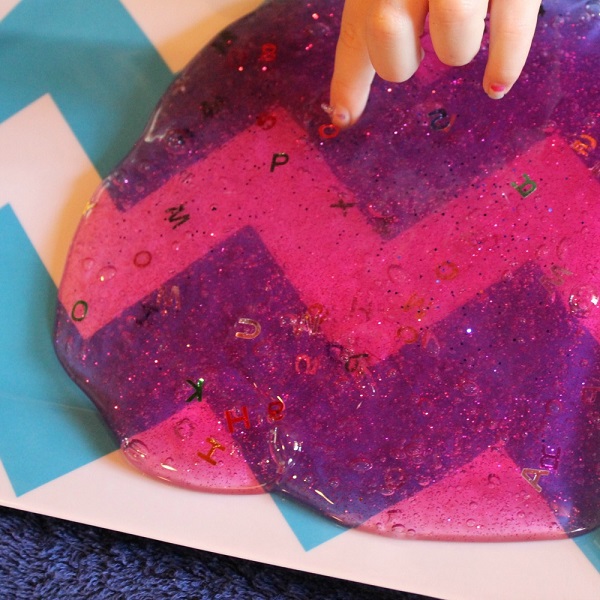 The benefits of an I-spy alphabet slime
Learning about the science behind slime. Read about it here http://play-based-parenting.com/glow-in-the-dark-slime/
Sensory Play. Kids activities that involve sensory aspects engage children and hold their focus for longer as they are exploring and learning with multiple senses. It is smooth and shiny, sometimes it crackles and bubbles or makes squishy sounds, it looks shiny and sparkly, it smells rubbery and feels bouncy.  There is a lot going on.
Letter recognition. This I-spy alphabet slime helps children identify individual letters (rather than just singing their alphabet).
This type of tactile play is very calming and relaxing. Children can push, poke and use pressure to squish the slime which is a release of energy and can bring a sense of calmness during play.
Cognitive focus and sustained attention. I-spy requires the child to stay on task, think and compare letters and use sustained attention or persistence to locate the letters.
Fine Motor Skills. Slime is a great finger exercise that strengthens and builds up fine motor skills and children's finger and hand coordination.
Playful learning. Finally, it is beneficial for kids to just play.  Although this alphabet slime has an educational aspect to it, don't stress over it.  Kids benefit from play based learning, just by experimenting cause and effect, hypothesising, using their senses, engaging in their own play.  It's all learning.
I hope I have convinced you that slime CAN be awesome.  If you like slime making, you might like this emoji slime that encourages empathy and emotional awareness. Link: http://play-based-parenting.com/emoji-slime-recipe-empathy/
Renee x
About the Author
Renee is a blogger over at Play Based Parenting where she captures a variety of activities for kids of all ages. To find Renee you can head to any of the below platforms.
My website: http://play-based-parenting.com/
Pinterest: https://www.pinterest.com.au/playbasedparent/
Facebook: https://www.facebook.com/playbasedparenting/
Save