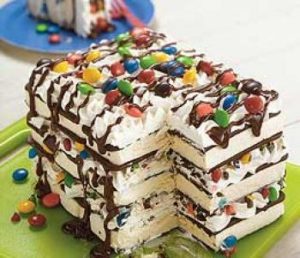 Ingredients:
16 ice cream sandwiches, softened
1 16-ounce container chocolate Cool whip topping
1 12-ounce jar chocolate fudge topping
2 bags (about 16 ounces M&M candies)
1/4 cup chocolate syrup
Directions:
Layer 8 of the sandwiches in a 9×13 baking dish side by side, press down a little to join them. Spread evenly 1/2 of the Cool Whip and 1/2 of the topping. Sprinkle 1/2 of the candy over layer. Repeat with another layer of same. Drizzle with chocolate syrup to finish. Cover and freeze 3 hours or until firm. Slice with a serrated knife.
Yield: 12 Servings
This recipe is from The World According to Sylvia Garza