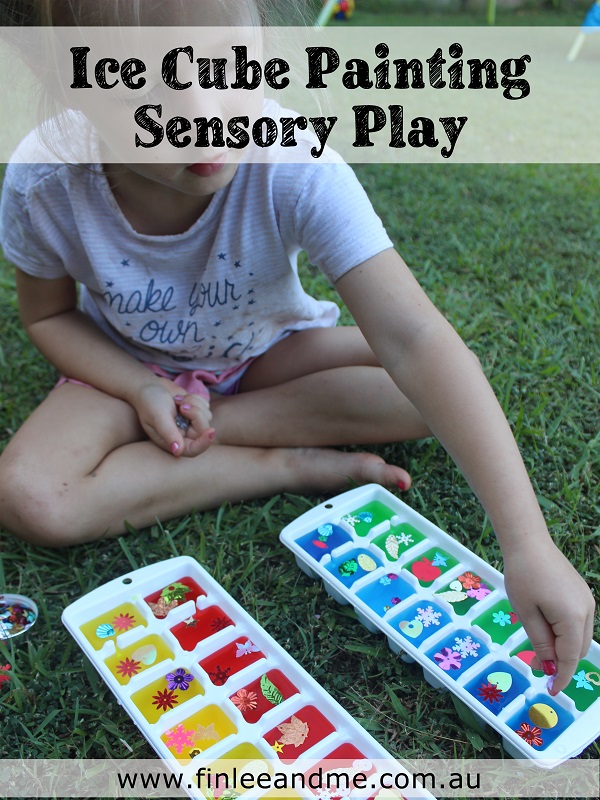 This great fun sensory play activity with an ice cube is perfect for a warm day or if it's during the cooler months then rug up with some jackets and gloves for outside. Or if you prefer to stay inside then a great activity for the bathroom or pop some towels on the floor first. It's only water! Great for kids of all ages and stages and even for the big kids too.
Materials Needed for our Ice Cube Painting Sensory Play Activity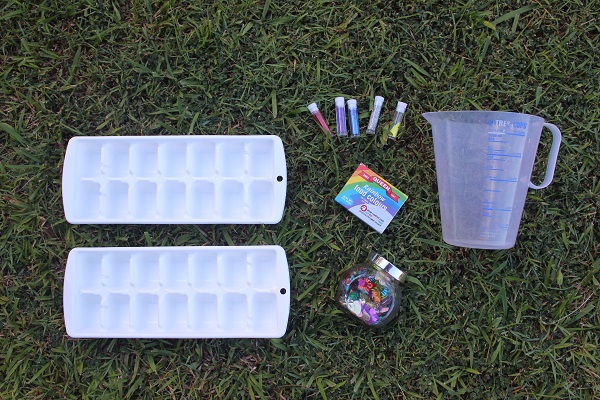 Materials needed:
Ice cube trays
Jug
Food colouring
Glitter and embellishment pieces – stars, flowers, leaves, etc
White paper/butch paper
Muffin trays or small bowls
Instructions for our Ice Cube Sensory Play Activity
There really is no right or wrong way to do this activity but the following is the way we enjoyed from painting our ice cubes through to watching them melt at the end.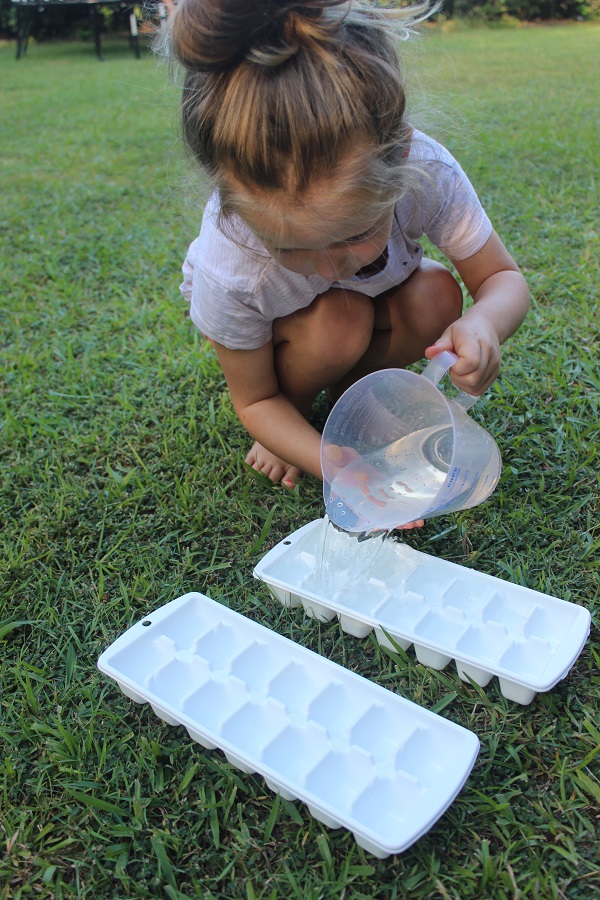 Step 1 – Have your child pour the water into the ice cube trays or assist them depending on their age and skill.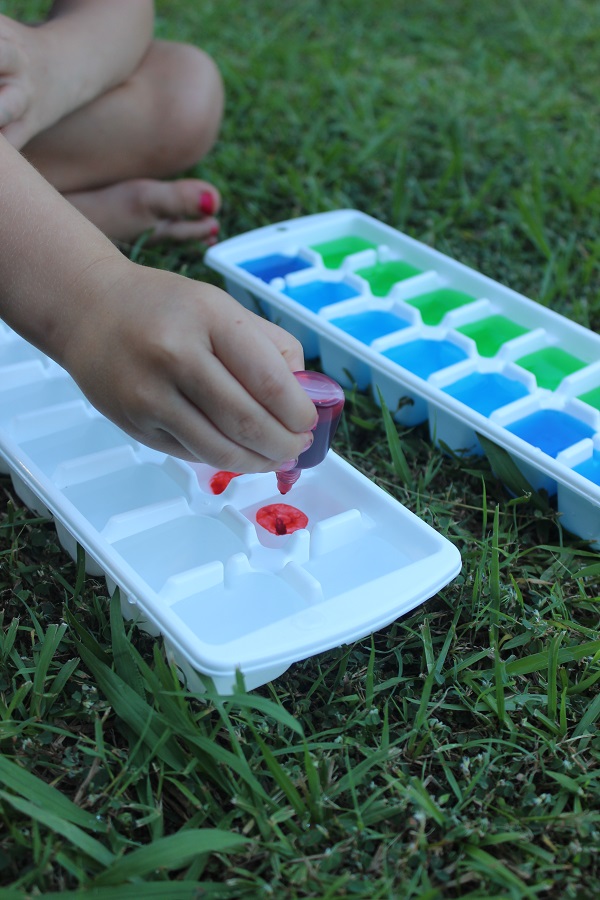 Step 2 – Add some food colouring.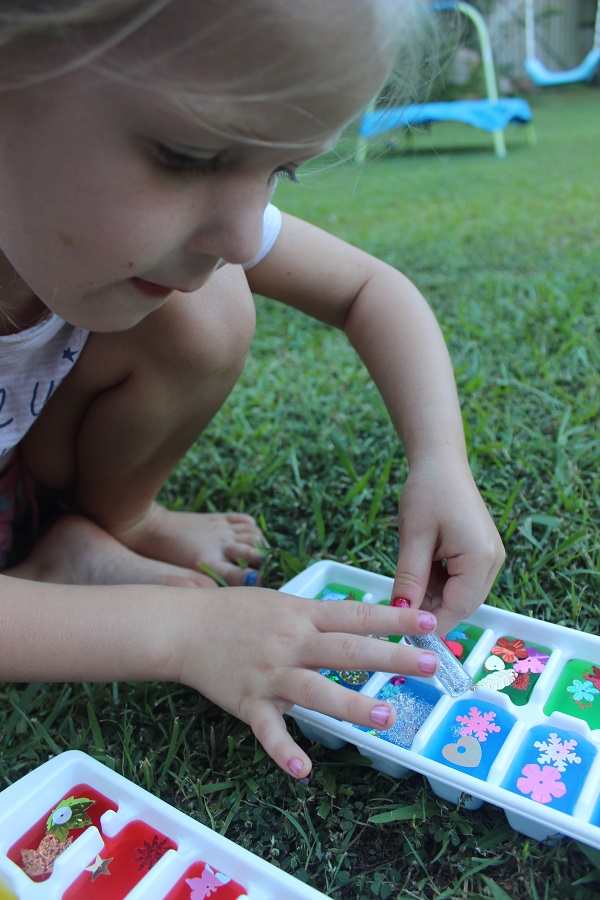 Step 3 – This is where you add the embellishments and glitter. Then place them in the freezer to set.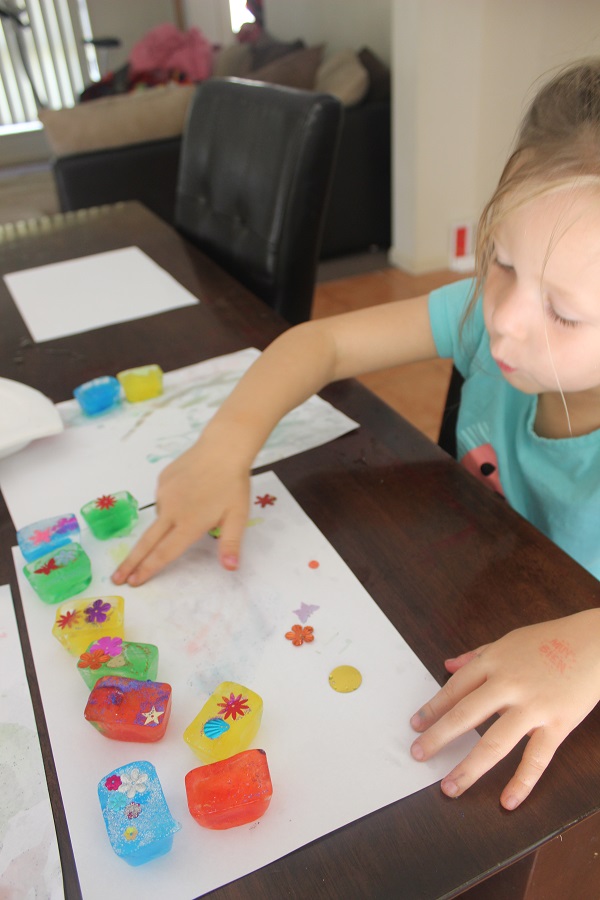 Step 4 – Once your ice cubes are set, then comes the extra fun part of your sensory play – the painting!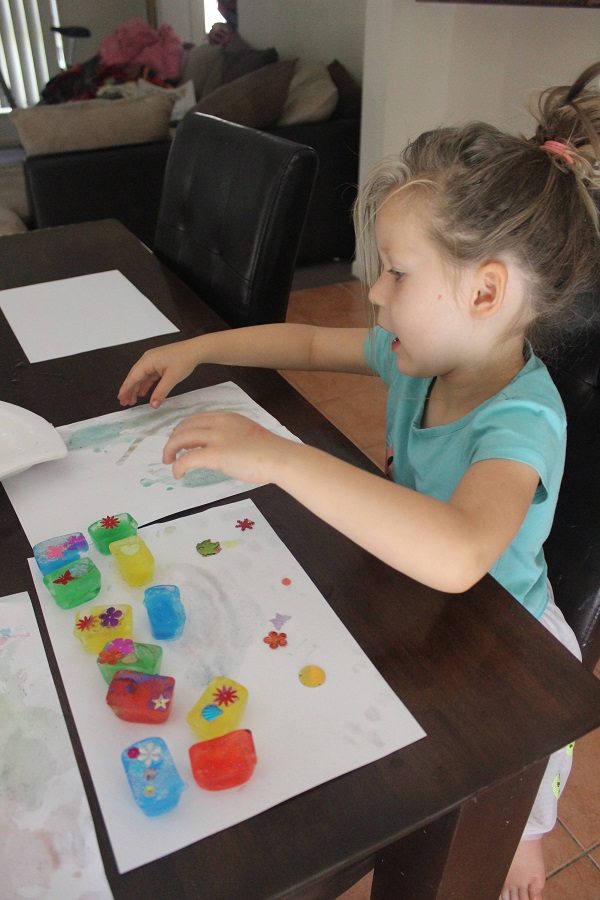 Step 5 – Use the white paper and start painting with your ice cubes. We just recommend white paper as you paint with the coloured ice cubes it gives the best effect.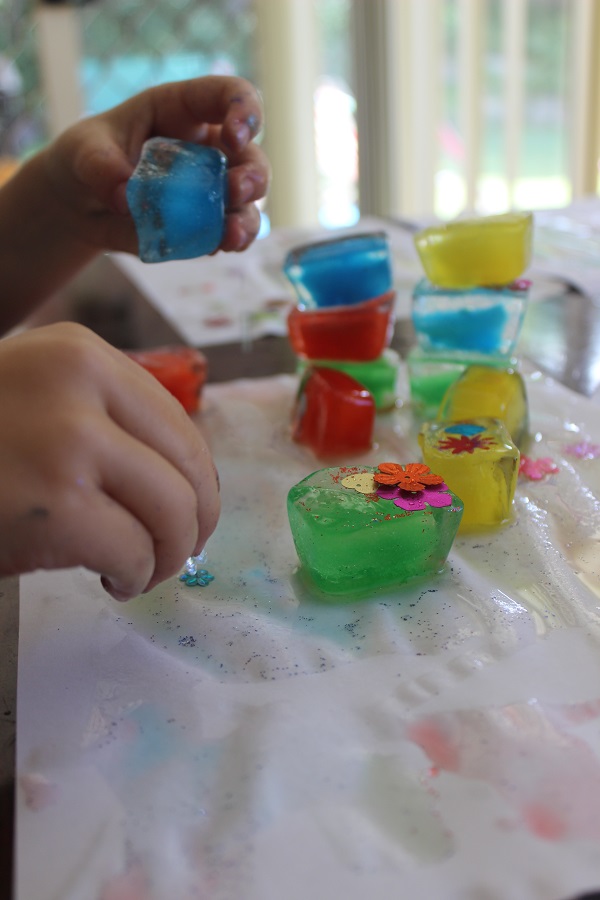 Step 6 – If you have used glitter in your ice cubes then you will leave a trail of glitter behind as you paint.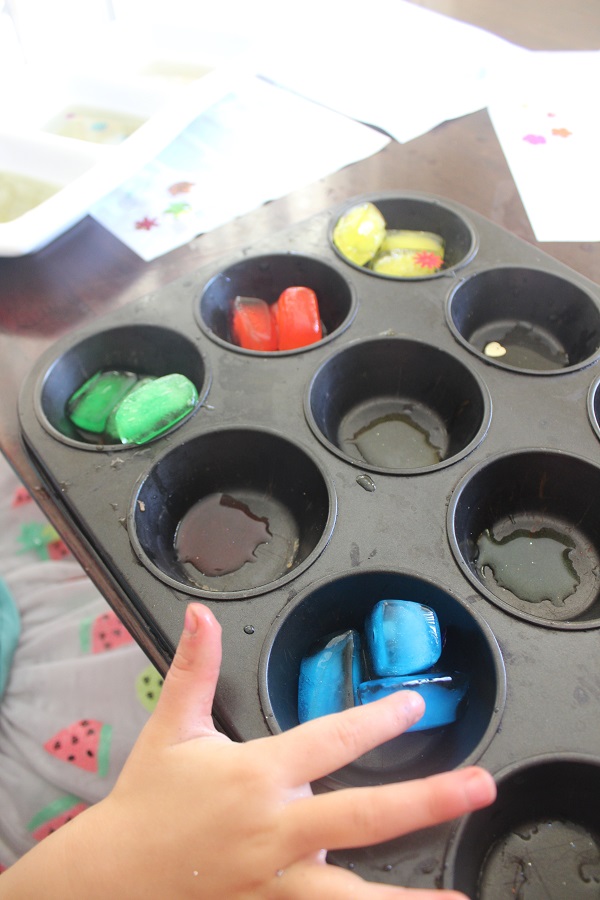 Step 7 – If you have some muffin trays or small bowls handy pop the ice cubes in them when you are finished and watch them melt. Mix the coloured cubes in the trays and watch out the colours mix and swirl together.
The Benefits of Sensory Play with Ice Cube Painting
This is a great activity to do with your child or children of all ages. There are so many benefits.
Having them pour the water into the ice cube trays is a great way to develop their confidence and co-ordination skills. And if they spill it, it's only water or they're outside and it doesn't even matter.
Using food colouring is a great opportunity to talk about colours and patterns. You can encourage your child to use different colours or to create a pattern and you could even talk about what colours make when you mix them together.
When you are adding the embellishments, this is also a great way for your child to develop their fine motor skills and you can also take the opportunity to talk about different textures, shapes, sizes, etc. Does everything float or do some things sink and why that is. Which embellishment colours show up better in some colour cubes than others is a great way for your child to start learning about colour matching and complimenting colours.
Have fun with your ice cube painting sensory activity and please let us know how you go and share your pictures with us.
Love to all,
Angela xx from Finlee and Me
Angela is an author, entrepreneur, blogger, mental health clinician and most importantly a mother. She explores various topics related to parenting/children on her blog and also in her three books: 30 Days, 30 Ways for Mothers to Take Care of Themselves,  30 Days, 30 Ways for Connecting with Your Child and Healthy Snack Ideas for Kids.
Connect with her on Facebook, Instagram and her website Finlee and Me.
Save