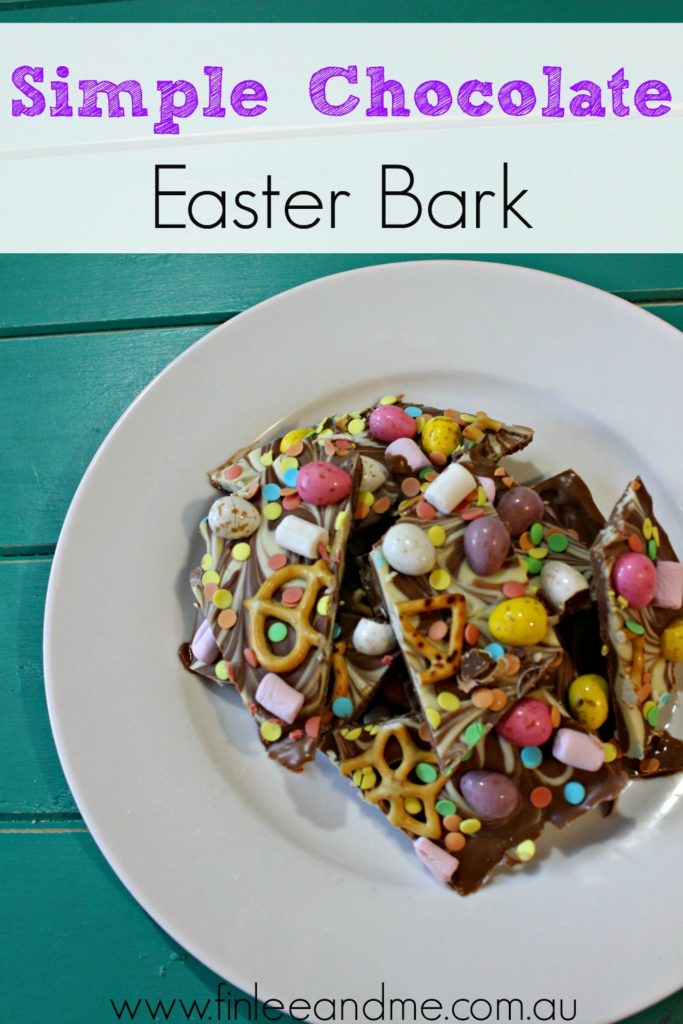 I love everything chocolate and I've been wanting to test run making Easter bark for the last few years. So this year, I've been on a mission to figure out to make a simple Easter bark recipe that I could share with my Finlee and Me community. Let me give you the hot tip, I've figured it out (after some inspiration from Samantha at Five Heart Home) and you're going to love it. Why you ask? Because when you combine pretzels and chocolate it equals the most irresistible combo.
Disclosure – consuming this amazing Easter dessert may contribute to gaining a third ass and I can not be held responsible for this; ha ha.
Ingredients Needed to Make Easter Bark
What I love about making this recipe is that you don't need to buy a ton of ingredients.
34o grams of milk chocolate chips
200 grams of white chocolate chips
250 grams of Cadbury Mini Eggs (hard shell)
Salted pretzels (any kind will work)
Sprinkles that work with the Easter theme
Mini marshmallows
How to Make Easter Bark
As a mother, I need recipes that are simple and not going to take too much time. This is the perfect recipe for any busy mother because it takes no time at all to make.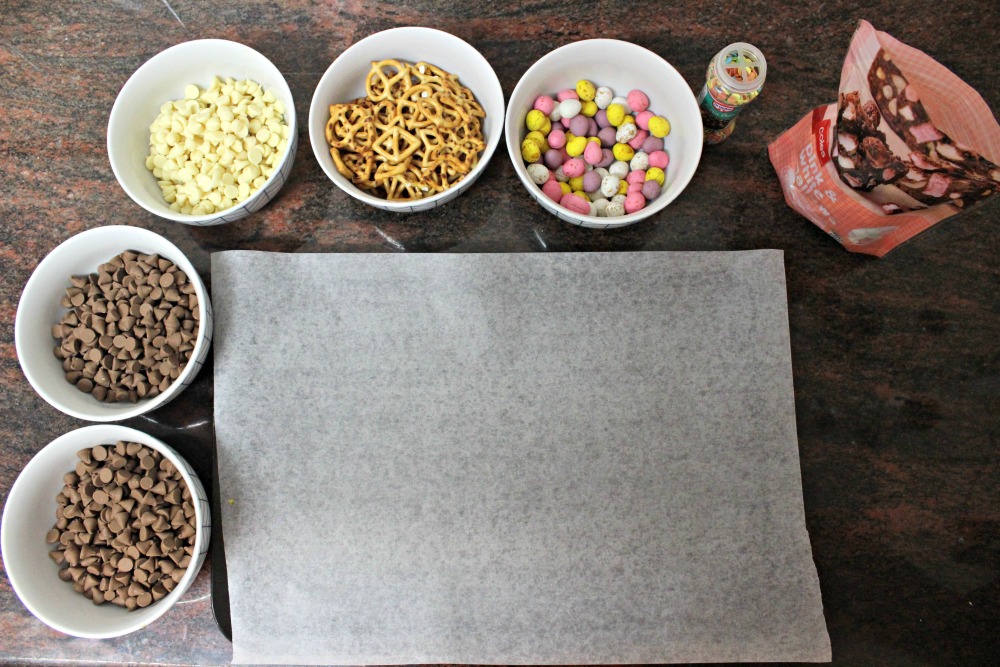 Step 1 – Get everything prepared prior to melting chocolate because you'll need to act fast once; it's melted. What I've found works best is to pour your main ingredients into microwave-safe bowls like above, take the sprinkles lid off, have the marshmallow bag open and line your baking sheet with paper.
---
Step 2 – Pop the milk chocolate chips into the microwave for 30 seconds; stir well and then microwave for another 30 seconds. Keep doing this until all chocolate is melted.  Then do the same for the white chocolate chips.
PLEASE NOTE – every microwave will vary so this is why I only microwave for 30 seconds at a time in order to avoid burning the chocolate.
---
Step 3 – First Pour 3/4 of the melted milk chocolate onto your lined backing sheet and spread into a thin layer (making a rectangle). Once your milk chocolate layer is completed, place a spoonfuls of melted white chocolate chips on top of the milk chocolate layer.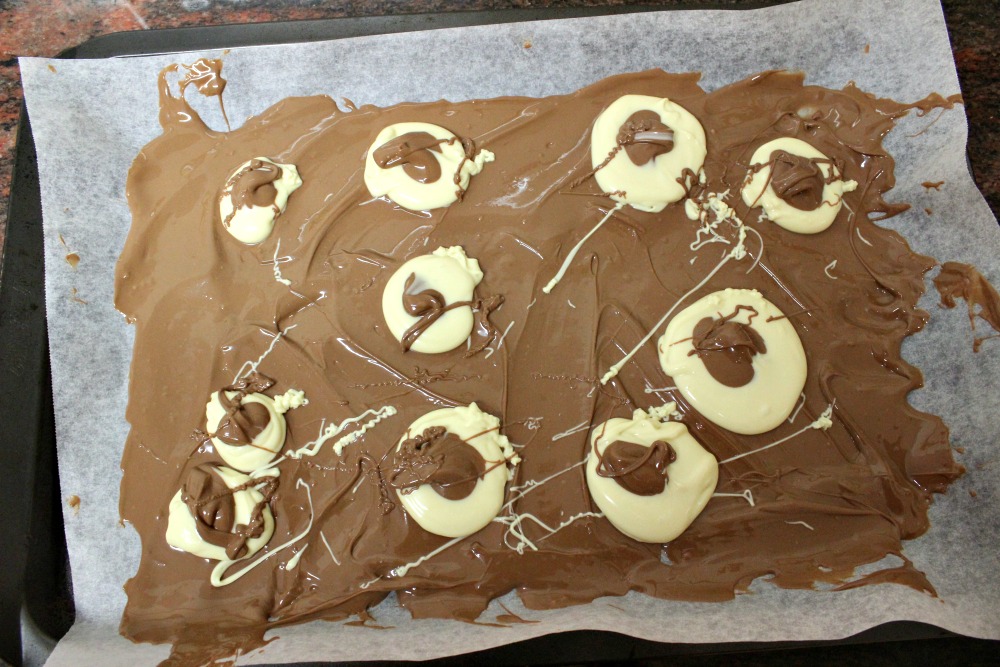 ---
Step 4 – Take a toothpick and start to swirl the milk chocolate chips and the white chocolate chips together.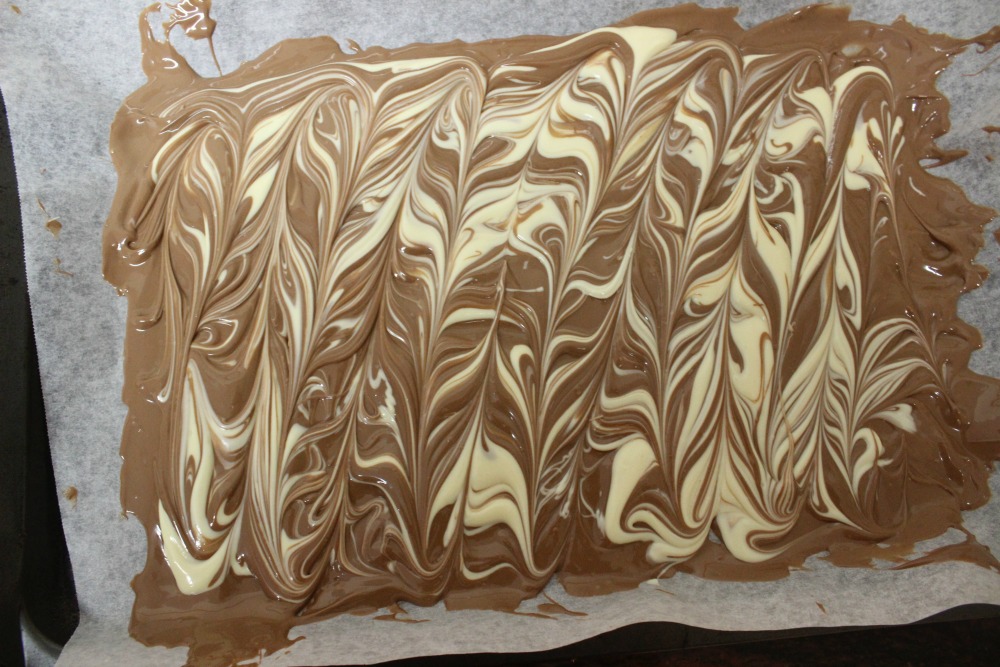 ---
Step 5 – You'll need to act fast for this step so that the chocolate doesn't harden. Arrange your choice of pretzels on top of the swirled chocolate. Next place your Cadbury Mini Eggs where ever you like. Then place your mini marshmallows where there are any left over gaps and last sprinkle your sprinkles all over the chocolate.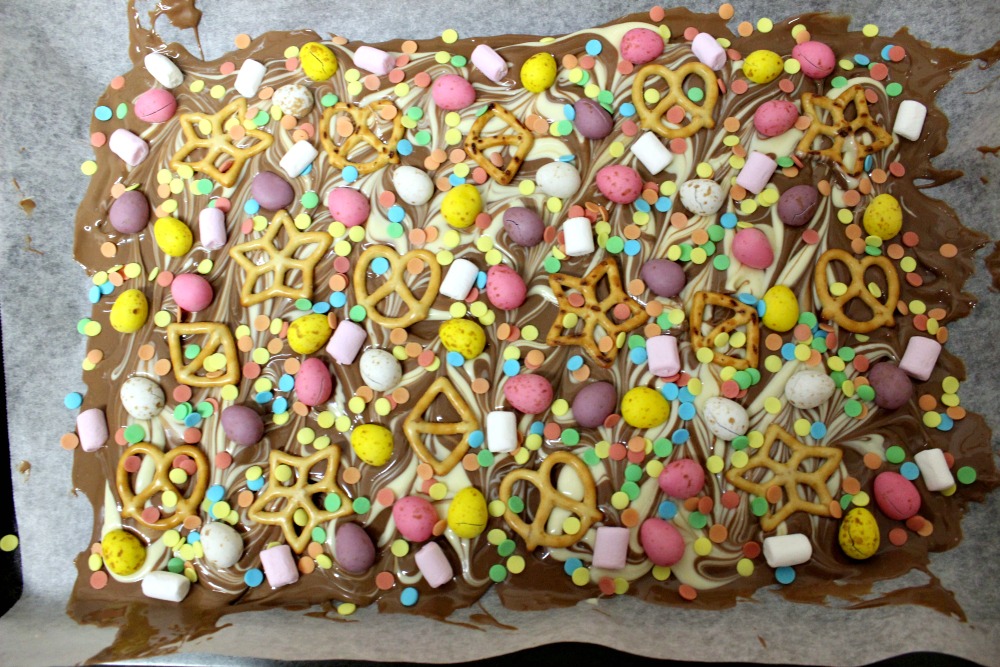 ---
Step 6 – Place your chocolate into the refrigerator and let set for at least 60 minutes.
Step 7 – Take out of refrigerator and slice into pieces. I personally run my knife under hot water to make it easier to cut.
Step 8 – Due to the nature of chocolate service immediately or you risk the chocolate melting if sitting out for long periods of time. If you don't eat all the bark at once, then simply store in a sealed container and pop back into the refrigerator.
I hope your family loves this recipes as much as our family now does. We're so excited to have found a new family tradition that we'll be doing for years to come.
From my family to yours, Happy Easter.
Love to all,
Angela xx from Finlee and Me
Angela is an author, entrepreneur, blogger, mental health clinician and most importantly a mother. She explores various topics related to parenting/children on her blog and also in her three books: 30 Days, 30 Ways for Mothers to Take Care of Themselves, 30 Days, 30 Ways for Connecting with Your Child and Healthy Snack Ideas for Kids.
Connect with her on Facebook, Instagram and her website Finlee and Me.
Save
Save