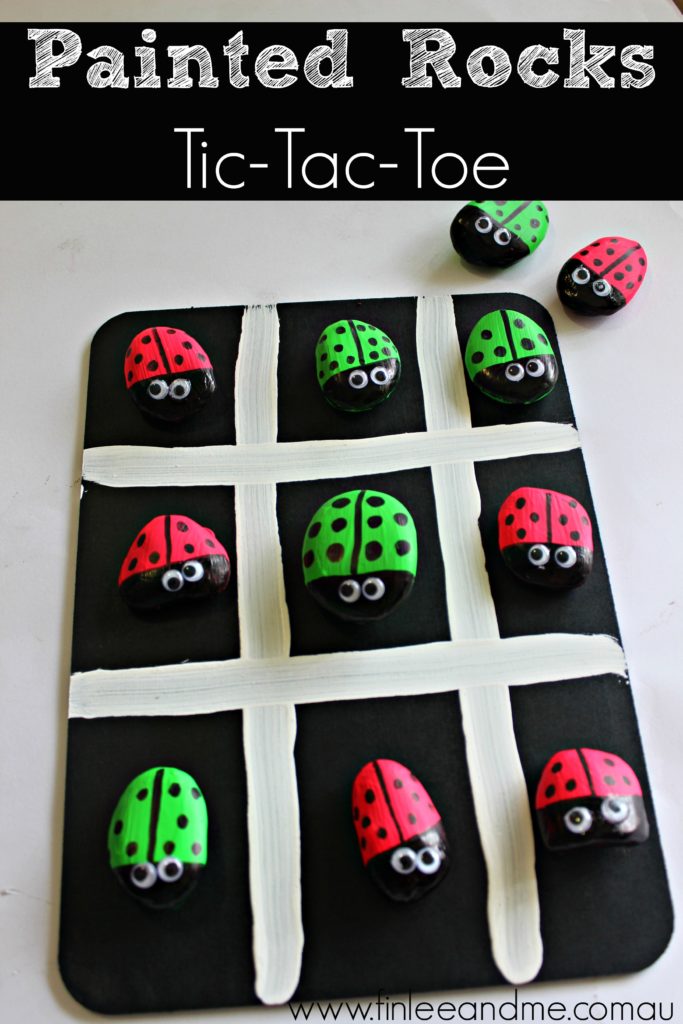 A collaboration between Finlee & Me and Spotlight
Over the last few months, Finlee (my 7 year old) and Chloe (my 4 year old) have been collecting rocks form our backyard or while we've been on our neighbourhood walks. Our collection has grown and we've been discussing how we could turn our rocks into something magical. We decided that we wanted to make a painted rocks tic-tac-toe game; Finlee wanting to create a monster painted rocks tic-tac-toe game and Chloe wanting to create a ladybug painted rocks tic-tac-toe game.
Materials Needed to Make Your Painted Rocks Tic-Tac-Toe Game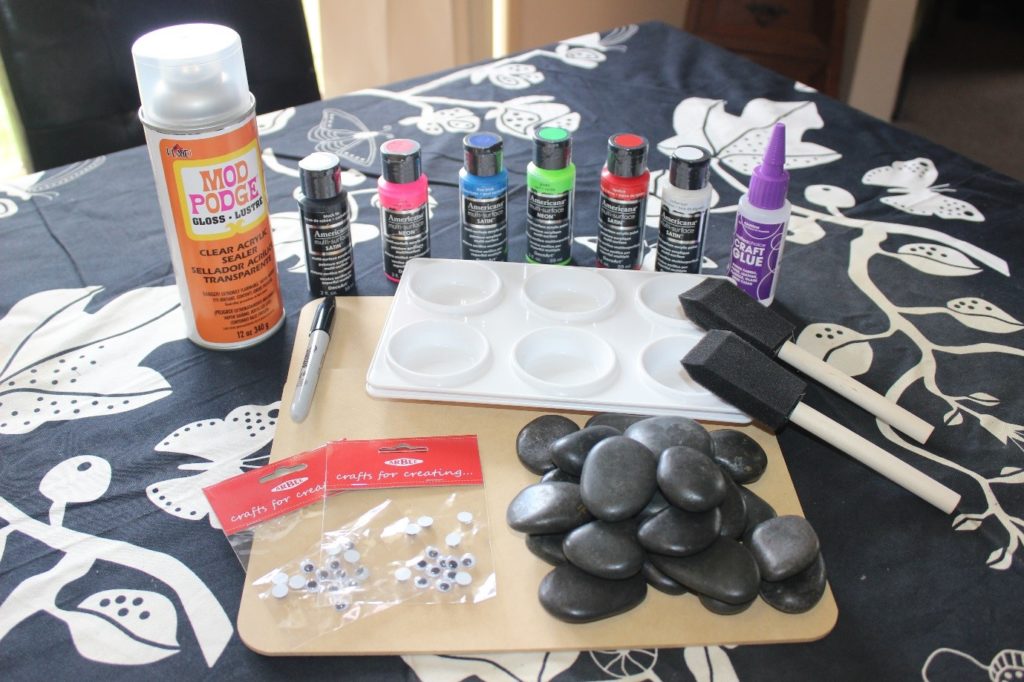 Before I start any craft project with the kids, I always like to create my materials list to see what I already have in the house and the other items I'll need. Finlee, Chloe and I discussed what we need before we headed to Spotlight. To make your own painted rocks tic-tac-toe game you'll need the following items:
Rocks
Paint (you'll need 2 different colours per tick-tac-toe game, plus black paint and white paint)
Google eyes
Paint brushes
Paint tray
Board for tic-tac-toe (you can use MDF board, a cutting board etc)
Glue
Sharpie or black marker
***Please note… that the rocks we had collected were not flat and after I looked at our collection realised the rocks should be as flat as can be, so I picked up some flat rocks at Spotlight as the kids were already so excited about this craft project.***
***Please note… You can also use mod podge to seal your rocks, but we didn't this time as the rocks didn't need it. ***
Instructions to Make Your Very Own Painted Rocks Tic-Tac-Toe Game
When our family gets creative, I'm always looking for simple craft ideas, so that it remains a stress-free activity for all included. This painted rocks tic-tac-toe games is super simple to make, simply follow these instructions below:
Step 1 – Head to your local Spotlight and grab your materials.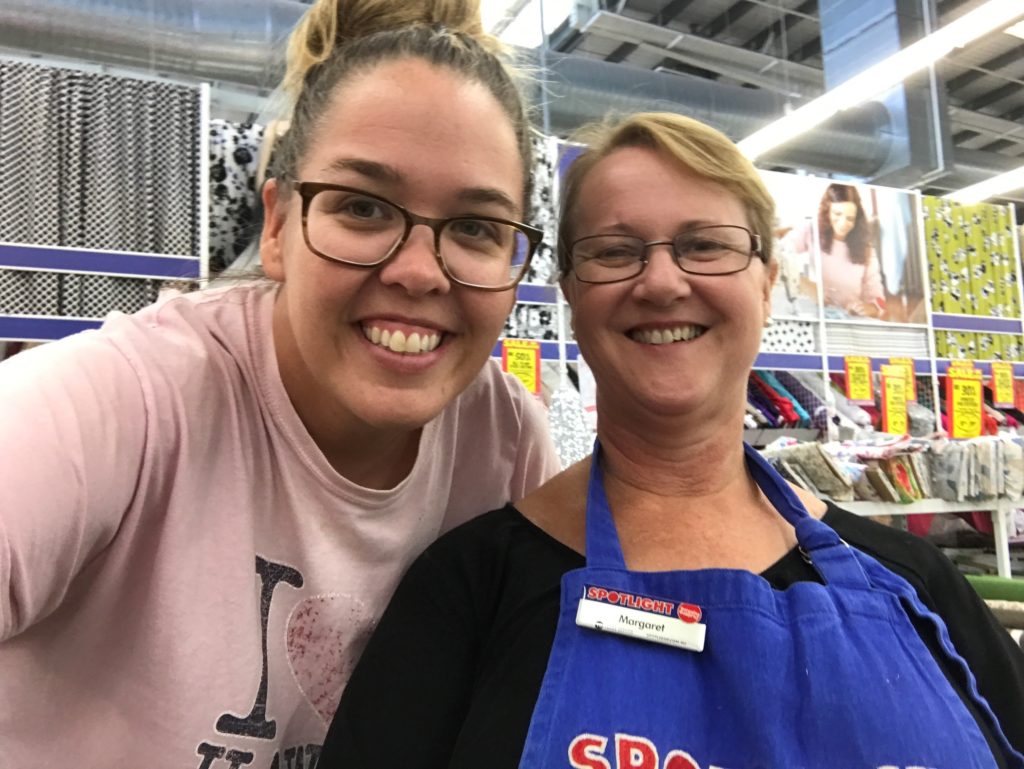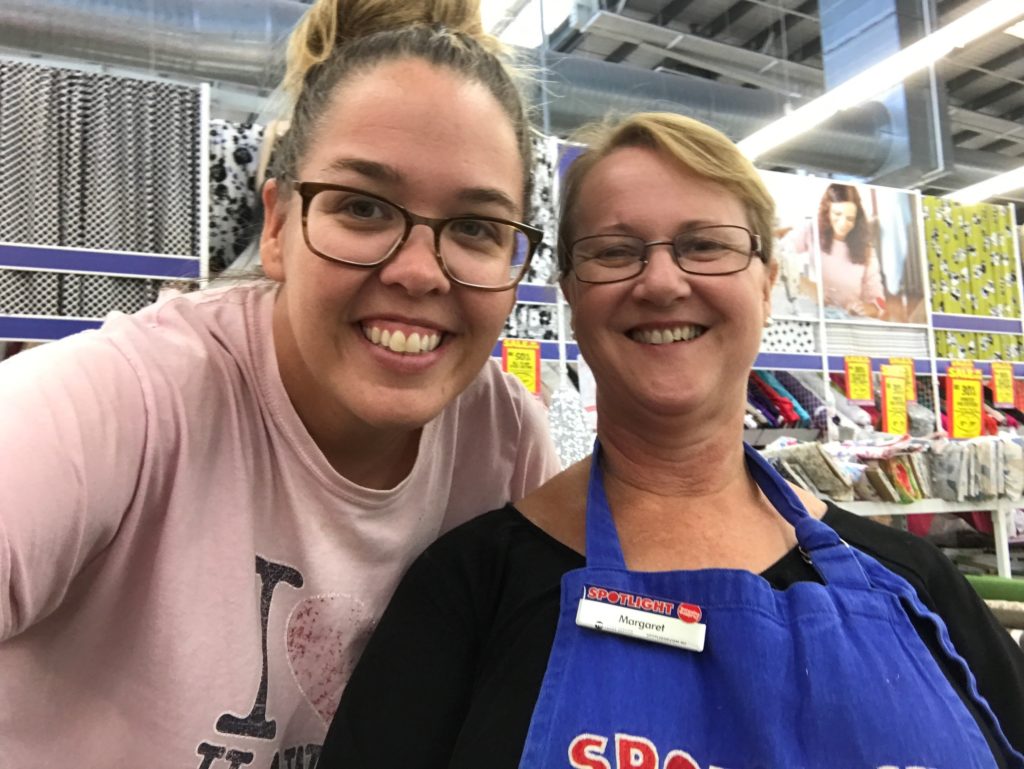 Step 2 – Set everything up first before you ask the kids to come over, it will run a lot smoother.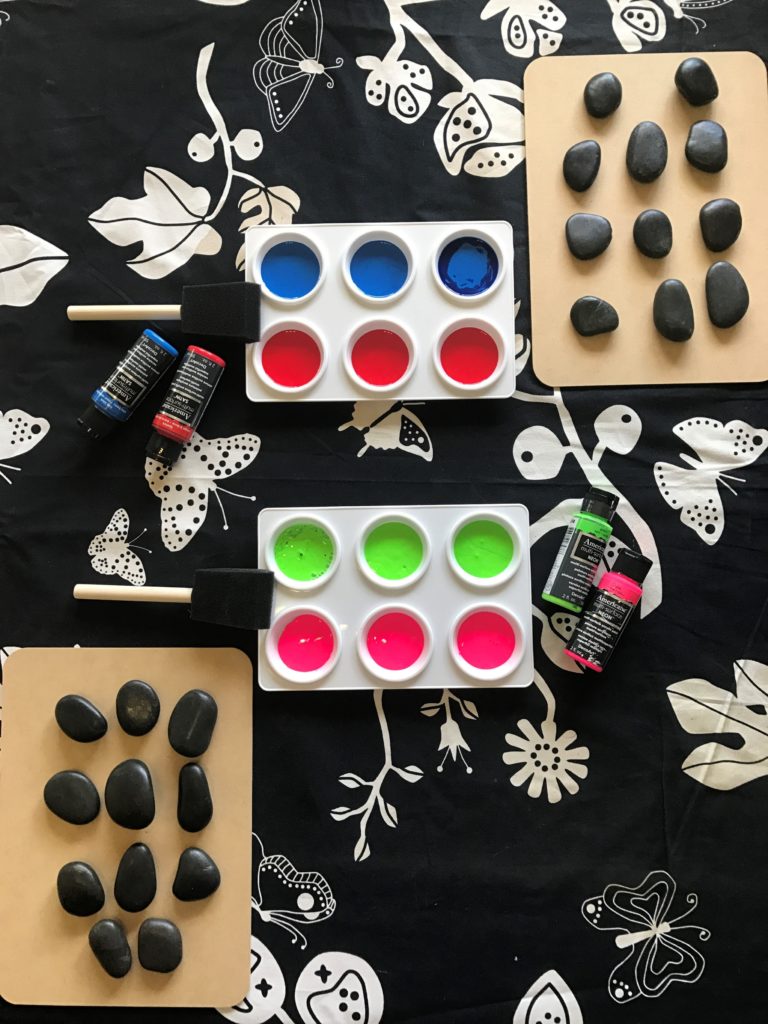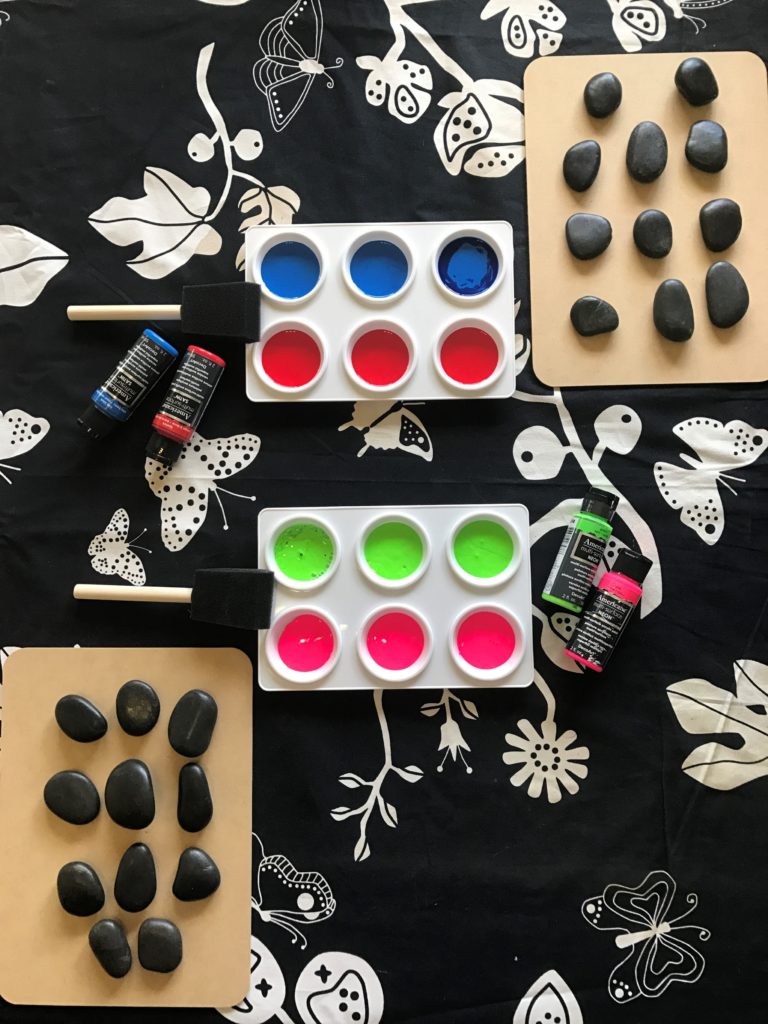 Step 3 – Paint your rocks and let dry. Once dry paint another coat to make the rocks more vibrant (please note – the lighter the colour the more coats of paint you'll need to do, so choose darker colours).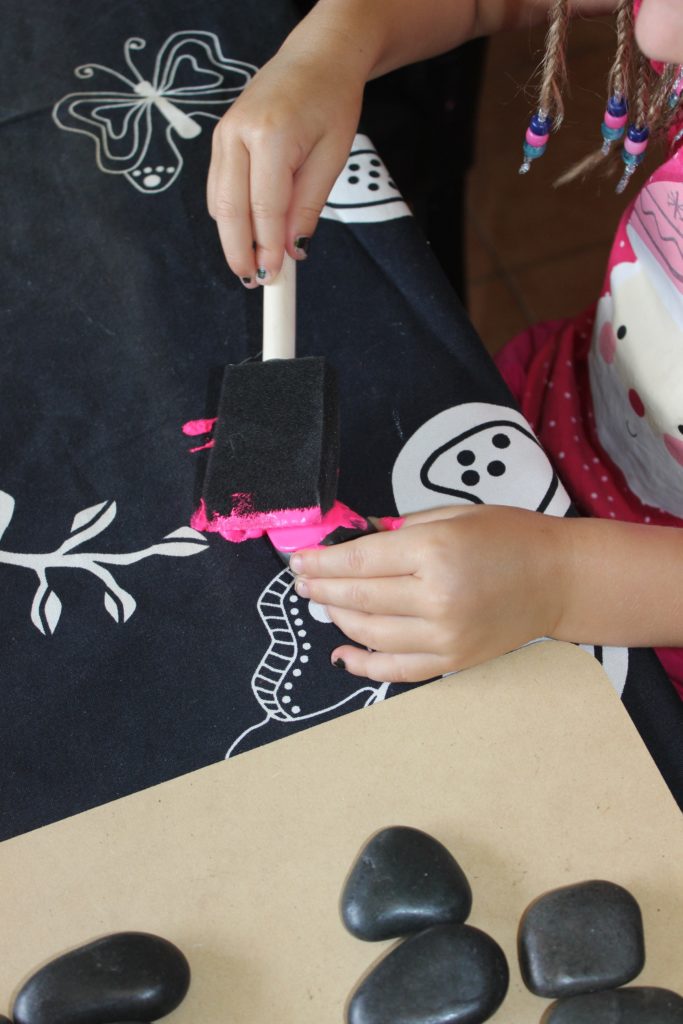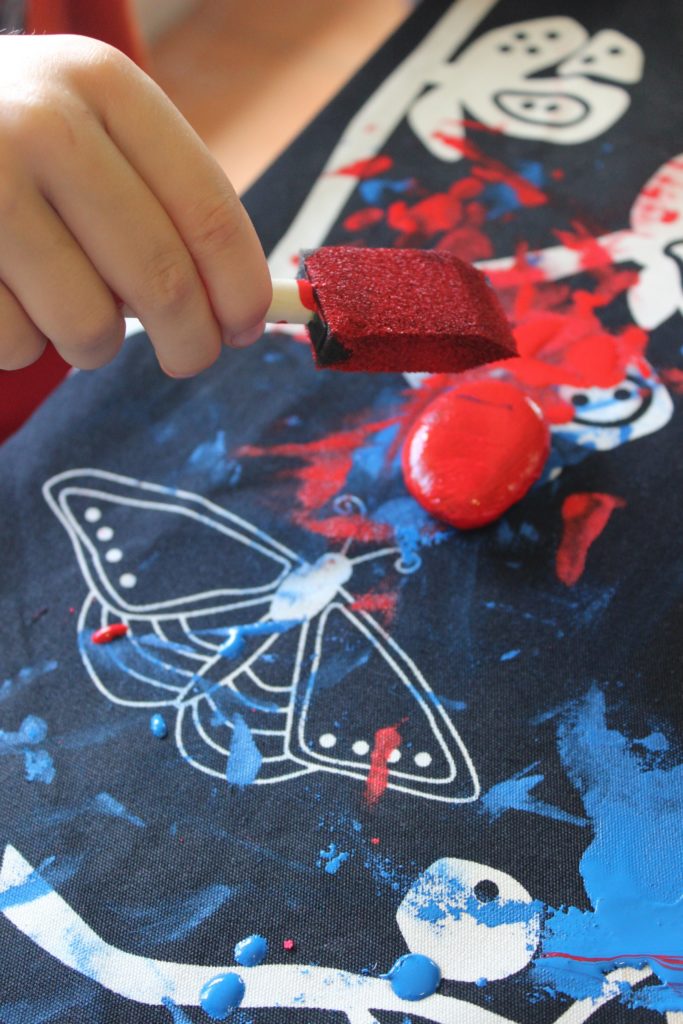 Step 4 – Paint the tic-tac-toe board with black paint.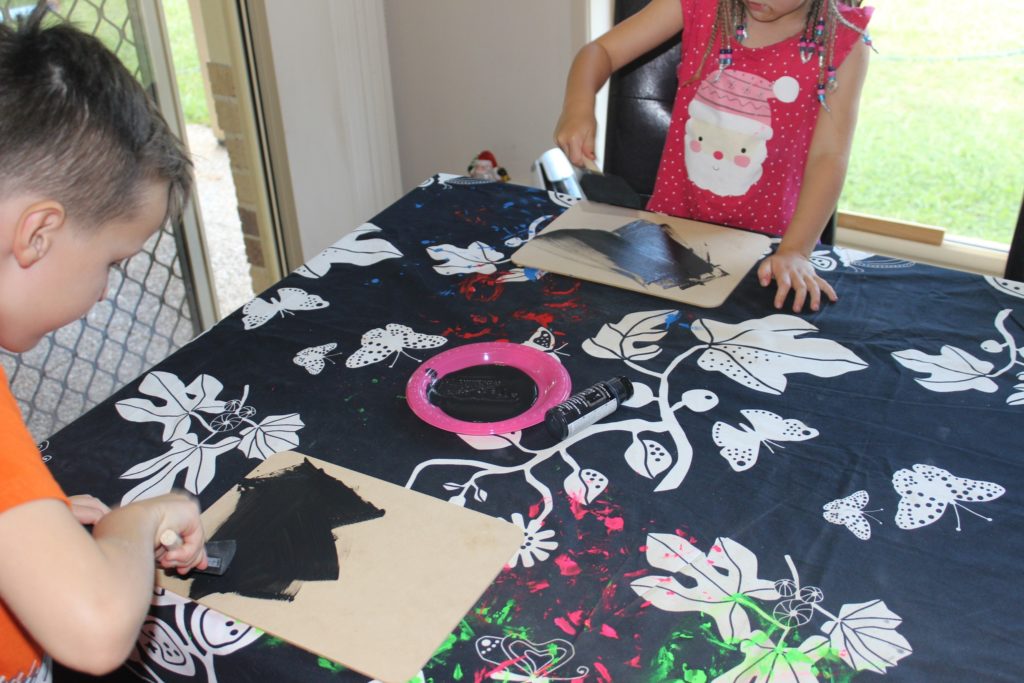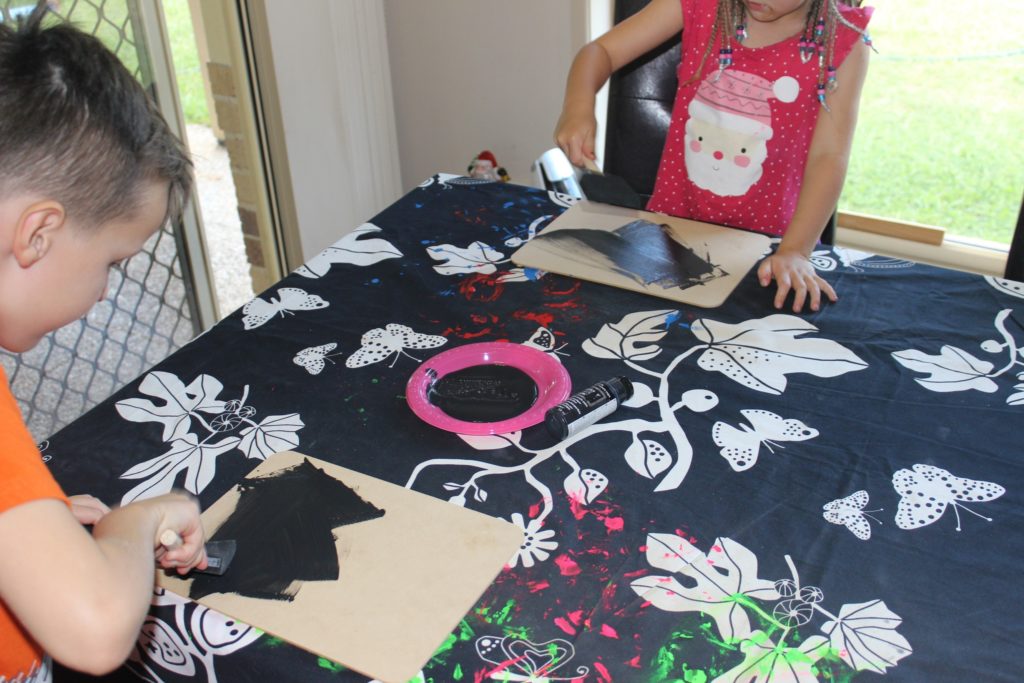 Step 5 – Let rocks and tic-tac-toe-board dry overnight.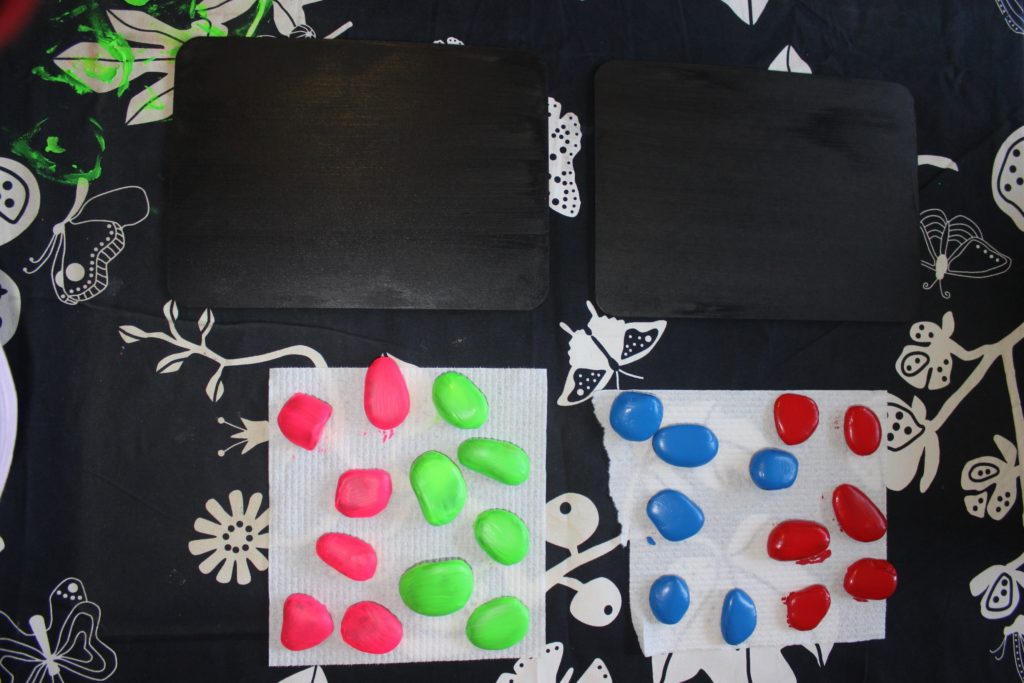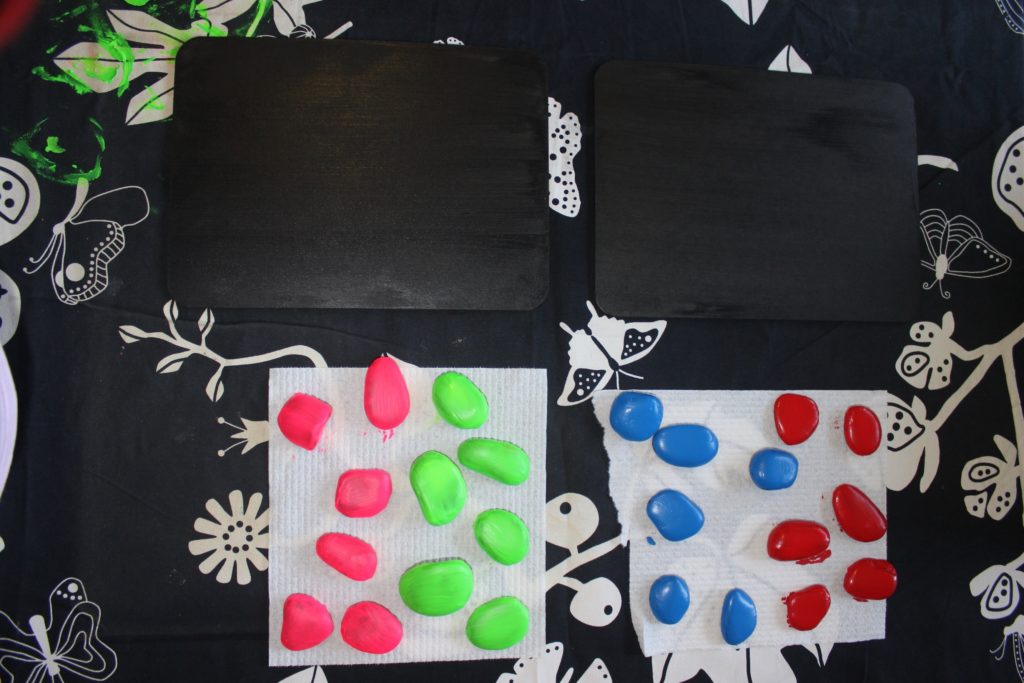 Step 6 – With white paint, make your tic-tac-toe lines on the board.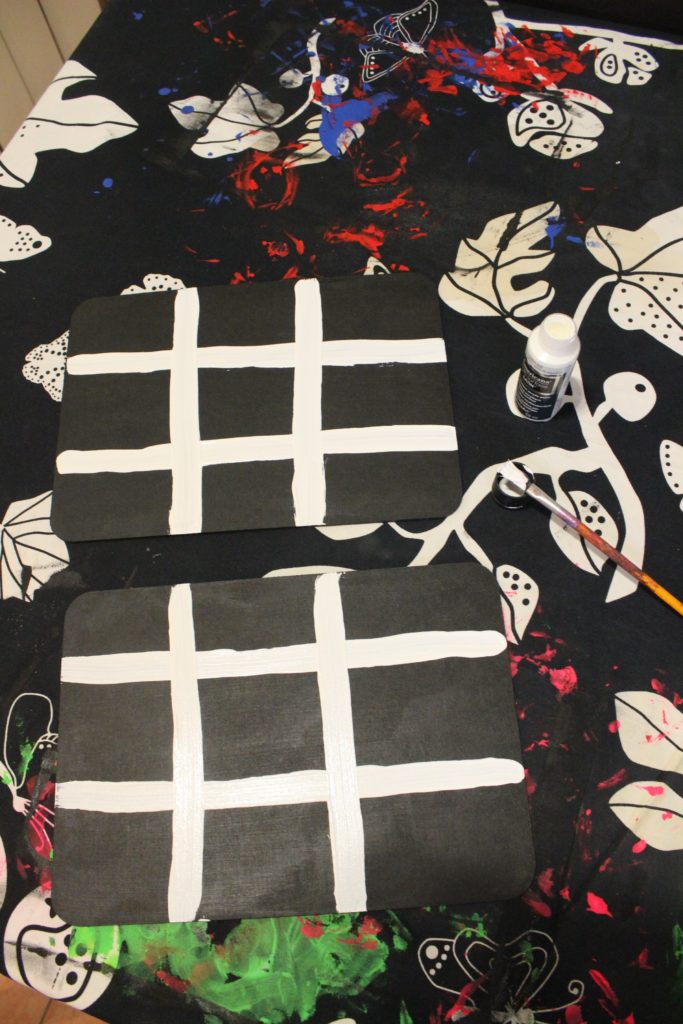 Step 7 – Decorate your painted rocks, by putting google eyes on them or use a black Sharpie/marker (please note – since Chloe is only 4 years old I did the ladybugs for her using the black marker, but allowed her to glue the eyes on).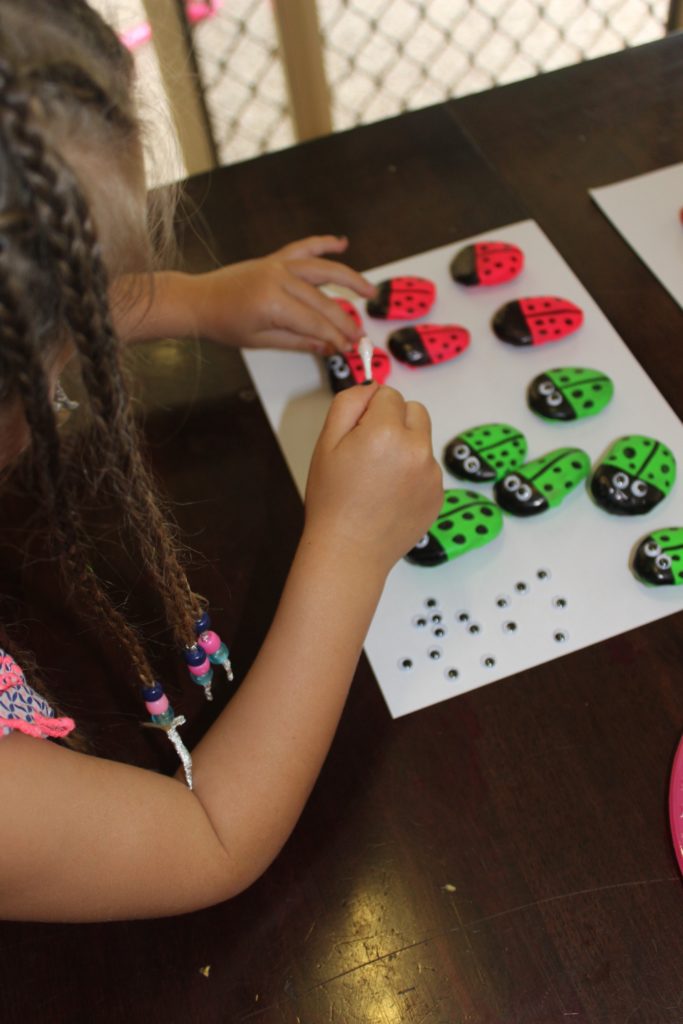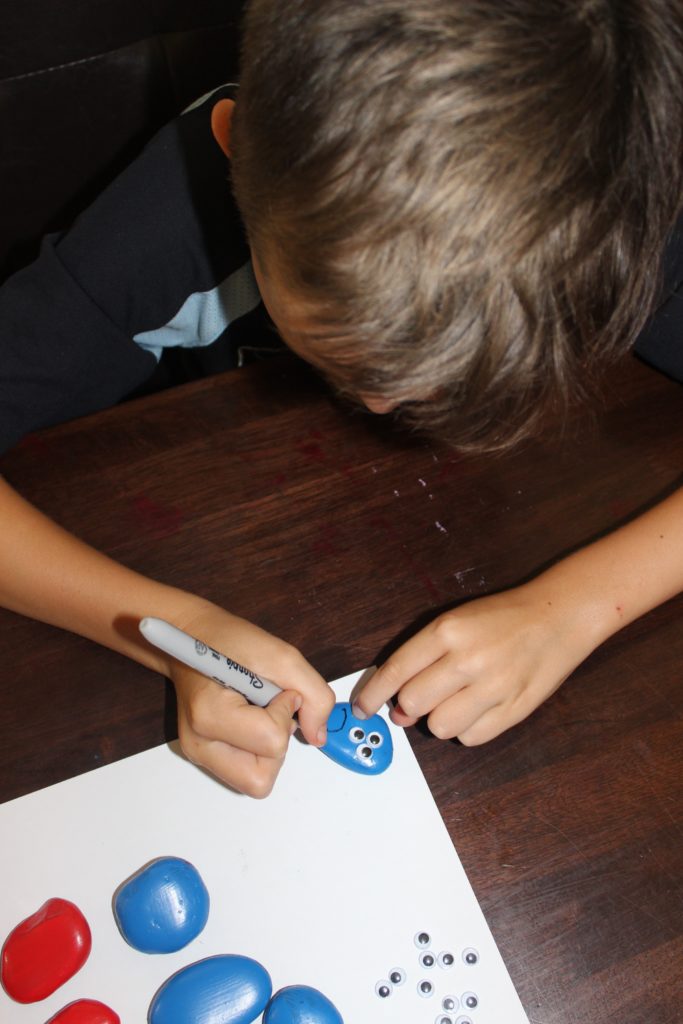 Step 8 – Find a comfy spot in the house and have a game of tic-tac-toe as a family.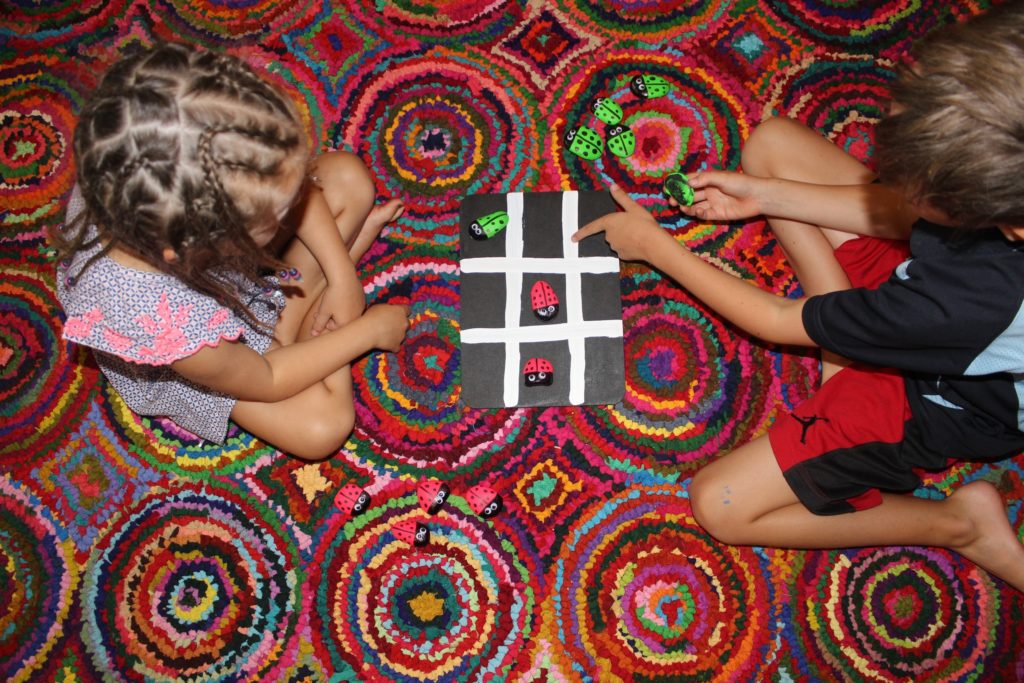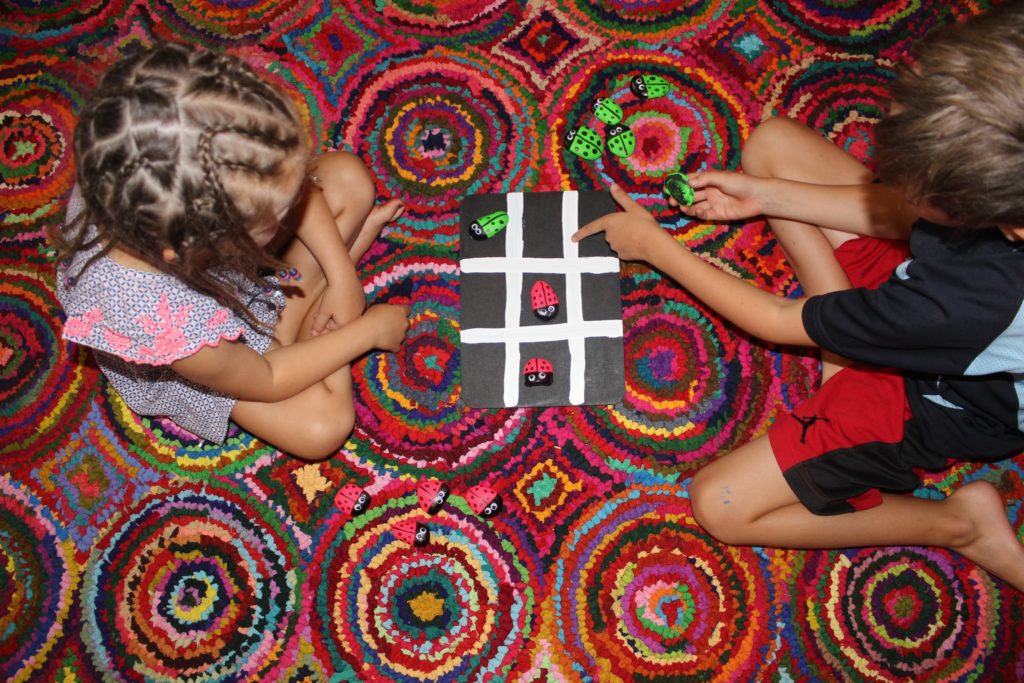 Check out my video below to see how everything comes together.
Addition Ways to Use Your Painted Rocks
I also love that your painted rocks can be used for other things such as but not limited to:
Numeracy Skills – have the child count how many rocks there are, work on simple addition/subtraction
Language Skills – have your child create a story by using the painted rocks.
Colour Recognition – discuss with your child the different colours of the rocks, ask open ended questions like what colour do you like best and why.
Added Benefits of Creating Painted Rocks
I look at craft time with Finlee and Chloe, more than just doing a craft but rather looking at the bigger picture to what a craft can offer the kids immediately, but also long term. With this craft, I feel the following are additional benefits:
Works on fine motor skill development
Nurtures creativity
Sparks imagination
Creates childhood memories
National Craft Month
Join the Finlee and Me Community, along with Spotlight for National Craft Month starting March 1st, 2017 – March 31st 2017. There has never been a better time than now, to get creative, crafty and to start creating childhood memories with your family.
To shop Spotlights entire range or to find the store nearest to you, head to Spotlight.
What painted rocks tic-tac-toe game would your little ones like to make? An animal? A movie character? Let me know below, so we can share our ideas with all who read.
-Angela
About the Author
Angela is an author, entrepreneur, blogger, business coach, mental health clinician and most importantly a mother. She explores various topics related to parenting/children on her blog and also in her four books: 30 Days, 30 Ways for Mothers to Take Care of Themselves,  30 Days, 30 Ways for Connecting with Your Child ,  Healthy Snack Ideas for Kids and 30 Days of Christmas Cheer – A Month of Holiday Traditions and Memory Making.
Connect with her on Facebook, Instagram and her website Finlee and Me.
Save
Save
Save
Save
Save
Save