Sticky Date Cheesecake Bites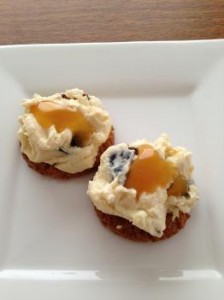 These sticky date cheesecake bites are a delicious treat for your children or even for a morning tea with friends. They are quick, simple and delicious. They are just as yummy made using maple syrup instead of the caramel topping – for a healthier alternative.
Ingredients
· 250g cream cheese, at room temperature
· 10 (about 50g) dates, chopped
· ¼ cup caramel topping
· 12 (about 140g) butternut snap biscuits
· extra caramel topping to drizzle
Method
· Place cream cheese, dates and caramel topping in a bowl and mix
· Spoon sticky date mixture on to biscuits
· Drizzle a little caramel topping on top of sticky date mixture.
Kids can help with (choose what is appropriate for their age):
· counting dates and biscuits
· measuring caramel
· mixing ingredients
· laying out biscuits
· spooning ingredients on to biscuits
· drizzling caramel