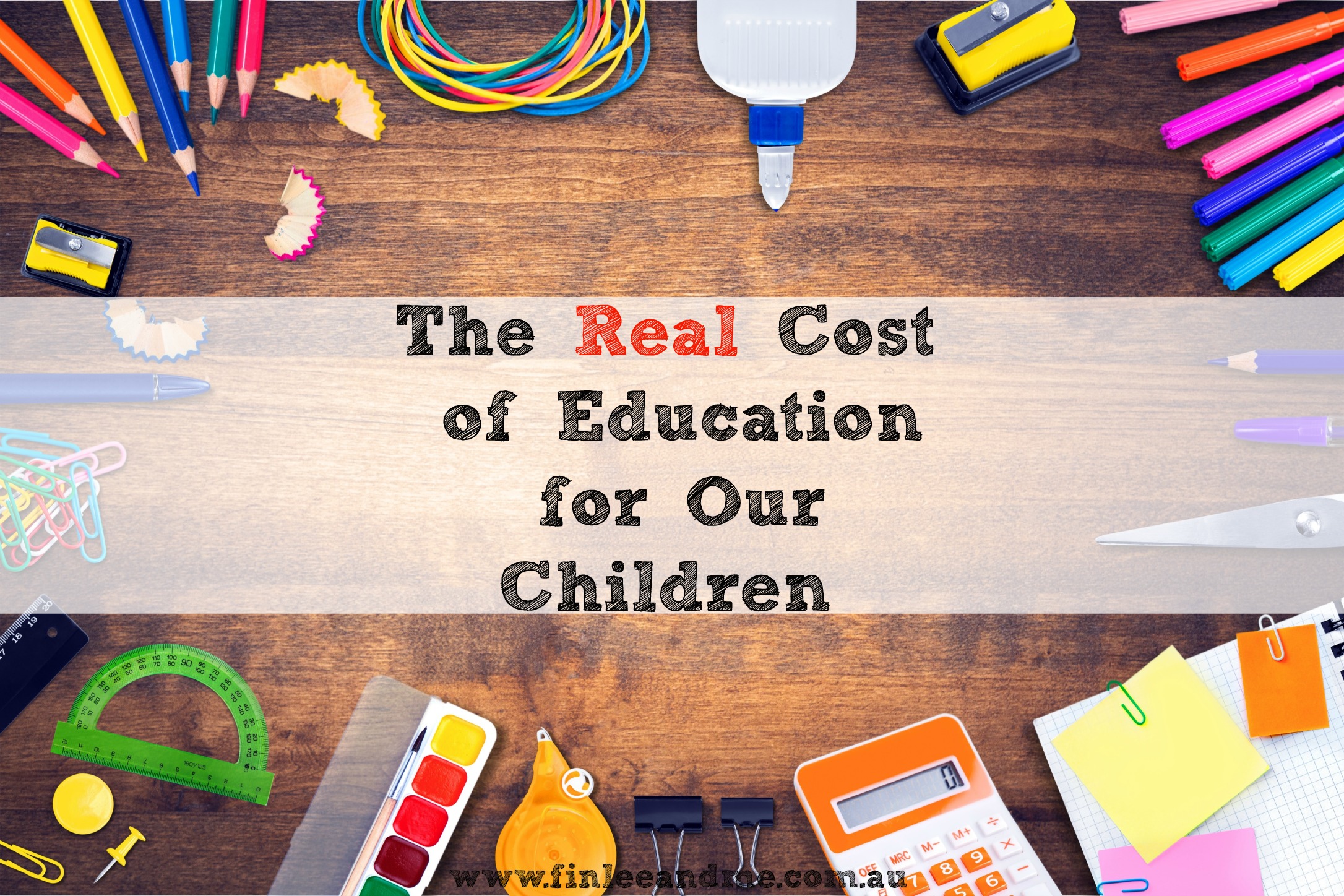 {Sponsored Post}
Last night Finlee (my almost 7 year old) came up to me and reminded me that we needed to charge his IPAD for school as the battery was almost flat. I assisted him to find the cord to charge his IPAD and off he went to play with his sister. However, I sat pondering over the cost of education and how my husband and I will be able to afford their primary, secondary and post-secondary educations, when we're already having to pay $1000 for an IPAD in grade 1 (the cost included: the actual IPAD, case, pen, bag, shutter proof case and insurance).
The Real Cost of Education
Being a new "school mum/mom" I'm still learning the ropes when it comes to the cost of education for my children. Even though, I've chosen to put Finlee and Chloe (in a few year's) in a public/state school; this education is not free.
As many of you are familiar with public/state schools you still have to pay for uniforms, school bags, shoes, clubs they want to join, school excursions, IPADS/laptops and not to mention the "voluntary contributions."  In fact, Australian Scholarships Group has advised that it will cost approximately:
$60,336 to send your child to a public/state primary and secondary school;
$378,770 to send your child to a private primary and secondary school.
Therefore to send Finlee and Chloe to a public/state primary and secondary school, my husband and I are looking at around $120,672 and this doesn't even include university!
My husband and I have been worried about the rising cost of education, but feel we can breathe again now that we've been introduced to Australian Scholarships Group (ASG).
Who is Australian Scholarships Group (ASG)?
ASG is the largest provider of education scholarship plans in Australia.They have supported the education journey of more than 520,000 children and more than $2.3 billion has been returned to their members.
Their education funds offer a range of options to plan for the costs of education. Contributions are invested by fund managers who take a conservative approach to ensure sustainable long term growth, giving you peace of mind.
Pathway Education Fund
ASG offer a variety of different educational funds you can set up for your child (ren), however, my husband and I have decided to go with the Pathway Education Fund.
We prefer the Pathway Education Fund because it's a versatile plan that is perfect for families who want to offset the costs of education at any stage of a child's development.
Additional benefits include:
Tax effective – ASG's Education Funds qualify as scholarship plans under Australian tax law;
Flexible contributions – starting from as little as $2 a day you can start saving for your child's education;
Supports full-time and part-time studies – covers flexible study options;
Suitable for any age
Use for pre-school, primary, secondary or post-secondary – contributions can be returned to you while your child at any stage of study;
Flexible withdrawals – choose when you'd like your contributions to be returned to you;
Member offers & educational resources – ASG members also get to enjoy access to different offers and educational resources which are designed to help both the parents and children along their education journey.
How to Enrol Your Child with ASG
Enrolling your child has never been easier with the variety of options ASG offers. Depending on where you're at in the enrolment stage, ASG offer 3 different options:
Enrol directly online – if you're ready to enrol your child (ren) today simply head to ASG Enrolment.
Arrange a face-to-face meeting – if you'd like to meet face-to-face with an ASG representative please complete the ASG Face-to-Face Meeting form.
Speak with an ASG representative – to speak with an ASG representative about ASG's education funds and the benefits of being an ASG member call 131 274.
Preparing for Our Children's Future
Parenting is not easy: emotionally, physically and also financially. I know there are going to be road blocks in the upcoming years, but all I can focus on is what I can control.
The one thing I'm able to control is preparing financially for Finlee and Chloe's education. My husband and I don't have a lot of money to spare, but at $2 a day, per child; the price of a cup of coffee – this is something we can handle.
I encourage all families to pick up the phone and discuss your options with ASG; you might just be surprised as to what you'll be able to do for your children's future.
Love,
Angela xx
About the Author
Angela Henderson is an author, entrepreneur, blogger, mental health clinician and most importantly a mother. She explores various topics related to parenting/children on her blog and also in her three books: 30 Days, 30 Ways for Mothers to Take Care of Themselves,  30 Days, 30 Ways for Connecting with Your Child and Healthy Snack Ideas for Kids. Connect with her on Facebook, Instagram and her website Finlee and Me.