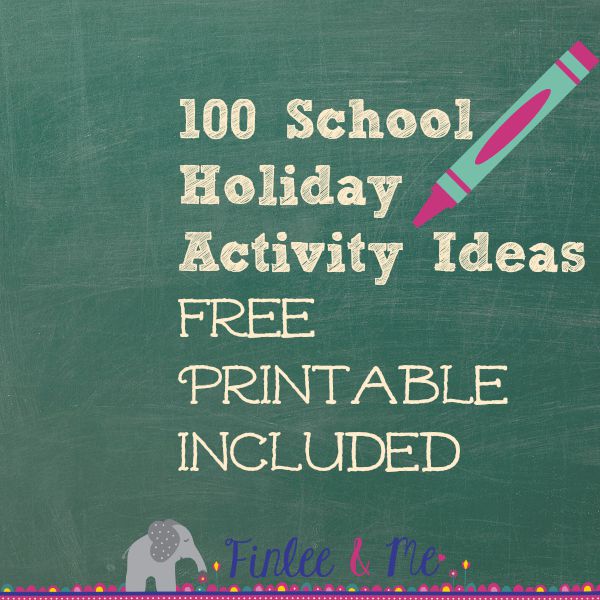 School holidays activities are a Mum's sanity saver. No kidding. I mean, I love my kids to bits but if I don't have a bunch of activity ideas lined up for days when school's off, I know they will go crazy at home and yep, drive me crazy too 😉
If, like me, you're wondering how you'll keep the kiddies entertained during the upcoming school hols, you're gonna love what I have for you.
100 school holidays activities that are super fun, easy-to-pull together and are great for creativity, imaginativeness and family time.
Read through the list, print out the printable PDF and work your way through the list during the holidays. Don't forget to share with us which ones were YOUR family's fave!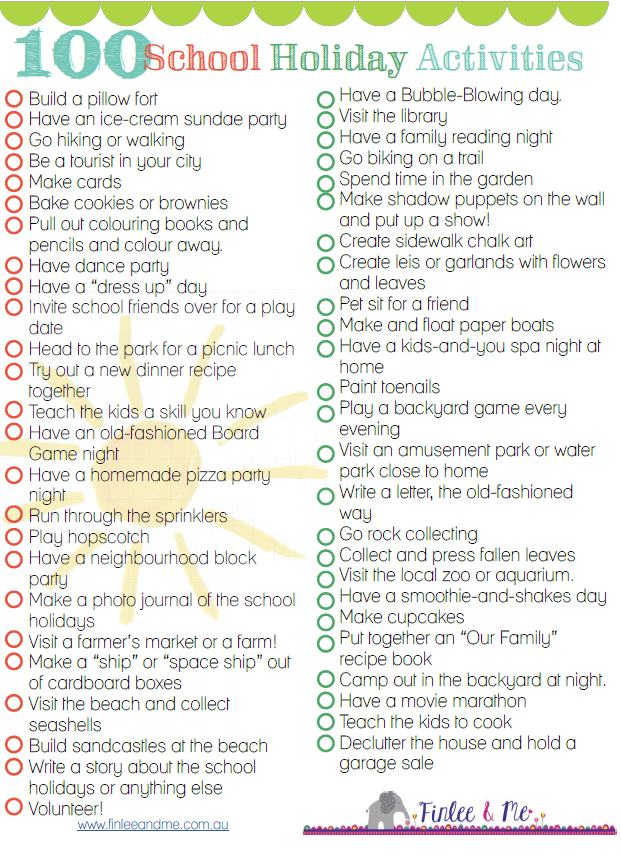 Let's get on to it now!
100 School Holidays Activities for Kids and Families
Build a pillow fort… in the living room.
Have an ice-cream sundae party… on a Sunday.
Spend the day outdoors, hiking and walking.
Be a tourist in your city. Hit all the popular tourist attractions and soak in your city's culture.
Make cards for friends and family members.
Bake cookies or brownies for a neighbour.
Pull out colouring books and pencils and colour away.
Put on some 80's music and have a dance party.
Have a "dress up" day and let the kids dress up as whoever they want to. For added fun, let them choose your dress up outfit too!
Invite school friends over for a play date.
Head to the park for a picnic lunch.
Try out a new dinner recipe together.
Teach the kids a skill you know. Sewing, knitting, painting, gardening, take your pick.
Pull out the board games and have an old-fashioned game night.
Have a homemade pizza party night.
Put on the sprinklers and let the kids run through them. Join them!
Play hopscotch and other old-fashioned games on the driveway. Invite neighbourhood kids to join in.
Have a neighbourhood block party. Everyone brings a dish and all the kids play together.
Make a photo journal of the school holidays. Take a pic every day.
Visit a farmer's market or better still, a farm!
Make a "ship" or "space ship" out of cardboard boxes. Let the kiddies have a free hand with the decorating.
Visit the beach and collect seashells. Bring them back and put them into glass jars or use them for the card making activity.
Build sandcastles at the beach and have a fun contest for the most creative castle.
Write a story about the school holidays or anything else. Let the kids illustrate it, and then, read it out loud at the end of the holidays. Heartwarming!
Volunteer! Find the nearest volunteering opportunity and sign up as a family, if you can!
Have a Bubble-Blowing day.
Visit the library and let the kids pick a book each.
Have a family reading night. Every one reads a book they want to, sip on hot chocolate and eat biccies.
Go biking on a trail. Don't forget your helmets!
Spend time in the garden. Don't have one? Get potted plants and help the kids take care of them.
Make shadow puppets on the wall and put up a show!
Create sidewalk chalk art.
Create leis or garlands with flowers and leaves.
Pet sit for a friend.
Make paper boats and have fun watching them float in the bath tub.
Have a kids-and-you spa night at home. Run a bubble bath. . Diffuse essential oils and let the kiddies soak in. Let the kids go first so you can enjoy yours later.
Paint toenails. More for the girls, this one.
Play a backyard game every evening. Badminton, basketball, tennis… take your pick!
Visit an amusement park or water park close to home.
Write a letter, the old-fashioned way and let the kids mail it out as well.
Go rock collecting and then, turn the rocks into pets by painting them.
Collect fallen leaves and show kids how to press them and then, use them for crafts.
Visit the local zoo or aquarium.
Have a smoothie-and-shakes day and blend up yummy and healthy drinks.
Make cupcakes, complete with fun frostings.
Put together an "Our Family" recipe book. Include fave recipes for everyone and also, traditional family recipes too.
Camp out in the backyard at night. Teach the kids to identify constellations.
Have a movie marathon. Make popcorn and watch a bunch of classic family movies.
Teach the kids to cook with or without the stovetop, depending on age.
Declutter the house and hold a garage sale.
Have a messy, eat-with-your-hands watermelon and mango party.
Attend on outdoor concert.
Take a road trip to a place that is close by yet away from home.
Make fun family videos.
Play in the rain or snow, depending on the weather.
Play beach cricket.
Hand out busy bags to all the kids.
Have fun with string art.
Put together floor or giant jigsaw puzzles.
Have fun with origami. If you know it, teach the kids. Else learn to do it together.
Learn or teach the kids quilling.
Build a stick fort with a set of Stick-lets
Have fun with beads and blocks.
Organise a scavenger hunt or treasure hunt inside the house.
Organise a scavenger hunt outside the house
Hold a puppet show with the soft toys and dolls.
Have a tea party for toys, complete with cake and ice cream.
Create family footprint art.
Have fun with face painting.
Make a car or train track inside the house with tape.
Put up a music show, complete with cymbals and ribbon rings.
Bring out a family idea box and work your way through the ideas.
Have fun with Lego and Lay-N-Go bags!
Make sand structures, the mess-free and magical way with Kinetic Sand.
Make hand or finger-painted gift wrapping paper.
Make a set of sock puppets.
Draw each other. Have kids lie down on large sheets of white paper and trace around their body.
Go thrift store shopping and pick a treasure each for less than $5.
Fly kites or watch kite flying.
Plan a day trip to a planetarium.
Feed ducks at the pond.
Have a "work" day and let the kids pick who they want to be. Bring out pretend play toys to help them play doctor, teacher, restaurant owner, fireman.
Take a train ride from one part of town to the other. Watch out for unique sights and sounds.
Learn to make pottery.
If it's raining, play with umbrellas in the rain and then, get soaked to the skin.
Have a "Stay in PJs" day and lounge at home, watching a movie, reading books and napping.
Toast marshmallows in the evening in the backyard.
Do some cloud watching and try to spot fun shapes and characters.
Have a story telling session with story cards.
Take a bus ride to a shopping center.
Click funny face photos or selfies.
Make drinking straw jewellery. Simply cut up coloured straws and let the kids thread them onto yarn or string.
Host a slumber party for the kids and their friends.
Set up a lemonade stand outside your house.
Have a family photo shoot day.
Organise all your photo albums with the kids and go down memory lane as well.
Have a "Superheroes Saves the Day" day and let your kiddies don their superhero capes.
Snuggle up on the couch and tell the kids cute stories from when they were little.
Find out about free in-store kids activities in your area and attend a few of them.
Do nothing. That's right. Let the kids figure out what they want to do or let them do nothing. Boredom can be brilliant for inspiring creative thought and letting them come up with their own ideas.
Save