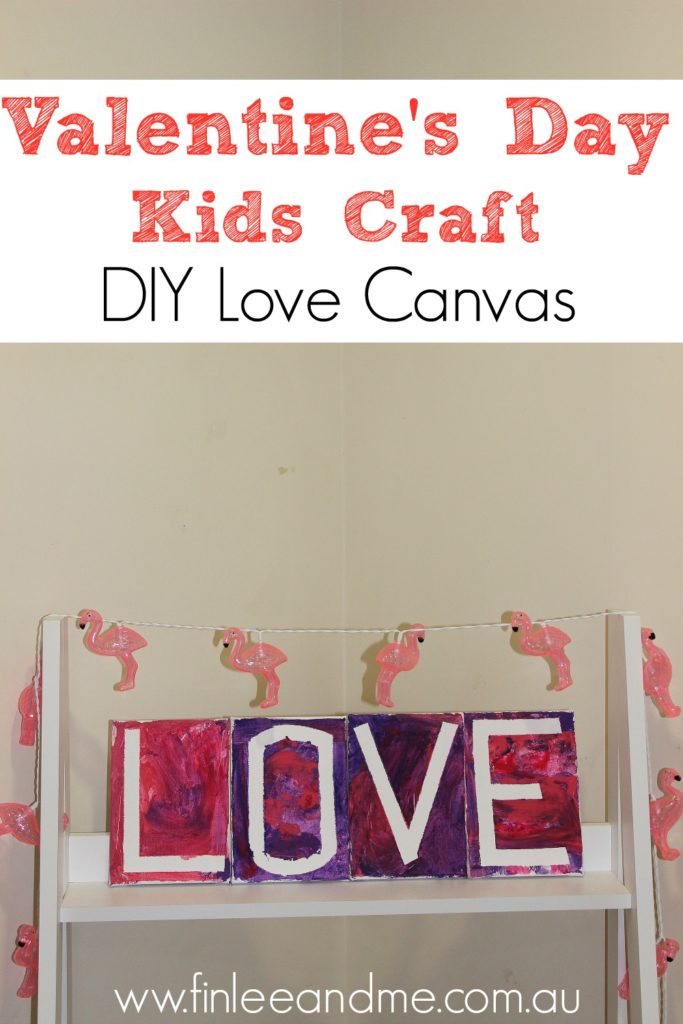 Since becoming a mother to Finlee and Chloe, my favorite gifts to receive are the handmade ones. The ones where their little fingers have been captured on a Christmas ornament or their face has been incorporated into a piece of art work. I know my days are getting numbered as Finlee is now 7 and Chloe just turned 4, so when I was scrolling through Pinterest one night and saw a Valentine's Day craft love canvas; I knew I had to create my own this Valentine's Day before I lost the opportunity.
Materials Need to Make Your Very Own Valentine's Day Love Canvas
I don't know about you, but there is nothing worse than needing a million supplies in order to complete an arts and crafts project, so you'll be glad to know this Valentine's Day craft love canvas is not only super inexpensive, but also super easy to make.
Materials you'll need:
Canvas (choose any size that you want)
Paint (I decided to stick with the pink, red and purple because it's Valentine's Day)
Clothes pegs
Cotton balls
Scissors
Electrical tape (you can use any tape as long as it will stop the paint from bleeding through, but also won't leave any sticker bits once you pull the tape off)
How to Make Your Own Valentine's Day Craft Love Canvas
Follow these 8 easy instructions to make your very own Valentine's Day love canvas.
What are you waiting for? Grab your materials and start letting your little ones get creative.
Do you have any other Valentine's Day arts and crafts ideas you can share? If so, comment below as I'm always looking for new activities/craft ideas.
Love,
Angela xx
About the Author
Angela is an author, entrepreneur, blogger, business coach, mental health clinician and most importantly a mother. She explores various topics related to parenting/children on her blog and also in her four books: 30 Days, 30 Ways for Mothers to Take Care of Themselves,  30 Days, 30 Ways for Connecting with Your Child ,  Healthy Snack Ideas for Kids and 30 Days of Christmas Cheer – A Month of Holiday Traditions and Memory Making.
Connect with her on Facebook, Instagram and her website Finlee and Me.
Save
Save
Save