Baby Blankets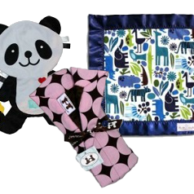 Baby blankets are a constant companion, so you want that one special blankie to look great and most importantly to last a childhood of monsters under the bed, big car rides and first days at kindy! Finlee & Me select the finest bedtime and sensory baby blankets that combine style, comfort and durability. The funky fresh prints provide visual stimulation while the super soft minky blankets fabric is a tactile pleasure.
What's hot in baby blankets?
Our sensory blankets provide additional elements to engage your baby, soothe teething and keep your extras (like dummies) securely attached.  If you've ever seen a littlie with a sensory blanket, you'll be amazed at the pleasure a simple tag can bring!
BROWSE ALL Baby Blankets