Baby Books and Sleep Music CDs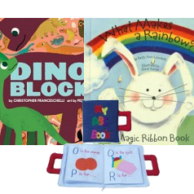 Reading to baby has been proven to be an effective way to bond with your little one while helping with language and vocabulary development. Our carefully handpicked selection of baby books will ensure that you have a delightful time reading and connecting with your bundle of joy.
While reading at bedtime can be a wonderful activity, sometimes, you need more help to soothe a little one to sleep. Enter Sleep Music CDs and calming sounds to help babies and toddlers drift to dreamland with a smile!
Here is a simply delightful collection of music and sounds that little girls will love relaxing to.  Children know better than anyone how to live in the present moment, which is what meditation is all about.  This collection will help your little miss tap into her inner peace.
Boys can be difficult to "quieten".  The Meditation for Boys by Sada uses music and sounds that will appeal to boys and help still their busy minds.
This collection is suitable for girls and boys and is perfect for kids who share a room.  Sada is well known for being able to create music and sounds that can offer security and comfort to any child.