Baby Dinnerware Sets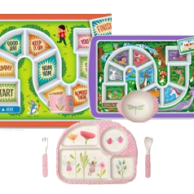 Feeding baby has never been easier. With our delightful selection of bamboo and BPA-free dinnerware sets, you'll find mealtimes are made so much easier when you have the right plates, bowls and cups!
Sized perfectly for little tummies, these kids dinner sets are completely food-grade and easy-to-use as well as easier-to-clean making your busy life as a Mum that much saner.