Reusable Sandwich and Snack Bags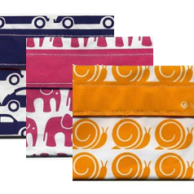 Make being out and about with baby easy and fuss-free by keeping yummy snacks and a sandwich too in your nappy bag with these fun and funky reusable sandwich bags and snack pockets.
Perfectly sized for a sandwich, or cookies or a serving of fruits, these fabric food bags are a great and green alternative to brown paper bags, glad wrap and ziplock bags! BPA-free, waterproof, machine washable, these are a great way to reduce food waste, save money and eat healthy when out with baby.